It's already happening… What was once an incomprehensible thought reserved for "conspiracy theorists" is now a reality that we all have to do our best to come to terms with together.
As grocery stores all over America widen their aisles to try and hide their lack of products, we come face-to-face with an ugly truth. There is a very real possibility that we are approaching a significant food supply shortage. Yet, believe it or not, it isn't too late to prepare.
When woefully uninformed shoppers start to panic buy and stuff their carts with toilet paper or boxes of cans, the rest of the population seems to suffer. On the other hand, if our grandparents and great-grandparents have taught us anything about the trials of life, it's that things are rarely as "doom-and-gloom" as they appear. There is almost always another way.
If you know the inherent value that certain foods have and how to make the most of them—some that might even be under most people's radar—you're already leaps and bounds ahead of the herd, even if most of the store's shelves look empty.
Why You Should Add This To Your Food Supply Stockpile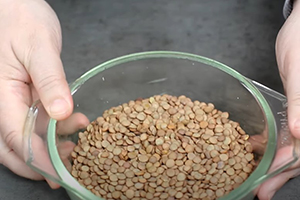 In a perfect world, your food supply should consist of a few well-considered, high-value, and long-lasting bulk items.
The food stock items you choose should give you the basic essential subsistence you need to keep you fed and healthy for at least 1-3 months, minimum.
It should also address the concern of water usage since your water supply will be extremely important to control.
Related: 8 Cheap Protein Sources to Add to Your Stockpile Right Now
When thinking about which food item to stock up on, here are a few things you may want to keep in mind:
How much water will you need to use while cooking?
How long will it keep fresh when stored?
How many things can you make with it? This is to help you avoid food fatigue or sensory-specific satiety—After all, you may be eating this food for an extended period of time.
Sharing its place with very few others, there is one food that answers all of these questions. It has literally stood the test of time. It has been around since prehistoric times and was one of the first-ever domesticated pulse crops farmed by humans. We're talking about lentils.
Lentils Vs. Beans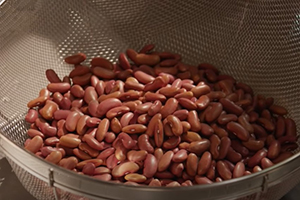 Lentils and beans are both legumes—this means that they're both a type of bean, but they're also a "pulse seed" that comes from a pod. Be that as it may, some people argue that lentils are in a legume class of their own. Aside from looking very different from each other, the main difference is in their nutrition content.
Although lentils may not be necessarily better than dried beans when it comes to overall nutrition content, they do beat dried beans in many other ways. This is especially true when it comes to storage, the amount of water needed to clean and cook them, the time it takes to cook them, and the variety of meals you can make.
From soups to bread all the way to desserts to pie crusts, lentils have hundreds of recipe possibilities. You don't need to soak them before cooking and they're extremely long-lasting when stored. They're easy to prepare, grind, cook—and, last but not least, they don't need a bunch of extra ingredients to help improve their flavor.
Lentils will provide you with a solid source of vitamin B, iron, potassium, zinc, magnesium, and omega fatty acids. Plus, they contain more fiber than beans have which helps promote healthy gut bacteria and digestion. Lentils provide a good amount of protein, so they can be a temporary meat replacement when times are tough.
Buying Lentils
Lentils are such an underrated food item that most stores will probably still have plenty of bags left on the shelves long after the beans and rice are gone. When shopping for lentils, there will often be several varieties to choose from: red, yellow, green, brown, and black.
Some people prefer different lentil types for different recipes but red lentils are the most ancient and common variety available.
Related: The 24 Highest Calorie Vegetables for Your Survival Garden
The good news is that no matter which type you find and decide to stock up on, all varieties of lentils are reasonably low-priced. For example, a 1-pound bag of brown or red lentils usually costs less than a dollar.
If you happen upon them in bulk or wholesale, you can sometimes even buy them for as little as $40 for a 100 lb. bag!
Storing Lentils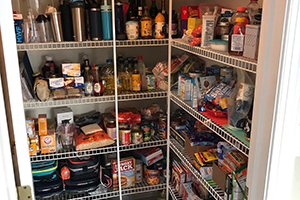 Storing your lentils is easy. However, as with most food items, some standard measures should be taken if you're planning to store them long-term. The main thing that you need to be monitor when storing dried lentils is the moisture content that can sometimes accumulate in closed containers or grain bins.
Storing your lentils in a cool, dark, dry place is the best way to keep moisture out.
Also, pulse crops like lentils contain tannins which can oxidize and discolor your lentils. Discolored or darkened lentils are a visual clue that your lentils might be past their prime.
Still, if no foul smell or mold is present, they're presumably still safe to eat. Lentils can last anywhere from 3-10 years when stored properly.
Another convenient thing about storing lentils is that pests like weevils aren't really a problem with pulse crop storage—that's more of a problem you run into when storing beans and peas. Still, if you keep lentils in your stockpile for quite a long time it doesn't hurt to check for bugs every now and then.
Cooking With Lentils
Our grandparents didn't rely on pizza delivery or microwave dinners to feed their families. Instead— depending on how far back you go— their diet mostly consisted of seasonal vegetables, starches, and simple meats, all paired together for a well-rounded meal!
During bad times, however, they used what they had on hand—and boy, did they get creative!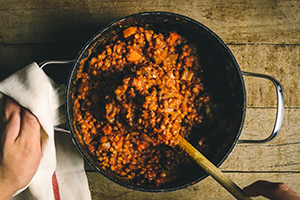 Dried lentils are so fast and easy to cook that you can have a homemade meal ready in no time at all. In fact, depending on the type of lentils you opt for, they can be ready to eat in 20 minutes or less.
Related: 5 Delicious Recipes Made with Ingredients that Last 100 Years
Lentils are super versatile and easily lend themselves to all kinds of interesting recipes. They can be served alone or mixed in with other things like soups and salads.
You can also add them to ground meats to bulk up scarce rations. Some of the more interesting lentil recipes we've found are:
High-protein lentil trail mix
Lentils and scrambled eggs
Lentil meatballs
Lentil meatloaf
Soup
Lentils, oats, and dehydrated apple breakfast bowl
Lentils and German spaetzle
Lentil sweet potato pie
Vegan lentil burger patties
Lentil and nut brittle
Lentil, nut, and dried fruit energy bars
Oatmeal, lentil, and nut cookies
Lentil bread loaves and flatbread
Ground lentil pie crust
Ground lentil tortillas
The list goes on! Lentils really are such a versatile and valuable survival food to have in your stockpile.
Other $1-A-Pound Foods You May Want to Stock Up On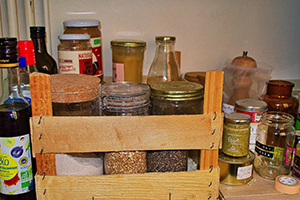 Although lentils are a good choice for your survival food stockpile, there are many other food items that are just as important and deserve an honorable mention. When the supply chain is disrupted and the food shortage becomes more and more obvious, here are a few examples of other foods that can help you take it further:
1.
Barley
Barley is a grain that is easy to store and has multiple uses. It is a high-calorie, carbohydrate-rich food that can be ground for flour, made into sweet drinks, or added to stews.
Related: Things You Throw Away That You Should Add To Your Stockpile Instead
2.
Beans
Beans are great to stock up on. However, they are one of the obvious choices and usually among the first to get cleared from the shelves. If you can find beans, it would be wise to stock up.
3.
Oats
Oats are an excellent grain to have around the homestead or when SHTF. With so many methods of preparation, what can't you do with oats? You can soak them overnight, make bread, feed your animals, prepare oatmeal, bake cookies, and so much more.
4.
Cornmeal
Cornmeal stores very well and can be used to make anything from cornbread to tortillas. If you have dried kernels at home you can roast and grind your own cornmeal.
5.
Brown Rice
Rice is the main staple food for over half the world's population and it is a pleasure to have in your survival food stockpile. Not only does brown rice have a good amount of carbs and fiber, but since it takes a while to digest it will give you more energy throughout the day.
None of us can be certain of what tomorrow holds, but it would appear for now that the age-old expression is true: if you fail to plan, then you plan to fail.
Building up your survival food stockpile can help you to avoid the unthinkable in the future. Stocking up on at least 3 months worth of long-lasting, high-calorie, nutrient-dense foods, and plenty of water will help you stay prepared in case of natural disasters or food shortages.
You may also like: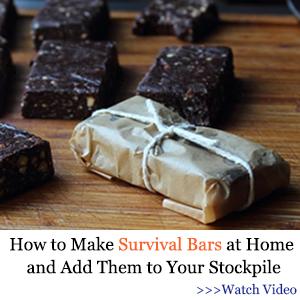 7 Backyard Plants That Can Kill You
The $200 A Pound (Dried) Common Mushroom That Could Be Growing In Your Area (Video)
Emergency Shelters When You Are On The Move
How to Use Avocado Seeds to Lower Blood Pressure and Cholesterol