As we work to build up our food stores, the most important things I can put back are foods that are nutrient-dense and will keep our bodies in tip-top condition. The ultimate goal is to have a supply of healthy foods loaded with proteins, fats and carbs that fulfill the nutritional needs of your family. What about your emotional needs, though?
If worse comes to worst and you're required to live off your survival food storage, whether it's because of an outside disaster or a more personal one like job loss, having some cozy, familiar snacks that are simple to eat and don't require much prep could go a long way towards helping you maintain morale. Those types of convenient snacks can be tough to store, though.
How can you preserve these types of foods, whether it's for your survival stores or just to make sure you don't waste any of them when buying in bulk? I'll tell you.
Vacuum Sealing
Vacuum sealing, the same way many store-bought foods are packaged, works great for preserving dry snacks like trail mix and potato chips. It's perfect for almost any snacks that don't require refrigeration, like chocolate, candy, dried fruits, other dehydrated foods, cereal, cookies, seasonings, grains, and lots of other foods. You can expect foods to keep for at least a few years this way, depending on your method. Here are a couple ways you can vacuum seal food items in your own home.
Vacuum Sealing in Jars
With a Food Saver jar sealing kit or another similar vacuum sealer attachment for jars, you can use regular Mason jars to preserve almost any dry snack you could think of so long as it will fit in the jar. This is perfect for long-term storage of all kinds of snacks, like cheesy corn chips, chocolate chips, nuts, and more. It's a great method for every-day storage and making sure your bulk foods last longer, because the containers are reusable – so that you aren't shelling out cash every time you use this method. Plus, many of us have a decent stash of Mason jars already.
You simply put together the jar sealing attachment, hook it up to the vacuum sealing machine, fill the jar to between ½ inch and one inch below the top of the jar, place a lid (but not a ring, yet) on the jar, place the jar sealing attachment firmly over the top of the jar, and turn on the machine to do its work. Each vacuum sealing machine will have some unique directions that you should carefully follow for the best results and to make sure your vacuum sealing is done safely.
If you're planning on vacuum sealing jars with significant amounts of powdery substances, like a dry soup mix, you'll want to take precautions to make sure that the powder doesn't get sucked out of the jar, ruin the jar's seal, and potentially ruin your vacuum sealing machine.
Vacuum Sealing in Bags
You can also vacuum seal dry foods in bags with a vacuum sealing machine and specially designed bags or rolls of heavy plastic wrap meant for vacuum sealing. Follow the directions on your particular model of vacuum sealer for the best results. You can expect your bagged, vacuum sealed dry foods to last between a year and three years.
The real downside to this method is that the bags you use to store vacuum sealed food are generally not reusable, plus they can be quite expensive. It makes this method sort of prohibitive for everyday storage of snacks.
Related: 7 Unusual Ways To Use Your Vacuum Sealer
Dehydrating & Freeze Drying
You can make delicious beef jerky or store extra fruits and veggies with a fairly long shelf life, by simply dehydrating them and then storing in a regular screw-top jar. Dehydrated foods can last for up to 30 years, depending on how it's stored after drying and which food is being dehydrated.
Using a Dehydrator
You simply place food in a dehydrator and run it for the prescribed amount of time for the food you're drying. You'll likely find recommendations for how long to dry various foods, and how those foods should be prepared in your dehydrator's manual. Many foods can be safely preserved in a dehydrator, including fruits, veggies, and meats. Jerky, flavored dried edamame, dried seasoned chick peas, and fruit leathers are all great examples of tasty snacks you can preserve using a dehydrator. Most foods with low fat content can be processed in a dehydrator.
Sun Drying
Some foods can be dried without the use of a dehydrator by simply placing them out in the open in a bright, sunny place, ideally one with a nice breeze and very minimal humidity. Ideally, only foods with high sugar and acid contents are dried this way, namely fruits like grapes, apricots, and blueberries. You'll need the fruit, a drying screen set above the ground, plenty of time, and an ideal climate to pull this off.
Freeze Drying
While you'll likely shell out a pretty penny for a freeze drying machine, it can be done at home. One neat thing about freeze dried foods are that they can often be reconstituted by adding back in the moisture that the freeze drying process removed. This method is also thought to do a superior job at preserving nutrition, and can be used for almost any food.
Related: 50 Foods to Dehydrate for Your Stockpile
The Best Way to Save Your Snacks
Choosing which method you want to use to preserve your favorite snacks, whether it's for the worst case scenario or just to make sure you don't have to trash the rest of the bag of your favorite nut mix simply because you couldn't eat it fast enough, will be based on several factors. What means do you have available, which are you willing to acquire, what foods are you wanting to save, and how long do you want the food to last are all questions you should ask yourself. In embracing that you can store any food long-term, you can add variety and convenience to your survival food stores. Happy preserving!
You may also like: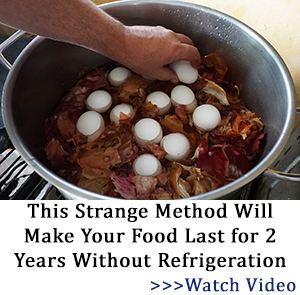 11 Food Storage Lessons Learned from WWI
What An Emp Affects And How You Can Protect Your Electronics, Car, Mobile Phone (Video)
When Grocery Stores Go Empty; A Back Door Shopping Strategy
What Happens When You Eat Nothing but MREs
How to Keep Grains Edible and Fresh for Over 40 Years With Nitrogen