One of the biggest obstacles for new preppers is building a stockpile of food and supplies in case of emergencies. Having enough money to reach a critical mass for the stockpile can take years, causing frustration and burnout. To combat this problem, a lot of preppers turn to couponing, and rightly so.  However, a lot of preppers also remain skeptical of couponing.
There are plenty of horror stories of people going bankrupt from trying to use coupons, or of people ending up with a lifetime supply of Rice-a-Roni and toothbrushes and nothing else.  What if I told you, though, that it is in fact possible to amass a significant, well-diversified stockpile for free using coupons?  While it may seem too good to be true, it is possible. But, successful couponing requires a lot more skill and strategy than meets the eye, and the intelligent prepper will do his or her research before jumping into the coupon world to avoid some of the potential foibles mentioned above.
Building a completely free prepper stockpile is possible, but it will take some work.  Read on for tips of how to use coupons to your advantage in building your stockpile.
Related: 33 Essential Foods to Stock Pile
Stick to Non-Perishable Items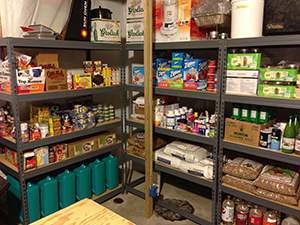 This one is pretty obvious, but it stands repeating.  When building a stockpile, you want to stick to items that will be able to last on your shelf.  Items like canned vegetables, canned fruit, jars of peanut butter, jerky, and beans are excellent choices for a stockpile, in addition to household items like toothpaste, soap, conditioner, paper towels, and toilet paper.
A lot of preppers want to stockpile meat, and you can do this to a certain extent with an additional freezer.  However, coupons for meat and produce are few and far between.  Therefore, the following strategies will rarely work for amassing a meat stockpile. Try to keep your meat freezing separate from your coupon stockpiling, as the strategies for each are different. Also, do not try to stockpile any fresh produce or dairy, as the coupons for these are scarce as well, and you will be wasting your time in terms of expiration dates.  Stick to canned produce and powdered milk, which can be acquired via coupons.
Related: What Should You Do With Your Canned Foods After the Expiration Date?
Find Coupons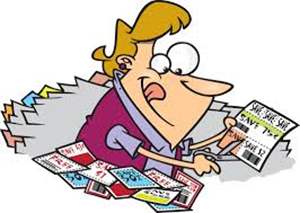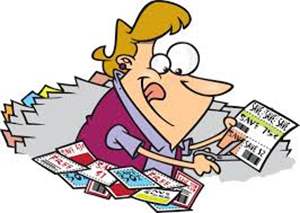 The next obvious step, but one that causes people a fair amount of headache, is actually finding coupons.  Although it may seem hard and it will require a little bit of work, there are countless ways for you to do this.  First, the classic way is to clip them from the weekly paper.  Coupons usually appear in inserts in the Sunday edition of the newspaper.  In order to amass enough to really make a difference, most couponing preppers will order at least a few copies of various Sunday papers.  This gives you quantity and diversity of coupons. If you are looking to save money, you also can find extra copies of newspapers in dumpsters and at grocery stores. Just go in late on a Sunday night and ask for whatever they have left over from that day.  Many stores will give them to you for free, or for a reduced rate.
However, newspapers are not the only way to get coupons.  There are also lots of downloadable coupons online.  Websites like www.coupons.com and www.grocerycouponnetwork.com have great printables that are replenished every month.  Usually, you can print two copies of each coupon from one computer, so if you are looking to reach a critical mass of coupons, try to use multiple computers so you can access more at a time.  Additionally, many companies will send you coupons if you get on their mailing lists.  If you have a favorite brand that you are always looking for coupons from, email them and ask to be put on a mailing list for coupons.  Frequently, you can get some sent to your mailbox.  Try this with multiple email addresses to get multiple coupons.
Understand Your Store's Policies
This step is imperative, but it is one that a lot of preppers overlook, to their own detriment.  It is absolutely essential for you to know the coupon policies of the stores you frequent. Some stores have a limit on how many copies of one coupon they will accept. Some stores have a policy where they will double any coupon worth less than $1.00.  Some stores have special promotions there they will double all coupons, or triple all coupons, on certain weeks of the year.  Some stores have policies where if you have a coupon worth more than the value of an item, they will pay you the difference, while other stores will not give you anything more than free. You need to know the policies of each store to help you determine which stores have the best deals.  You also need to know when to shop at each store, since you may be able to get a better deal during a double or triple coupon week. This will require some consistent research, but keeping track of store policies can pay big dividends.
Related: WalMart Prepper Food Run
Shop During Sales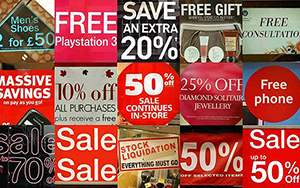 Many preppers are skeptical of couponing, because it still seems to require spending a lot of money.  Using a $1.00 coupon on a purchase of $5.00 means you still have to spend $4.00, right?  Wrong! This is where many preppers get mixed up.  The secret to couponing, what allows some people to be so unbelievably successful with it, is pairing coupons with sales. 
This requires a great deal of research, but it can pay, big time. Let's take our example from before.  A $1.00 coupon on a purchase of $5.00 means you have to spend $4.00 under normal circumstances. Let's say, however, that one week, your store is having a sale on that item.  Instead of it being $5.00, it is on sale for $3.50.  Then, you use your $1.00 coupon on this sale price, bringing your overall purchase price down to $2.50.  That's 50% off, something we normally would consider a great deal! Now, let's say that it is also double coupon week.  This would mean that the purchase price would be $1.50.  Triple coupon week? You get the picture.
Pairing coupons with sales is the only way to save real money.  It also is the only way that you can get things for free, or get paid for purchasing items.  If an item is usually $2.00, it is on sale for $1.00, and you have a $1.00 coupon, that item is free!  However, if an item is usually $2.00, it is on sale for $1.00, you have a $1.00 coupon, and it is also double coupon week, some stores will actually pay you that $1.00 difference!  This is the key to getting your stockpile for free.  If you shop at stores with good coupon policies and you take advantage of sales, you can acquire all the items you need for your stockpile without spending anything! As you can see, pairing coupons with sales, and using all potential promotions to your advantage, can make all of the difference.
Use Coupon Blogs to Help You
Some preppers look at all of the potential work involved in finding coupons, price matching, finding sales, etc., and get overwhelmed.  Yes, there is a lot of money to be saved on accumulating a stockpile with coupons, but the work might hardly seem worth the difference.  Depending on your financial situation, this could be true, if there were not a secret: coupon blogs. There are dozens of couponing blogs out there that match current coupons to current sales promotions at most major stores.  Some of these are specifically prepper websites, but there are many more directed towards housewives, college students, etc.  Do some research and find a coupon blog that is tailored toward your desired products and your desired stores.  Yes, you will still need to find the coupons on your own, but you can usually get someone else to do all of the research for you, making couponing for your stockpile a no brainer.
Weigh the Benefits of Coupons vs. Store-Brands
Now I am obviously a big fan of couponing, but it can come at a price.  One of the classic dilemmas about couponing is whether or not to use a coupon on a brand-name item, or to just buy the store-brand item.  This decision will almost always be circumstantial.  Sometimes, the store-brand item will be a better deal than the brand-name plus coupon.  If you are new to couponing, it can be quite frustrating, as it seems like you are spending more money than you did before just to get all of the deals.  This may be true, and it may cause you to want to switch to store-brand items.  While this is not always a bad idea, as inexperienced couponers can end up spending a lot of money, make sure you do the comparison to find the better deal.  Also, always remember, particularly for a stockpile, that timing matters!  The store-brand may be the better deal this week, but next week might be double coupon week, meaning you could get that item for free next week as opposed to paying a little for the store-brand this week.  Doing your research on a case-by-case basis and remaining patient are keys for amassing a completely free stockpile.
Acquiring a substantial stockpile is essential for any serious prepper.  However, it also obviously can be a serious financial burden.  Using couponing to your advantage can allow you to acquire your necessary stockpile for free! Try some of these strategies to give you the peace of mind you are looking for without draining your bank account.  Yes, mastering these strategies will take some time and effort, but it will definitely be worth it for your completely free stockpile.
You may also like: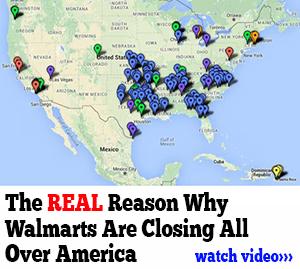 22 Ingenious Hacks to Make Food Last Longer
An Insanely Effective Way to Build a 5-year Food Stockpile (Video)
How to Keeps Eggs Fresh for Months with Mineral Oil