Whether you have several years' worth of food set aside or you keep a more modest reserve, most of us probably have some kind of emergency food supply or stockpile setup.
Still, do you know exactly how long that food will last when you really need it? How do you know if you have enough to make it the recommended 3 months minimum? Do you want to wait to find out?
For most preppers, hypothetically knowing how to be prepared when SHTF isn't good enough. Sometimes, being prepared means putting knowledge into practice and getting enough experience under your belt to ensure you can survive with what you have when the time comes. One great place to start? Your pantry.
Related: The Only 15 Rules for Your Prepper Pantry
Considering that the monthly average per-person food cost for groceries in the USA is currently between $200-$400, learning how to create a one-month meal plan for under $65 is a good way to get this kind of hands-on experience.
The items on this meal plan should be enough to provide three daily, calorie-dense meals for one person for 30-days with no leftovers from meals.
How To Plan A One-Month Meal Menu
The foods on this list will focus primarily on canned or other preserved food which is usually the most inexpensive and easy-to-find option for most people. If you can find them cheaper where you live, that's great news.
However, the prices on this list were calculated using national average grocery data found on the USDA website and then price-checked through popular sites like Costco and Walmart.
When selecting your foods, you will need to consider the basic nutrients required for sustained human survival: calories, carbs, protein, fats, fiber, vitamins, certain minerals, and water.
Here are a few easy-to-find and inexpensive food items to consider for your one-month meal plan menu.
Proteins
Canned beans (15-18g)
Canned chicken breast (9g)
Canned beef (7.8g)
SPAM (7.5g)
Canned fish: tuna, sardines, salmon (4-15g)
Canned veggies: spinach, peas (4-6g)
All of these protein suggestions cost between $0.79-$4.99 per item.
Carbs
Simply stated, carbs are broken down into glucose to provide energy for the brain and body. They also help you to feel full for longer.
As it stands, they tend to make up a larger portion of most people's regular meals. So it's important to include enough carbs in your meal plan.
All pasta varieties (42g per serving)
Rice (40g per serving)
Quinoa (20g per serving)
Wheat crackers (10g per serving)
Powdered or dried potatoes (36g per serving)
Flour and whole wheat (71g/cup)
All of the carb suggestions on this list cost between $0.99-$6.99 per pound.
Fats
Lard, butter, tallow, bacon fat, ghee, schmaltz, coconut oil, avocado oil, olive oil, etc. are fantastic sources of essential fats. Additionally, foods such as nuts, dark chocolate, canned salmon, etc. are packed full of beneficial fats too.
Even though fat gets a bad reputation, a diet rich in essential fats helps you maintain a healthy functioning mind and body. Fats are responsible for building and maintaining strong bones, a healthy liver, and good cardiovascular health.
Traditionally, we get these fats from eating foods like milk, cheese, fish, butter, and meat. However, in a 30-day budget meal plan, rendering the fat yourself can stretch your dollar much farther. In fact, it's practically free!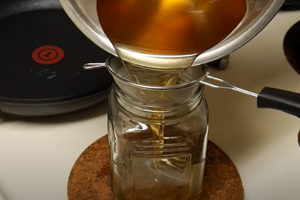 Considering how expensive butter and olive oil is at the time of writing this meal plan, I strongly suggest rendering your own fats instead of buying butter or cooking oil if you're able to.
All of the fats listed above cost between $0.00-$9.00 per pound depending on if they're store-bought or homemade.
Fiber
Eating fiber is great for digestive health and is believed to help protect the body against some types of illnesses. Here are a few fiber-rich food ideas you can add to your 30-day meal plan.
Health bars such as cereal, bran, grain, granola, and/or oatmeal bars have around 2-6g of fiber per bar.
Beans, such as black beans, lima beans, navy beans, peas, lentils, and chickpeas, have between 8-16g of fiber per 100g.
Peanut butter has 13g of fiber per 1 cup
All of the fiber-rich food suggestions on this list cost between $0.89-$3.99 per pound.
Vitamins And Minerals
Dried spices, herbs, and extracts for enhanced taste and boosting nutrition profile in meals. The best way to hit vitamin and mineral nutrition goals is by absorbing them from the food you eat.
Add multivitamins if desired for extra supplementation or as recommended by a health professional.
Vegemite or Marmite can add a flavorful and nutrient-packed boost to foods.
One Month Meal Plan Recipes
It is possible to alternate breakfast, lunch, and dinner menu schedules, either daily or weekly, to avoid repetitive meals.
This may help you sidestep the possibility of developing gut microbiome problems which some people report when eating the same meals over time.
This prevents the need for increased water use and other risks of resource depletion.
Breakfast meal #1 – Oatmeal with peanut butter and honey
2 cups prepared oatmeal – overnight oats or cooked over heat.
2 tbsp. peanut butter
1 tbsp. honey
Breakfast meal #2 – Breakfast bars with peanut butter, crackers, and raisins
1-2 "health bars" such as cereal, bran, grain, granola, and/or oat bars
1 tbsp. peanut butter
2 whole wheat crackers
½ cup raisins
Lunch Meal #1 – Tuna salad on wheat crackers with trail mix side
1 serving of whole wheat crackers
tuna salad – 1 can of fish like salmon or tuna
2 tbsp. mayonnaise
2 tsp. mustard
salt, pepper, and spices for taste and nutrition boost
Mix tuna, spices, and condiments then spread over crackers.
Lunch Meal #2 – Canned chicken breast and rice with canned veggies
1 can of chicken breast or other canned meat of your choice
1 tsp. butter, fat, or oil for frying on low heat
salt, pepper, and spices for taste and nutrition boost
1 cup cooked rice of your choice (⅓-½ cups raw rice makes 1 cup cooked)
½ tsp vegemite or marmite to mix with chicken
canned vegetables such as corn, peas, carrots
Mix all ingredients over heat or enjoy at room temperature.
Dinner Meal #1 –  Classic beans and rice
1- 15 oz. can of beans or ⅓ cup raw beans cooked.
1 cup dried vegetables, spices, or herbs of your choice for flavor
1 cup of white rice – or another rice of your choice – cooked
Cook all ingredients and combine.
Tip: Cumin, garlic powder, onion powder, chili powder, salt, and pepper make a great bare-bones bean and rice spice blend.
Dinner Meal #2 – One-pan spam, beans, hominy, and rice 
3 oz. of SPAM cut into cubes (about ½ of the can) or another type of canned/preserved meat.
1- 15 oz. can of beans (I suggest black beans for this recipe)
1- 15 oz. can of white or yellow hominy or another vegetable of your choice.
1 cup of white or another rice of your choice – cooked.
Cook rice and mix all ingredients over heat or enjoy at room temperature.
Following a 30-day meal plan using the recipes on this list will allow you to consume between 2,500-3,200 calories each day for 30-days.
Although this meal plan was designed with store-bought foods in mind, you can save even more by including things you already have in your pantry or preserving food at home.