Most people have had an encounter with some form of a gluten-free experience, whether it be food they have had, choices on the grocery store shelf, or perhaps read an article about eating gluten-free. Those who don't have to worry about eating gluten-free most likely won't pay a lot of attention to it, while those who suffer when eating gluten can't seem to get enough information.
Eating gluten-free is getting easier, as society is now adapting and realizing that it's a real crisis for many people who need to avoid eating gluten laden foods. As a result, we are now seeing grocery stores and restaurants adapting their selections to make sure people with sensitivity to gluten have more options.
And, let's be honest. It's hard enough to do gluten-free even in non-emergency situations. Most everything contains wheat, and you really need to do your homework to know what is safe to eat if you have an intolerance to gluten. So, in this article, we are going to provide information on some gluten-free, non-perishable items that are available. When prepping for an emergency kit, you can make sure you are still able to eat gluten-free during emergencies too, not just on a leisurely basis.
Related: How To Choose, Use & Store Protein Powder for Preppers
Also, when looking for cost-friendly foods in following a gluten-free lifestyle, the diet often includes foods that are naturally gluten-free, rather than a revamped recipe to exclude the culprit. The most common naturally gluten-free foods include fruits, veggies, meats/seafood (if they are not breaded), dairy, nuts, and beans or legumes. But, there's more to consider.
Let's Start with Grains
Unfortunately, grains are used for so many foods that are enjoyed by most people, such as breads, cereals, pastas, and more. However, the good news is that there are several grains which are naturally gluten-free, such as some of these more familiar options:
Rice
Corn (or maize)
Potato
Soy
Beans
Tapioca
Quinoa
Flax
Chia
And some of others that are perhaps not as well-known and easy to find:
Cassava
Millet
Sorghum
Arrowroot
Buckwheat Groats (or kasha)
Amaranth
Yucca
Nut flours
Related: How to Make Acorn Flour
The options in the first list above should be easy to find in your local grocery store. However, the second list might require a trip to a health food store. Regardless of where you find it, be careful if you are selecting anything out of bulk bins, due to the possibility of cross-contact and transference from other bins. Some might even have trace elements of gluten through harvesting and processing. When in doubt, your best option would be to buy products that have been tested for traces of gluten and are noted to contain less than 20 ppm.
Eating and Cooking with Dairy
Even though the following is often kept at a minimum in most diets, in a gluten-free diet, these items are typically not a concern:
And, of course, beverages are not immune to gluten. So, know your drink! The following are often gluten-free.
Almond Milk
Fruit Juices
Cider
Sodas
Rum
Vodka
Whiskey
Wine
Even some beer is available in gluten-free form…just watch the labels!
Related: Debunking Expiration Dates: What You Need to Know
Speaking of labels…reading them is very important for foods that are not considered fresh. Most foods that are labeled as "gluten-free" can be trusted. However, anyone who suffers from consuming gluten should get accustomed to reading labels to be sure. Just because something is advertised as gluten-free or "wheat free" does not mean that it's completely free of it. Some triggers of concern you might see in ingredients include:
Barley
Wheat
Malt
Rye
Brewer's Yeast
Oats
Don't worry though, reading labels will become easier each time you read one. And, after a while, you will just know what to avoid when going down the grocery isle.
But, what if you are trying to prepare an emergency preparedness kit, all while remaining gluten-free? Most of the foods mentioned above are fresh and will perish quickly. It makes it difficult then, right? Difficult, perhaps. But, not impossible.
Preparing a Gluten-Free Emergency Kit
When it comes to preparing for an emergency, preppers have an abundance of information and options at hand. But, what about those who have an intolerance to gluten? People who suffer when eating gluten-riddled foods are equally as vulnerable to an unexpected emergency, and shouldn't have to suffer any more than others during the emergency.
Related: How to Make Delicious Biltong with 1 Year-Shelf Life
And, let's be honest. It can be hard enough to do gluten-free even in non-emergency situations. Most everything contains it, especially non-perishable foods. Fortunately, there are a variety of foods specifically created for situations outside the typical kitchen and dining setting. For example, freeze-dried foods are great for camping or putting into an emergency kit. Bars and other snacks can also be a good thing to consider packing. Many of these items have a decent shelf life of at least one year, and up to 25 years for some items. And, this includes gluten-free options.
The need for gluten-free products is in high demand, due to the substantial number of people choosing to eat without gluten. Freeze dried kits, bars, dehydrated and freeze-dried fruits, and even some canned foods are great choices for a gluten-free emergency preparedness kit.
The need to eat gluten-free can certainly be intimidating to someone just finding out they have a sensitivity to it. However, even if you can't eat all natural all the time, grocery stores and restaurants are becoming more and more accommodating to those who are seeking a gluten-free life.
You may also like: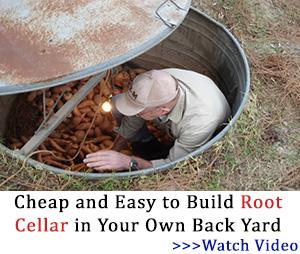 How To Make Delicious Lard With 2 Years Shelf-Life (+ 5 Tasty Recipes)
10 Long-lasting Pioneer Foods That You Didn't Know About (video)
How To Store Six Months of Food When You Only Have Space for One