By Marc Stern
Whenever there's a blizzard and super cold, it seems like stories always pop up of people marooned in their cars for days who are found just too late. For whatever reasons, they ventured out into the raging blizzard ill-prepared for the challenges and ended up paying a hefty price.
It's not a position that anyone should be in. Indeed, there are things you can do to keep from being in that position, starting with some of pieces of advice:
Never let your vehicle's fuel tank get below the halfway point in the winter;
Make sure that your car is tuned well for the winter and that all fluids are up to date;
Make sure your vehicle is running on winter tires; all-season tires just don't cut it.
Make sure you tell others of your intended route and/or destination when traveling alone or on questionable roads and in questionable weather conditions.
Next, round up a good, sturdy box and line it with plastic or use a rubberizing agent that you can paint on the inside of the box (the one that's advertised by keeping a boat afloat) to make sure the box is waterproof. Or, you can buy a waterproof canister or box to serve the same purpose, holding all of the items you need to make a go of lousy weather.
Here's a list of the 10 essential things that you should put into and keep in your trunk during rough winter weather:
1. A shovel or entrenching tool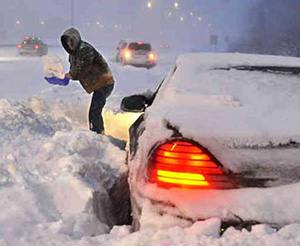 In heavy snow, a shovel is a handy tool to have around. You can use it to dig out of snow drifts, clean out the areas around your vehicle's wheels and keep your exhaust system free, so exhaust fumes stay outside, instead of coming inside. The shovel should be a medium- to heavy-duty collapsible shovel. The handle should telescope to open or close so that the shovel doesn't take up too much space and, if possible, the blade should swing into the shovel for stowage. If you can't find this type of shovel, then consider a soldier's friend, the steel-bladed entrenching tool. Yes, it is a tad small, but, it is also tough enough to tackle ice, hard-frozen earth, trees, bushes and just about anything else. If you need to build a fire, you can also use it as a makeshift ax, though it will take time to hack through larger wood. Avoid light-duty collapsible shovels as they do tend to crumble just when you need a tough shovel.
2. A good flashlight and fresh batteries
This one is a no-brainer. A working flashlight is essential in heavy weather. The batteries should also be new. Whether you are changing a tire or just using it to illuminate a small camp stove on which you are heating some water, you do need the proper illumination.  However, you should note that cold does sap batteries so you may gain on one end, if it is cold enough you will lose a bit on the other. The only other thing about LEDs versus standard flashlight bulbs is that you may need a specially focused flashlight lens for full output. And, there may be some tweaks to the curvature of the LED mount itself. One more caveat: a good one from a weight standpoint is that many flashlights use AA or AAA batteries which are far lighter than the bulkier D-celled batteries of just a few years ago.
Related: Which Batteries Are Best for Survival Situations?
3. Tools
Without even basic tools, if you get stuck in a blizzard you will find things can turn against you very quickly. You cannot turn screws with a screwdriver, and you need a wrench or wrench-like device to move stubborn nuts. The basic toolkit should include a multi-tool, like a Leatherman Wave or something similar (a Swiss Army knife is also good), so you can have all the tools you need at hand. The problem is that if you need two pliers or two slotted screwdrivers, you are out of luck. The solution is adding a backup set of pliers, a slotted (straight edge) screwdriver, a Phillips screwdriver and, perhaps, a compact set of ratchet wrenches. The set of ratchet wrenches allows you to have a variety of socket sizes to handle a variety of nut sizes. Two more useful tools to add to this collection are a spinner lug wrench (four-way) and, believe it or not, a hacksaw. If you run into frozen nuts or that won't budge, a hacksaw is just the ticket. It keeps you from stripping the head and gives you a quick removal option. And, it is not a bad idea to include a ratchet-style screwdriver and heads in the kit as well so you can handle the variety of specialized connectors in today's vehicles.
4. Butane lighter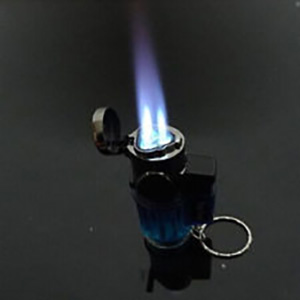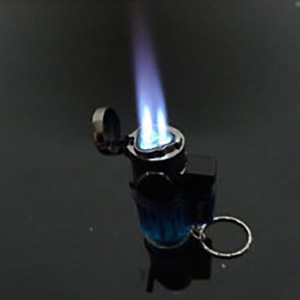 It's pretty obvious why you would want to have a lighter. You can use it to heat a key so that you can open a frozen door lock (hold the key with the pliers). The lighter is also a good idea if you have to build a signal fire – if you are stuck in the middle of nowhere and your vehicle's battery dies, then a signal blaze will show rescuers where you are. The butane is natural option for this because it's lightweight and doesn't take up much space, but it does a tremendous job when needed.
5. Wool or space blankets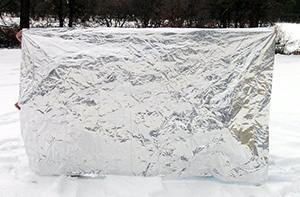 Including wool blankets is essential for several reasons. First, it is a way to stay warm (you can't run your vehicle out of fuel to stay warm, so a blanket is a good idea to have on hand). The space blanket serves the same purpose. Second, if you have to change a tire, it can be used as a ground tarp. It keeps you from getting soaked through and colder than you might already be. It also lets you keep the tools and parts out of the snow. Third, the blanket can help your wheels if there is need for added traction getting out of a snowbank, although, admittedly, it is a brief traction assistant. Still, if wedged right, it might enable you to move your vehicle up and out of a rut. Fourth, the blanket is a way to keep warm if you are outside the vehicle for any reason (freeing the tailpipe, for example).
6. Dry food supplies and water
Most people never think about it, but, there could be a time when if you are stuck in your car for several days (or at least more than one, depending on the area) you will need food. In the event of this, it's a good idea to take a page from your prep plans. Make sure you have adequate supplies of dried, high-energy, low-residue foods (to keep nature at bay as long as possible) available so you can keep your energy up. It might not be a bad idea to keep some trail mix in the passenger compartment for not only snacking, but also as a supplement to the food you carry in the trunk. And, while it is possible to melt snow for water when you are stuck, you honestly have no idea where the water that's in the snow originally came from – acid rain, pollution, smokestack waste, who knows? That's why it is a good idea to lay in a 24-pack of water bottles to go along with the rest of your gear. Why water bottles and not water filtration? It's simple; water filtration usually requires heat which is in rather short supply with your car stuck in a blizzard. You can't set up a stove in the passenger compartment without ensuring the windows are open, so you won't poison yourself on fumes, especially if the wind and cold are brutal enough. And, trying to set up and tend a wood fire in the snow when everything is either frozen or drenched when it's thawed is not a good use of your time.
Related: How to Make 2400 Calorie Emergency Ration Bars Designed to Feed You for a Full Day
7. Cash
Let's say you have access to a nearby convenience store where you can get stuff and maybe a container of fuel to keep your vehicle running. Let's also say the area loses power for a time and that when you try to use your credit or debit cards, you find that there's no juice for the reader. If you depend on plastic, you are out of luck until the power comes back up. However, if you have a variety of cash, a $20 bill, a $10 bill some $1 bills and change, you can just put down what you need and make your purchases. And, if you are in an area where they may require ID to use a credit or debit card (always a good idea for the shopkeeper and your sake), and there's no way to check the identification, then cash is the only way to go.
8. Traction aids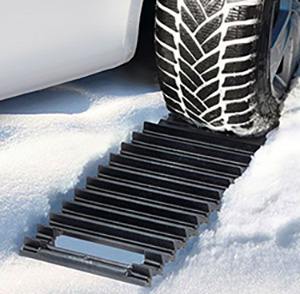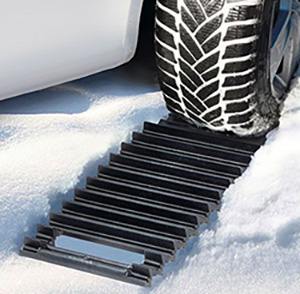 There's an impressive variety of traction aids out there that can help you get your vehicle out of a rut or snowbank. For example, you can buy a set of rubberized traction strips that you plant in front and under the driving tires – front or rear – so that you can quickly pull up and out of the obstacle. You can also purchase track treads which are metal devices that serve the same purpose. If you can jack up your vehicle, you can add sets of snow clips. Two-chain devices that strap around your vehicle's wheels and tires, they serve as mini-snow chains and add traction. It is a
good idea to use four sets per driving wheel. You should remove them after
you are on the road again as they provide a rough ride and set up odd resonances that can put too much strain on your front end or rear end pieces. If you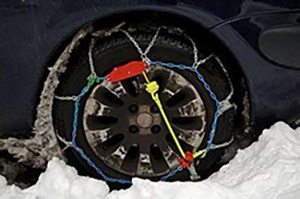 need them, then use full chains and leave them on. Here's a good idea: keep a 20-pound bag of cat sand in the trunk. Not only does it provide a bit of weight, but it also is perhaps the best traction aid out there as it outperforms road sand and salt. It is clay-based and not only grips but also stays relatively dry for extra traction because ice doesn't form.
Related: How to Build an EMP Emergency Car Bag
9. Flares or emergency triangles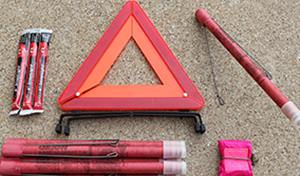 Honestly, it is a good idea to keep both in your trunk. The flares are there to provide high visibility when you need it. Since they can be stored and sparked off as needed, they are quite convenient to use. Their form factor also means you can store many of them in a small space quite safely. The emergency triangles are great because you can set them up a distance behind your vehicle so that oncoming vehicles can see your car. If they become snow-covered, you can recover them and replace them for safety.
10. A car phone charger or a small prepaid portable phone
Let's face it unless you keep off the smartphone and away from things like Twitter, Facebook, Instagram and YouTube, your smart device's battery life will be very short-lived. This is where the prepaid cellphone is excellent. You keep it in plastic until you need it and then open it up and viola you are on the phone. They are so inexpensive as compared with smartphones that you can purchase more than one to make sure you have communications capability. Of course you should always keep in your car a phone charger that can be charged from your car.
That about covers it. Of course, you will probably think of some stuff to add to your box. However, even if you just rely on the listing here, you will find that you are ready to go and survive even the nastiest that nature can hand out.
You may also like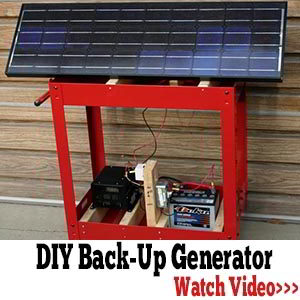 Top 5 Awesome Bug Out Vehicles You Can Actually Afford
You Will Not Survive An EMP Strike Without This (Video)
8 Tips To NEVER Get Your Car Stolen (from An Ex-Thief – Guest Post)
Top 10 Vehicles for Your EMP Survival
How to Conceal Weapons in Your Vehicle