If you are like millions of people across America, seasonal plant allergies are probably a dreaded aspect of the changing seasons.
While we can be allergic to everything from cats to coriander, one allergy is so common that most people immediately feel the burning, itching, and sneezing it brings each season.
Almost 25 million people in America suffer each year thanks to ragweed, which causes them to battle a runny nose, itchy eyes, endless sneezing, and labored breathing.
Unfortunately, almost 20 variations of this plant can be found in 49 of the 50 United States, with Alaska being the only state in which it does not grow.
Two types of ragweed are typically encountered in North America, common ragweed and giant ragweed.
What Is Ragweed?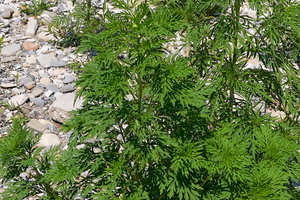 Ragweed is a common plant that emerges in the spring and sets seeds in the late summer/fall.
Found growing in shallow soils across the U.S., North America, and throughout Europe, the ongoing and often invasive spread of ragweed is fueled by climate change.
Related: 7 Foraging Mistakes That Might Get You Killed
Its pollen is notoriously known for causing allergic reactions. It is thought that more than half the pollen-related allergic rhinitis (hay fever) results from various types of ragweed growing worldwide.
The most widespread variant of this annoying plant is the common ragweed, also known as Ambrosia artemisiifolia.
Identification
Ragweed can be challenging to identify due to the many variations found worldwide. Common ragweed can remain mere centimeters or tower to more than four feet tall.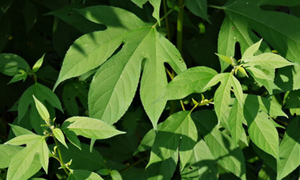 The leaves of a ragweed plant are as diverse as the plant itself and can be found growing alternately, oppositely, or both.
The giant ragweed species has palmate leaves, meaning the leaves look like the palm of a hand.
While the leaves of giant ragweed generally have serrated edges, this is not always the case.
On the other hand, common ragweed has leaves that are made up of multiple smaller leaves. The common ragweed leaves are more fern-like and are referred to as twice, or double compound leaves.
Related: 11 Dangerous Plants You Should Never Have In Your Backyard
Among the standard variety, the leaves of the common ragweed generally remain more diminutive in size. Common ragweed leaves usually grow to around  6 inches long and 4 inches across.
The stem of a ragweed plant can also differ depending on the type and location of the weed, but they generally form to become a flower spike which allows them to quickly release seeds at the end of their seasonal cycle.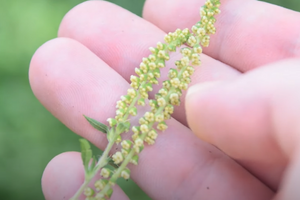 Ragweed plants flower to produce and spread seeds.
The flowers of the ragweed plant are said to be inflorescence, a small cluster arranged on a stem. The tiny blossoms may go unnoticed by gardeners, who overlook them due to their appearance as small, yellowish bumps.
The flowers of a ragweed plant do not look like flowers at all; they are small and spherical, appearing more like tiny buds than flowers. These flowers form a spike at the top of the stem on male plants and are tightly packed together throughout the branches and leaves on female plants.
Imposter Plants
Due to the vast varieties of ragweed and its inconspicuous appearance, this plant is often confused with other weeds.
Mayweed chamomile, for example, has the same fern-like foliage. However, mayweed chamomile is much smaller than a ragweed plant, forms a basal rosette (a cluster of leaves arranged in a circle all of the same height), and has a daisy-like flower.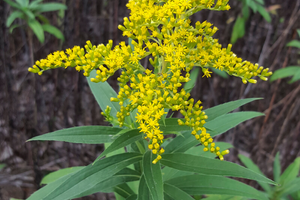 Goldenrod is also mistaken for ragweed quite often.
This plant, however, is good for the garden as it entices insects and encourages crop growth.
Still, if you are allergic to goldenrod, it can cause a great deal of discomfort.
Ragweed Allergies
A common allergy for many people, ragweed pollen, is a dreaded signal that the end of summer has arrived. A single ragweed plant can produce more than a billion pollen grains per season.
This pollen can significantly impact millions who suffer from a ragweed allergy. Pollen from the ragweed plant is transported through the air with the wind and is a leading cause of hay fever.
Those who battle ragweed allergies report a variety of symptoms, including stuffy or runny nose, itchy eyes, sneezing, and trouble breathing.
Ragweed, especially the common variety, is resistant to removal.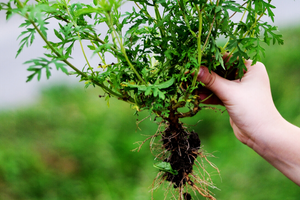 The ragweed plant is resistant to most pesticides, and removal must be done manually early in the season.
Avoiding ragweed is often impossible as it is an everyday staple of our ecosystem. While you may be unable to avoid this dreaded plant, you can limit exposure during peak problem periods.
During ragweed season, which begins in early August and runs until mid-to-late October, some things can help you cope with your allergy to ragweed.
Combatting Ragweed Allergies
The pollen of a ragweed plant can travel more than 2 miles into the atmosphere and more than 400 miles out to sea.
• Track Local Pollen Counts:
Most weather reports and apps provide a pollen index that tells users when pollen counts are high. On days when the pollen levels are high, try to stay inside the house as much as possible.
• Avoid Peak Ragweed Hours:
The peak period for ragweed pollen is between 10 a.m. and 3 p.m., with counts being lower in the morning and late in the afternoon. Try to avoid outdoor exposure during these peak periods.
• Close Windows And Doors:
Keep your windows closed when you are at home or in the car. Use air conditioning to keep cool, and ensure that it has a HEPA filter installed to limit the entrance of outside pollutants into your home.
• Wash Your Hands:
Washing our hands should be second nature at this point. Regularly cleaning your hands can help alleviate your allergy symptoms and protect you from germs and bacteria.
• Wipe Down Surfaces:
Like washing your hands, cleaning surfaces you interact with can help limit your contact with ragweed and other allergens.
• Change Your Clothes:
The pollen of the ragweed plant is fine and can easily stick to clothing to be carried into your home. Changing your clothes after spending time outdoors can help to combat an allergic reaction.
• Do Not Use Your Clothesline:
While hanging clothes out to dry can be a pleasant experience, you want to avoid doing this during ragweed season if you have allergies – dry clothes indoors instead of hanging them on a clothesline to limit your pollen exposure.
Ragweed is a pesky plant that causes hay fever in millions each year. While it can be impossible to avoid ragweed entirely, knowing what it looks like, where it grows, and how it spreads can help to ease suffering.
If you suffer from a ragweed allergy, consider taking over-the-counter antihistamines during peak allergy season. Many people begin taking medications two weeks before ragweed season starts. Check with your doctor to create a plan of action.
Alternatively, you can try treating your ragweed allergy naturally at home. Many natural options for treating ragweed allergies exist.
Most importantly, limit your exposure to the pollen of the ragweed plant as much as possible. Thus, if you find ragweed growing in your garden, do not smell it.