Have you ever heard of kanuchi soup? It's a traditional recipe from the Cherokee people that is easy to make and also very nutritious.
This sweet and nutty soup is made from hickory nuts. The Cherokee people used to pick up the fallen nuts, crush them, and make balls out of this paste. They would store these balls for later use, and this would be one of their primary food sources during the winter.
Kanuchi soup was an essential part of the winter diet for the Cherokee people because of its nutritional benefits. It is a great source of healthy fats, protein, and complex carbs from nuts. It is also a high source of vitamin E—a natural antioxidant that helps our immune system.
Taking into consideration everything that is going on in the world right now, adding this rich soup to your pantry is something you might want to do. It is not only tasty and nutritious but it also has a long shelf life if stored correctly.
How To Make Kanuchi Soup
This traditional Cherokee recipe requires very few ingredients. Hickory nuts are the main ingredient, and you can get them for free if you are able to forage them in your area.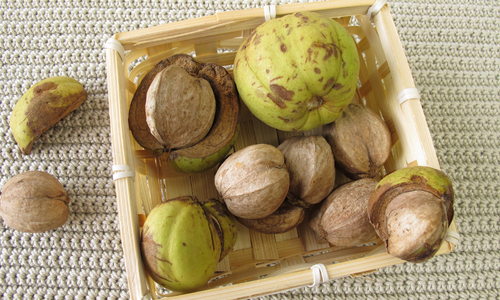 At harvest time, they fall from the tree by themselves. They usually start falling in October. However, if you do not have access to them, you can use a mix of pecans and walnuts and get a similar result.
What you need:
1 lb. hickory nuts, peeled and without hard shells. You can also use a 50–50 mix of walnuts and pecans.
Water
Salt
Mortar and pestle or food processor
Strainer
Cooking pot
How To Prepare The Hickory Balls
The first step is making a paste out of the hickory nuts. Traditionally, the Cherokees used a "kanon" to mash the nuts, but I am going to use a mortar and pestle.
Related: The Native American Foods That Cherokees Ate During Hard Times
The texture of the ground nuts should look like the one in the picture. If you do not have a mortar, use a food processor for this step.
Once the hickory nuts have turned into a paste, you can start making the balls for later use. Use your hands, and start forming balls. I made five of these balls, and they weighed around four ounces each.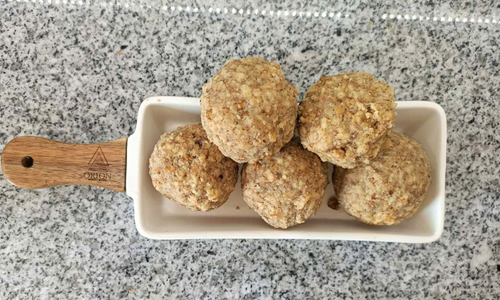 For the kanuchi soup, I am only using one ball and preserving the rest for later.
Making Kanuchi Soup
In a large pot, add 4 cups of water, and turn the heat on. When the water starts boiling, take the hickory ball, break it up, and drop it into the pot. Let the soup simmer for about 30 to 45 minutes.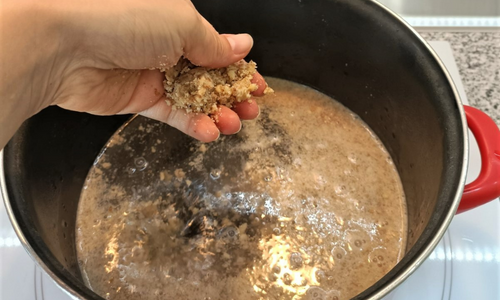 Run the soup through a strainer or a cheesecloth.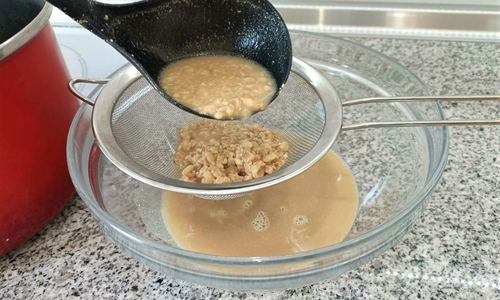 Return the liquid to the pot, and continue to simmer for another 20 minutes, until it begins to thicken.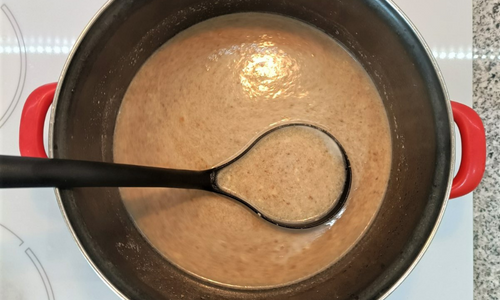 You can eat this soup what its own, or you can also add it to cooked rice together with some maple syrup.
How To Preserve Kanuchi
There are two ways you can preserve kanuchi. One is to vacuum seal the hickory balls. Make sure you keep them out of sunlight, in a cool, dark place. If stored correctly, they stay fresh and keep their flavor for up to six months.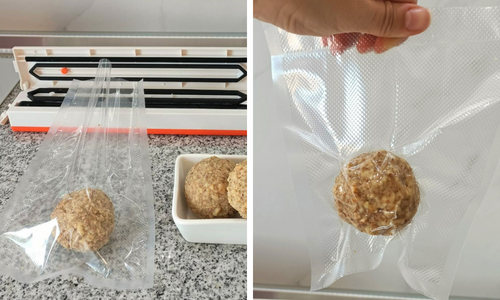 Another way to preserve this is to can the soup. During the winter, we definitely need some extra easy-to-prepare foods.
Canned homemade food is one of the healthiest ways to preserve good food that will nourish your body. If canned in the correct manner, this soup can be kept for years in your pantry or root cellar.
If you don't have a root cellar, here you will find different types of root cellars that you can easily add to your homestead. From full sized traditional root cellars to small barrel or trash can root cellars, there's surely something here that fits your needs.
Here is what you need:
Cooking pot
Jars
Parchment paper
Rubber bands
Instructions:
My mother didn't have a canner but used a simple way of home canning. I watched her do this year after year, and now I do it myself. It is fast and efficient, and you cannot make mistakes.
Take some clean jars, and fill them with hot soup. Make sure to wipe the rims so there is no soup or other food particles.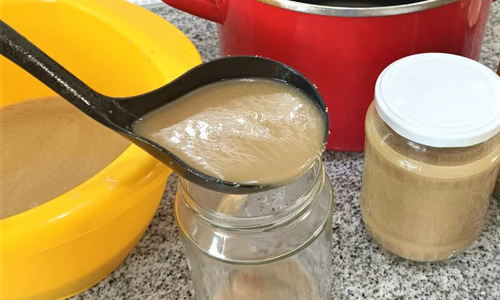 I like to run a wet cloth on the rims and then wipe them with a dry cloth just to make sure everything is perfectly clean. After this step, carefully close the jars.
Take some parchment paper, and roll it around the jars. This will prevent the jars from breaking. Secure the parchment paper with rubber bands.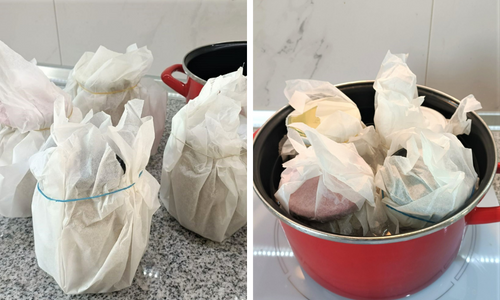 Once you have all the jars wrapped in parchment paper, place them in the cooking pot and add water. I am practicing the 2/3 water 1/3 free jar method. Turn on the heat and let it simmer for 25 minutes.
How To Store The Kanuchi Soup
If the canning process goes well, you will notice a small dent on the jar lid. Keep the jars in a cool, dark place, away from heat and direct sunlight.
I like keeping my jars in my root cellar; that way I am sure there will be no temperature swings, and the canned food stays good for years.
The Cherokee people certainly understood the importance of growing their own crops, foraging and food preservation. They relied on wild plants and hunting for survival.
Nuts were especially important for the Cherokees. After the fall harvest, they would store chestnuts, butternuts, hickory and pecan nuts for months, regularly checking for signs of spoilage, to help get them trough the tough winter.
Let me know in the comments what other traditionally Cherokee recipes you heard of and would like to learn to prepare yourselves.