Black Garlic is often referred to as fermented, however, the process is more like slow-roasting. Whole cloves of garlic are kept at a temperature of 140 F degrees for 2 to 6 weeks. The natural sugars are slowly caramelized and the garlic turns brown, then black. Meanwhile, the garlic cloves ferment and develop beneficial bacteria that promote a healthy gut.
The flavor of black garlic is less pungent than raw garlic, Black garlic develops a sweetness similar to an aged balsamic with sweet and sour notes. Some people find it a little bitter. The flavor depends on the type of garlic used, how long the garlic is roasted, and the aging process.
What Are the Health Benefits of Black Garlic?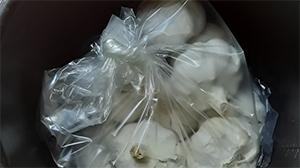 Black garlic has the health benefits of regular garlic, plus a few more. It is also easier to eat than raw garlic, for some people. To receive the maximum benefits, black garlic should be consumed daily and used generously in cooking. Here are just a few of the reasons to consume black garlic:
Black garlic has 10 times more antioxidants than raw garlic;
Strong antiviral effects;
Strong anti-tumor effects;
Potent anti-inflammatory;
Increases "good" HDL cholesterol for a healthy heart;
Decreases or prevents an allergic response;
Benefits liver and reduces liver damage from alcohol;
It helps prevent colon cancer.
Related: 9 Natural Remedies To Heal Wounds Faster
How to Make Black Garlic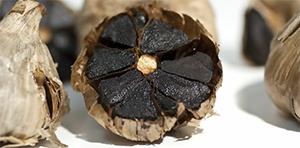 You can make black garlic in several different ways. The important thing is to keep the garlic reliably at 140 F for a long period. It can be done in a crockpot if you can maintain it at 140 F. In the beginning, I used my crockpot with a temperature regulator that I had made for Sous Vide cooking, But after a bit of experimenting and testing, I discovered that a rice cooker stays at 140 F on the warm setting, so I now use that. The only downside is that it ties up the rice cooker for a long time.
Here are the steps I use to make black garlic in the rice cooker:
#1. Choose fresh, healthy-looking cloves of garlic. Pearly garlic or single clove garlic works well. I like the flavor of purple streaked garlic. Do not use any cloves that are dried out, splitting, or that have begun to sprout.
#2. Clean the garlic, removing any loose papery skin and all visible dirt. You can use a damp cloth to wipe the garlic, but do not put it under running water. We want it dry on the outside and naturally moist on the inside.
#3. Put the garlic in the rice cooker. I place it in a baking bag or a crockpot liner and tie it up. This keeps in moisture and prevents the garlic from drying out. It also keeps in most of the smell. If you don't use the bag you'll want to place the cooker in the garage or an out of the way spot to control the strong garlic smell.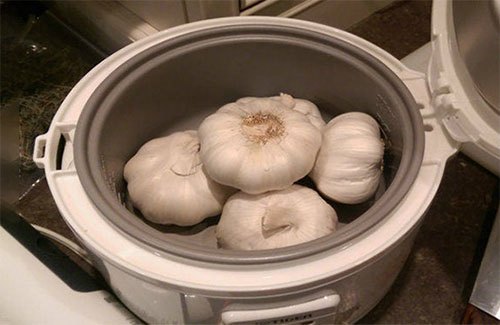 #4. Close the rice cooker and set it to "Keep Warm." Do not touch the "cook" button. Leave it on warm for 2 to 3 weeks. Check it periodically to make sure it is still on, but do not open it. Some cookers will automatically cut off after a set period, so check your manual.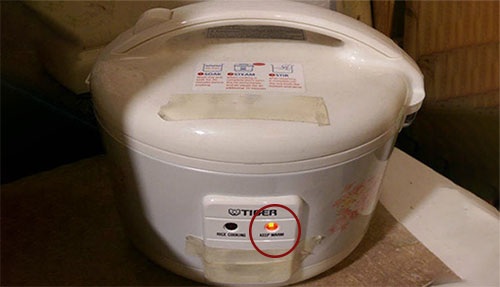 #5. At the 2- to 3-week point, I check the garlic. If it is nice and black, I remove it. Sometimes it will be more of a brown color and I let it go longer. Anywhere from 2 weeks to 6 weeks is appropriate. The garlic texture and flavor will change as it continues to roast. At 2 weeks the texture is like a soft fruit. After 3 weeks, it will be chewy and it continues to soften as more time passes. The flavor also evolves, becoming more like molasses the longer it goes.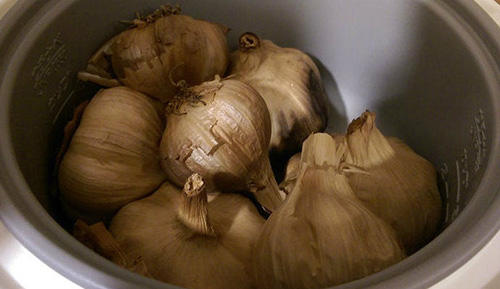 #6. At this stage, you can eat the black garlic or store it in a sealed container for up to 6 months at room temperature or in the freezer for up to 1 year. Commercial black garlic is aged at 70 F and high humidity. Aging from 10 to 45 days is usual. I prefer to store the garlic at room temperature and let aging take care of itself since the humidity is almost always high in Florida anyway.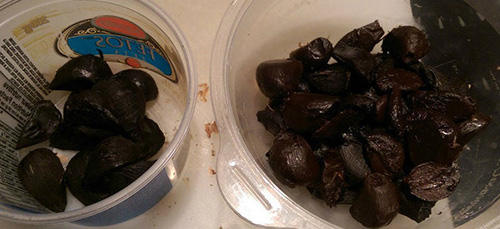 How to Use Black Garlic
For the best health benefits, you need to consume black garlic daily, so it makes sense to learn to use it in cooking. It can be substituted wherever regular garlic is called for, but the flavor is sweeter and less pungent. You may want to add both raw and black garlic, or a larger portion of black garlic, depending on the desired end flavor.
In addition to cooking, I add dehydrated black garlic to capsules and take it daily as a supplement.
Related: How To Prepare Medicinal Pickled Garlic
Dehydrating Black Garlic for Future Use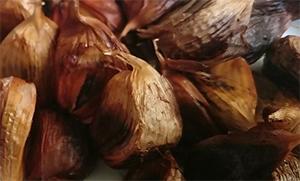 I make black garlic in batches of 12 to 14 large cloves at a time and then dehydrate some for use as a powdered seasoning. The cloves are soft and come out of their paper skin easily. I usually mash them slightly into a thin layer on a solid dehydrating sheet (if you don't have a solid sheet, cover the mesh in plastic.) Once the black garlic is dry, I give it a whirl in my blender until a fine black garlic powder is created. Use black garlic powder instead of, or in addition to regular garlic powder.
When dehydrating, it shrinks down a lot, so you don't end up with as much as you might have expected. If you are tempted to make a larger batch, it may take longer to get the same results. Having a lot of garlic in the rice cooker seems to lower the temperature a little.
You'll find other methods for making black garlic on the internet. I expect they will all work as long as you can keep the temperature reliably at 140 F or slightly above. Some methods use higher temperatures, but a higher temperature gives a more bitter flavor and it may lose some of the healthy properties. But this is only my observations, with no scientific proof, so you can decide for yourself.
You may also like: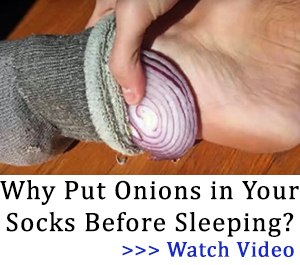 How To Make Sauerkraut – The Most Effective Probiotic
10 Medicinal Seeds You Should Hoard (Video)
What Foods Can You Bury Underground For Winter?
All-Natural, Home Remedies for High Blood Pressure
Winter Sowing Technique That Guarantees The Best Crops