Winter Sowing Technique That Guarantees The Best Crops
Some gardeners are sad to see the colder months come as winter approaches, because they feel as though they have to put their hobby into hibernation for the winter. In fact that's not necessarily true.
Winter sowing allows the opportunity to start preparing our spring and summer crops, all while keeping your hobby alive and well even after the first snowfall. The best news is that you don't need a fancy greenhouse to do it. In fact, you don't need a greenhouse at all. Just a few inexpensive items is all it takes to have you all set for spring!
What is Winter Sowing?
The use of plastic jugs, such as milk or water containers, is a great way to do some winter sowing. If set up properly they will act as an individual homemade greenhouse for the seed of your choice.
It's a great way to sow seeds at low cost and with very little maintenance. It's a great way of recycling your used milk or water jugs, and you only need a few other simple items.
The Supplies
If you plan on doing this each year, start saving your milk or water jugs. Ask friends to save their for you too and you will have plenty in no time at all. For the demonstration in this article I only used three containers, but you can use as many as you want. Whether you want to start with a couple dozen, or just a couple, it's all up to you.
Here is what you will need:
Plastic containers (milk or water jugs are easy)
Potting soil
Knife
Screwdriver
Seeds
Tape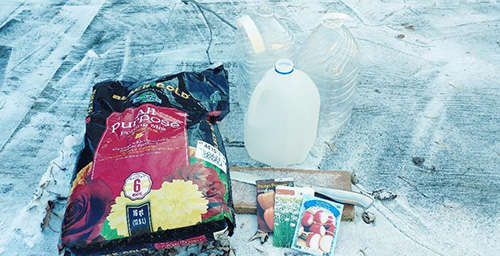 Don't worry about snow. This can be done before it snows, during a snowstorm, or even when there's snow on the ground. The best part, perhaps, is that preparation and maintenance are both very simple.
Related: The 5 Seeds That You Need to Stockpile in Your Pantry
How to Prepare the Plastic Containers for Winter Sowing
There isn't a lot of hard work in turning the jugs into miniature greenhouses, but each step is important.
#1. Cut the jug almost all the way through, leaving just enough to act as a hinge. The cut line should be approximately 4" from the bottom.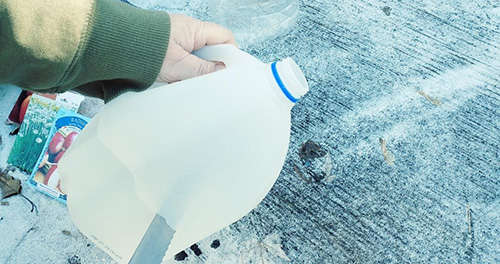 #2. Poke several holes in the bottom of each jug for drainage. You could also poke holes towards the top for more circulation, along with leaving the cap off. Use the tip of a screwdriver to make the holes. You could heat up the tip of the screwdriver to make this a bit easier.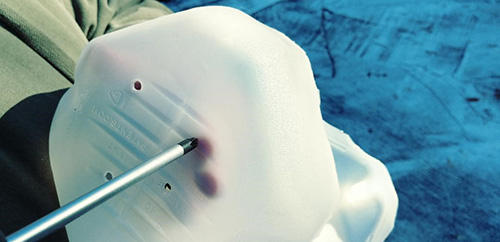 #3. Fill the bottom half of the jug with about 3" of damp soil.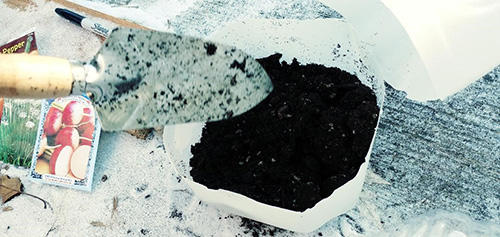 #4. Plant the seeds in the soil, according to the planting suggestions on the seed package regarding depth and spacing. You do have a bit of leniency here, because they will be transplanted in the spring.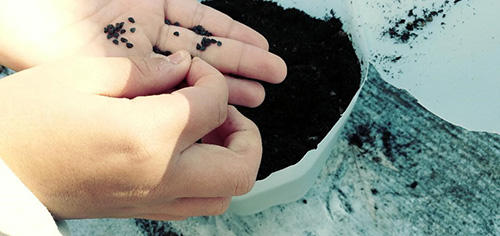 #5. If the soil is not damp, now would be a good time to add some water. The soil I used was quite damp, and some snow will also get inside the jugs with the cap left off. The sun's warmth will act like a greenhouse and melt it, adding more moisture to the soil throughout the winter. If you don't get a lot of snow or rain, make sure to water them occasionally.
#6. Close the jugs and tape them closed. Make sure to label each jug with what seed it contains. You could also place a labeled stick inside the jug.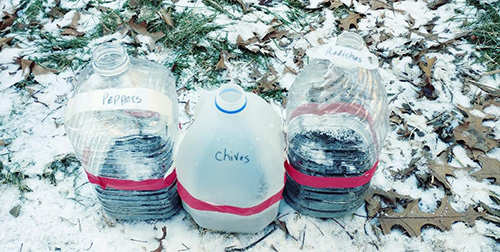 Maintaining Your Winter Sowing Containers
Place the filled containers outside, in a spot where they will get sun as well as snow and rain. It's important that they are not placed in a covered area, because they will need moisture from the snow and rain, while the sun will warm up the containers just as a greenhouse will do.
Be aware of warmer weather, as most winters will occasionally experience a warm period or two. If they become too warm, it could harm the germinated seeds. All you would have to do in this situation is remove the tape and open the lids until it gets cold again.
In the spring, when the jugs are filled with greenery, it's time to transplant the plants, just as you would throughout the gardening season.
What Seeds to Use for Winter Sowing
You could try just about anything, from annuals and perennials to veggies and fruits. More sensitive plants such as tomatoes and peppers might not do as well – but I tried peppers anyway, because I like a challenge.
Annuals might do better if you start them in late winter. You don't have to start the process with any of them in early winter, or even mid-winter. But, if you start anything later in the season, or even early spring, just be cautious of warmer weather and follow the directions mentioned earlier in the article for when it gets too warm.
You may also like: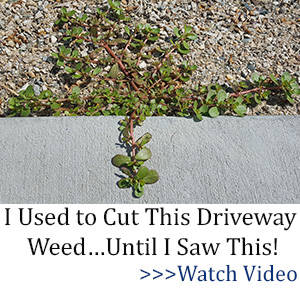 24 Lost Gardening Tips from 100 Years Ago
Engineers Call This The "Solar Panel Killer" (Video)
What the Pioneers Stockpiled To Survive Winter
How to Grow Fruit All Year Round