Gardens offer so much positivity for many people, from a rewarding hobby, to supplying necessary foods for survival. So, the last thing a gardener wants to do, after their hard work and money spent creating a bountiful garden, is to lose the fruits of their labor to pests.
Uninvited predators, such as rodents or those annoying grasshoppers, can destroy a garden, sometimes overnight. Unfortunately, pesticides are not only expensive, but who wants to work with or ingest them? Not me. And, I don't think I'm alone in that thought.
So, let's take a look at some effective, yet natural ways to help eliminate unwanted pests acting as though they are entitled to your crops.
Related: 4 Ways to Keep Monsanto Out Of Your Backyard
Rodents
Rodents come in all shapes and sizes, including rats, squirrels, and chipmunks. And they all can be a problem for gardens.
I don't know about you, but we see several squirrels and chipmunks (and more) in our area on any given day.  I'm sure rats are also around at some point.
They eat a huge variety of crops, leave their droppings behind, and can spread disease. I won't even get into how quickly they can multiply. So, if you see one, just know that there are many others around, or could be in a few weeks!
Here are some options that are safe for your plants, children, and pets:
#1. Mulch
It might look nice and act as a weed deterrent, but it also tends to draw rodents in, looking for comfortable spots to nest. However, if you have your heart set on having mulch, opt for a wood chip variety, which will not be as comfortable.
#2. Your Own Predator
Cats are notorious rodent hunters, especially mice. Cats like to roam the area enough to scare off most of the rodents. However, make sure to keep the cat fed, with plenty of water and provide shelter.
#3. Mint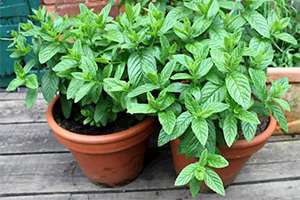 Rodents don't like the smell of mint. Plant a few pots of it around the garden and it will do all the work for you.
You could also scatter dried mint around the garden. However, that could get costly, as it would have to be reapplied after hard rains, or the scent wears off.
Another option is to soak cotton balls with peppermint oil and place them around the garden.
#4. Other Herbs
There are other herbs you could plant, such as thyme, basil, echinacea, or garlic. If you surround your garden with these herbs, rodents will think that's all you have and probably leave, because they don't like them.
#5. Pet Food
Rodents love pet food. If they can't smell it or get to it, it won't attract them.
If you feed your pets outside or store the food outdoors, just put out enough for one meal at feeding time, and store the rest in an airtight container.
#6. Fences
Some rodents dig and get under fences. However, if you secure it by creating an underground barrier (such as a grid hardware cloth), at least 6" deep from the bottom of the fence, it will make it difficult for burrowing rodents to get through.
#7. Onions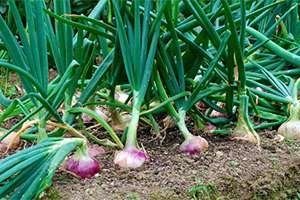 Rodents do not like the pungent smell of onions. Simply put an onion or two where you think you might have a rodent infestation, and it should drive them away.
The onions will rot though, so replace them every few days.
You could also grow onions or leeks, which also add more fresh produce for your harvest.
Word of caution: keep onions away from your pets, as they are poisonous to them!
Related: Why Put Onions in Your Socks Before Sleeping
#8. Instant Potatoes
Sprinkling instant potatoes around the garden will help get rid of mice. It might be too harsh for some people to consider this option, but it can be quite effective.
The instant potatoes expand in their stomachs and are hard to digest. They will most likely go off to find water and die.
Grasshoppers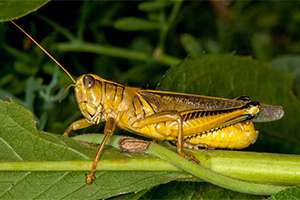 But, what about those pesky grasshoppers?
It's not just that they are annoying little creatures when you walk through a group of them, but grasshoppers can destroy a good crop.
Here are a few ways to get rid of them, as well as of other small pest:
#1. Garlic Spray
Small garden pests, such as grasshoppers, do not like the smell of garlic. Make a spray by boiling 2 bulbs (not cloves) in about 10 cups of water, for no more than 5 minutes. Let the mix sit through the night.
Put it in a spray bottle, then spray the leaves of plants they are bothering. Re-apply every few days.
Related: Why You Should Put Garlic in Your Ear
#2. Flour Dusting
Flour will gum up their mouths, creating the need to go elsewhere to find water. Simply sprinkle a light dusting of all-purpose flour on the leaves of plants that are being bothered. Re-apply as needed.
#3. Other Predators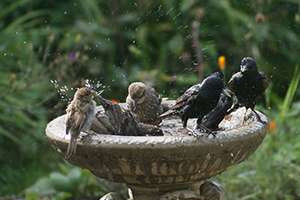 Introduce grasshopper predators to the garden, such as birds. They love grasshoppers and will help keep them away. Birdbaths and feeders are a great way to attract birds.
Just keep in mind that birds also love some of our crops, like berries. So, this won't work for all gardens.
#4. Grass Trap
Select an area nearby that you can let the grass grow. Grasshoppers love long grass and will flock to it, making it easier to keep them away from crops, or easier to trap.
So, if you have worked at creating a garden, there are many options for protecting it. You could try one of the above, or a combination of any of them.
You may also like: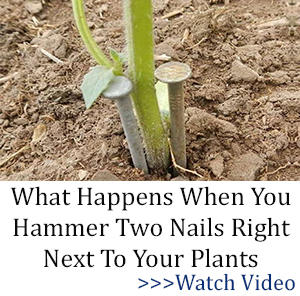 How to Properly Harvest Seeds and Get a Sustainable Food Source Year Round
The 10 Medicinal Seeds You Should Plant for a Complete Backyard Pharmacy (Video)
200 Pounds of Food With this Plant You Can Harvest in Winter
September Crops for a Fall Harvest
All-Natural Fruit Tree Bait for Insects: It Works!