Known as a fall garden, there are a number of cold-hardy vegetables that can be direct-sown for harvest in the fall. Some vegetables are just suited to cooler weather, which is to your distinct advantage. Not only that, but the cooler weather actually enhances the flavor of some of these vegetables, such as kale and parsnips. Let's take a look at what you can plant.
Fall Crops
For fall crops, there are a number of vegetables that can be planted in time to harvest before the first frost sets in. Many of these are greens and root vegetables, but there are also some above the ground plants that do well in cooler weather of the fall.
Leafy Greens
There are so many leafy greens that can be planted as a fall crop. Here is a list:.
Arugula
Leaf lettuce
Mustard
Spinach
Sorrel
Cress
Oriental greens
Brassicas
Brassicas are plants in the cabbage family and there are more of these than you might think. Good brassicas for fall planting include:
Summer cabbage
Brussels sprouts
Broccoli
Cauliflower
Kale
Endive
Florence fennel
Escarole
Collard greens
Root Vegetables
Many of our favorite root vegetables make great fall crops. These include:
Rutabagas
Carrots
Radishes
Turnips
Beets
Parsnips
Other Plants
A few other plants make good fall crops because they like the cooler weather or they simply grow fast enough to mature well before the first frost. These include:
Peas
Snap beans
Summer squash
Tomatoes of a quick-maturing variety
Related: Top 10 Foods to Grow for Survival
When to Plant
It will depend on where you live as to when to plant your fall crop of vegetables. If you are further to the south, you will certainly have more time and less severe conditions in which to grow your crops. Further to the north, hardy greens and root vegetables are ideal. Either way, the best time to sow your seeds will depend on your estimated first frost date.
Find out the estimated date of your first frost and count backward from there the number of days your plants will take to mature. Add a couple of weeks to this and that will be the date you should plant the seeds. For example, if you have a crop that takes 55 days to mature, that is about 8 weeks. Add two weeks to that and you should sow the seeds 10 weeks before your first frost date.
Here is a rough guide of when to plant based on plant hardiness zone:
• Zone 5: Early July
• Zone 6: Late July
• Zone 7: August
• Zone 8+: Mid- to late-August and into September
If you find that your summer conditions when planting are hot and dry and not great for starting seedlings, then you can start them indoors and transfer them to the ground once the seedlings are about 3 weeks old. Be sure to sow seeds or transplant seedlings on a day that is cloudy and cooler and they should be well watered after planting/transplant. If the weather is still hot, protect seedlings with a shade cloth until the daytime temperatures begin to fall.
Extending the Growing Season
There are ways to extend the growing season past the first frost. If you have a greenhouse, you can easily have fresh produce growing throughout the winter. If not and your plants are outdoors, then sometimes just covering them at night to protect them from frost is enough, provided daytime temperatures are still relatively high. A cloche is ideal for this.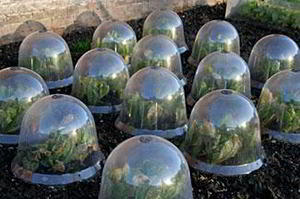 A cloche is a transparent or translucent plant protector that is designed to protect individual plants that are spaced at least 8 inches apart. This means it works well for plants such as tomatoes and peppers. You can even use recycled materials for this, such as milk jugs and clear plastic bottles. Just be sure to anchor your cloches well, as they can blow away in a strong wind.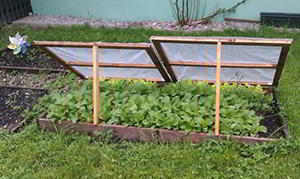 If you don't have a greenhouse you can use a cold frame. Cold frames can be used for many different reasons. They essentially make use of the solar energy of the sun to create a microclimate that will support plants after frost and colder weather make their appearance. It's like a mini greenhouse. You can start seedlings in the protected cover of the cold frame, help harden them off in the spring, or overwinter dormant plants in it. But cold frames are also ideal for extending the growing season past the onset of frost.
Planting cold-hardy plants in a cold frame will allow those plants an extension of three to four months past the first frost, essentially taking you through most of the winter. You can also sow these cold-hardy plants earlier in the spring, right after you harvest the fall/winter crop, essentially keeping your cold frame busy all year round.
You can even keep less cold-hardy plants alive well into the fall, allowing you to harvest fresh tomatoes in time for Thanksgiving. Greens can be grown into February, allowing you to have the nutritional punch they pack at a fraction of the price you would pay in a grocery store.
You may also like: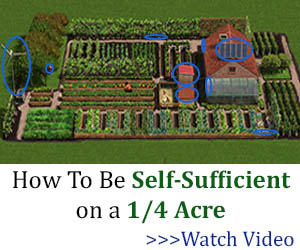 10 Beautiful Plants That Are Secretly Killing Your Garden
H2O Dynamo – The Awesome Device That Turns Air Into Fresh Water! (video)
The 5 Seeds That You Need to Stockpile in Your Pantry
How To Preserve Beef in Glass Jars