Every good prepper knows that having a reliable arsenal ready and stocked is critical for protecting yourself, your family, and your property in a disaster or other "SHTF" scenario.
But with the 2020 election cycle is hot n' ready. That means plenty of politicians are calling for more firearm bans and gun control, so getting your hands on the right firepower (and keeping it) could get a little more difficult in the months and years ahead.
That's why some preppers are choosing to avoid the local gun store and government paperwork. Instead, they're building their guns at home from scratch. And they're doing it legally.
The Rise of the 80% Lower Receiver
Back in 1968, the Gun Control Act cemented a rather unique Second Amendment right into federal law for all Americans: the right to build a firearm at home, unregistered, with no paperwork required.
To this day, the ATF (the Bureau of Alcohol, Tobacco, and Firearms) says this is 100% legal:
"No, a license is not required to make a firearm solely for personal use. However, a license is required to manufacture firearms for sale or distribution. The law prohibits a person from assembling a non–sporting semiautomatic rifle or shotgun from 10 or more imported parts, as well as firearms that cannot be detected by metal detectors or x–ray machines. In addition, the making of an NFA firearm requires a tax payment and advance approval by ATF."
And thanks to America's free-market capitalism, gun makers and machinists started taking advantage of this. They figured out a way to combine America's favorite rifle, the AR-15, with an easy-to-build gun making kit that takes advantage of this very law. Enter the 80% lower receiver.
The Building Block for an Unregistered AR-15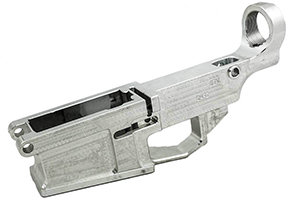 Officially called a "receiver blank" by the ATF, an 80% lower is a large chunk of aluminum or polymer that roughly resembles the receiver on an AR-15, which is considered a firearm by law and is regulated by the ATF.
Except this receiver blank is not quite a firearm. Yet.
That's where you, the savvy prepper and newly minted at home-gunsmith, come in. You'll need to cut and drill some excess material off your receiver blank and in doing so, you'll be manufacturing a firearm that you can then use to build a black rifle or pistol at home.
All without the government ever knowing and without any background check or red tape. The whole process is incredibly easy, taking around 2 hours or less with some basic hand tools, which we'll touch on later.
Why Build Your Rifle "Off the Grid"?
It might be easier to go to the local gun store, pick up an AR-15 or a stripped lower receiver and build it, and call it a day. Except in 2019, buying your gun over the counter could potentially trap you in some legal hot water down the road.
Enter New York's attempt to force gun owners to register their AR-15s in 2015:
New York banned the sale of semiautomatic firearms they deemed to be assault weapons. The state also required gun owners to register these weapons with the state. This was meant to be for accountability, but really, it was for future confiscation – sorry, "forced buy-back".
Well, New York's gun owners did not comply. Nearly one million New Yorkers failed to register their assault weapons, leaving nearly one million Americans now labeled as potential felons.
While a matter of noncompliance with state-level firearm paperwork may seem relatively "white collar" and nonviolent as far as crime goes, it could carry deadly implications.
Two men have been killed for refusing to turn in their guns.
Maryland's "Red Flag" laws allow any concerned individual to report a gun owner for mental evaluation and temporary gun confiscation. One man was shot and killed after refusing to turn over his weapons to police for just this reason. No due process, no day in court.
Another man was shot and killed in New Zealand just a few months ago for refusing to turn in his weapons in compliance with new gun control, too.
We're not advocating that any prepper breaks the law or violate firearms codes. Yet in times of turmoil or national crisis, Martial Law is often declared, and your Second Amendment rights may likely be violated.
For example, enforcement went door-to-door after Hurricane Katrina in 2005 and confiscated firearms from private citizens as they swept neighborhoods and suburbs.
How the Whole Thing Works
Like we said, it may be technically easier to just buy a rifle at the store, but building one from scratch using a receiver blank is surprisingly simple. You'll need a few tools to get the job done, including:
A drill or drill press
A handheld router
Drill bits
End mill bit.
Picking an 80% Jig
The jig is the most important tool in this project. You can just buy a jig and it'll include the bits you need. The jig acts like a mini-CNC machine and template, securing your receiver blank and showing you how to cut out the receiver for the trigger parts using your end mill bit.
It also guides you along while you drill the holes for the hammer, trigger, and safety pins with your drill bits. Like we said earlier, the whole process takes less than two hours, even for first-timers. Jigs include written instructions, and some include video tutorials.
Drill press. Vs. Router
There are two types of jigs to consider: Drill press jigs and router jigs. As their names imply, these two types of jigs will determine whether you buy a handheld router or use a drill press (or milling machine).
No matter which type of jig you buy, the machining steps are the same:
#1. Secure Your 80% Lower in the Jig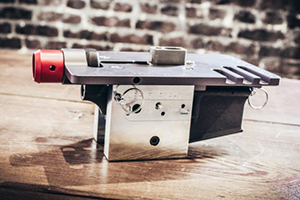 Setting up the receiver blank and jig is easy. Most jigs consist of three plates: Two side plates with drilling templates, and one (or more) top plate with drilling and cutting templates.
Once the lower is secured in the jig, you'll need to secure the jig to your workstation. A simple tabletop vise is recommended. If you're using a drill press or mill, you probably already own a vise.
#2. Drill the Fire Control Cavity Pilot Holes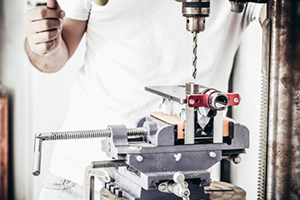 With the assembly secured and ready for work, you can start by drilling the pilot holes for the fire control cavity.
We're using a drill press in this photo, but you can even use a handheld drill. The jig's top plates are made of reinforced steel, and some even include high-speed drill bushings.
These reinforced holes and bushings align your drill bit for you, eliminating the need for a drill press.
#3. Cut the Fire Control Cavity
With your pilot holes drilled you can swap out your drill bit and handheld drill for your end mill bit and router or drill press. The pilot holes removed the bulk of material inside the cavity, so finishing up the final cuts with the end mill should take minimal effort. Most jigs include a depth gauge. This gauge will help you measure how far down you need to drill and cut with your bits.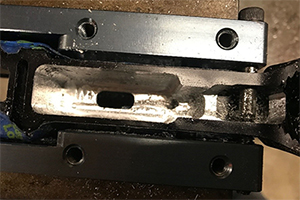 Simply tighten the bit in your router or press at the correct length using the gauge, and begin cutting.
Your finished fire control cavity should look like this. You may need to use different templates provided with your jig to cut different parts of the cavity, like the shelf where your rear takedown pin goes.
#4. Drill the Hammer, Safety, and Trigger Holes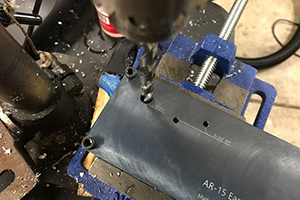 This part's simple. Simply orient your receiver and jig so you can make vertical holes with your handheld drill or drill press. The side plates on the jig show you where to drill your holes.
With all holes drilled and aluminum debris cleaned up and removed, your finished receiver should look something like this: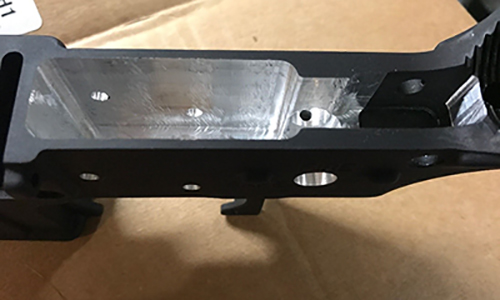 Once you've finished machining your blank, it'll be classified as a real firearm. More importantly, it'll be a functional stripped receiver that you can use to complete an AR-15 build at home. These finished receiver blanks are identical to any factory-made lower receiver.
Summary
More shooters and preppers are choosing to build their firearms and survival weapons at home, "off the grid", using receiver blanks that aren't traced by the ATF. These blanks are 100% legal to use, though some states have certain restrictions. Always do your homework first. Building your rifle using an 80% lower receiver allows you to keep your weapon unregistered and private in your collection.
You may also like: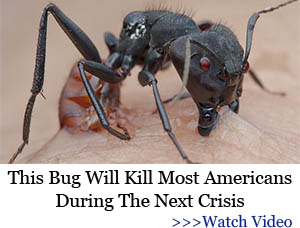 Best and Worst States for Gun Owners
Davy Crockett's "Make It and Forget It" Food Of the Wild Frontier (Video)
How To Make Gun Powder The Old Fashioned Way in Less Than 30 Minutes