Editor's note: This article was written by one of our most respected readers and opinion leader, Left Coast Chuck.
I am in the at-risk group in spades. Being 80+, having a leaky heart valve, having diabetes and shortness of breath I am probably in the 99 percentile risk category.
With that cheery thought in mind, while I can certainly go into prepper mode and use my prepper food supply, as I expressed to Armin, I am concerned that this "crisis" is going to be parlayed into something more and all commodities will start to look like Russia in the 50s.
Because I am in such a high risk category, I try to take maximum precautions.
First I wear a pair of coveralls over my regular clothes. When I get home, the coveralls come off before I enter the house and go in a bag to be taken directly to the laundry area and into the washer. I also wear a baseball cap with a large brim. That goes into the bag and the washer too.
While I am out and about I wear an N95 mask. That comes off at the door and into the bag. It doesn't go in the washing machine because I think that would totally destroy it. It does get spritzed on the outside with 75% isopropyl alcohol (IPA).
Related: How to Make Your Own Mask for a Pandemic
While at the store, I maintain my six foot distance as much as possible. While I stay away from people in front of me, just like on the highway, there are tailgaters in the stores too. Can't do much about them, but I try.
If I use cash, the change I receive is deposited in a plastic baggy by the clerk. If I use a credit card, it goes in the baggy too. This goes in a pocket in the coveralls. Nothing I get outside goes into my regular clothes under the coveralls, including receipts.
Upon arriving home, all the groceries are off loaded to the front door.
I take my shoes off at the door and they currently get spritzed with 75% IPA. I managed to score 3 gallons of Clorox at Costco yesterday, so I am going to switch to bleach solution for sanitizing my shoes. I spritz the uppers, the welts around the soles and especially the soles. The shoes stay outside to dry out. I spritz the outside of the nitrile gloves that I wore during my expedition.
After depositing my coveralls and hat in the washer and starting a hot wash cycle, I return to the front door to start moving the groceries inside. Everything that can be spritzed with alcohol is decontaminated that way. The only items that are not, are bread items mainly because I don't think the wrapper is impermeable enough to withstand the spritzing with alcohol. I don't spritz meat products, as they will be cooked enough that viruses on the surface will die. In the meantime they are going in the freezer. I don't do frozen products as I hope zero temperatures will serve the same purpose as cooking.
Related: How To Tell If Your Frozen Food Has Gone Bad
I deposit the credit card and change that I have received in the kitchen sink to be sanitized. I spray my eye glasses with an alcohol based eyeglass cleaner.
Finally, yesterday I spritzed the Costco card with alcohol. Today because I had obtained the Clorox, I soaked the cash I received back at the store in the bleach disinfecting solution, 1/2 cup of bleach to one gallon of water. Mine is just a tad stronger as the Clorox bottle is no longer a full gallon and the Clorox solution is supposed to be a bit stronger.
I thought the bleach would destroy the image on the bills or make the ink run, but neither the IPA nor the bleach disinfecting solution distorted the printing in any way.
Finally, I remove the nitrile gloves I have been wearing, give them a final rinse with the bleach disinfecting solution, and save them for use again.
When my shoes have dried from their disinfecting, they get brought indoors. My sneakers have never been this clean, apart from the day I first put them on.
The health officials in SoCal have finally gotten their act together and have decided that everybody should wear some kind of face protection while out and about. They suggest if you don't have regular face masks, that you should wear a bandana much like the bad guys in the old Hoot Gibson westerns. So, if you happen to be in the City of Angles (Oh, Father Serra would be sorely disappointed to see it now) and spot some hombres wearing their kerchief over their mouth and nose — no, they are not protecting from CoVID19, they really are gang members. If it's red,  they are Crips and if it's blue, they are Bloods — or is it the other way round? I never can keep it straight. And you are in bigger trouble than if you catch a dose of CoVID19.
If you are not old enough to remember Hoot Gibson, he was one of the early hero cowboys back in the days of silent movies. He used to play in the Saturday matinees and in the 50's and 60's on late night TV, before Jack Parr and Johnny Carson. If I recall correctly, he was a real life cowboy, who started as an extra and worked his way up to star in the movies. He actually could ride and shoot.
You may also like: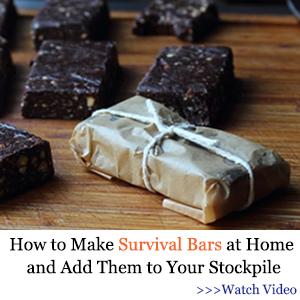 Man Eats Expired Food for 365 Days. This Is What Happened:
How To Become Self-Sufficient on a 1/4 Acre (Video)
22 Cans You Can Purchase for $1 or Under
Survival Items Lewis and Clark Had with Them on Their Two-Year Journey
Is Canned Tuna Still Safe to Stockpile 7 Years After Fukushima?