Seeds are an essential item for any long-term survival plan. Stockpiling food is a great idea and everyone should do it, because there's no other way to get through the initial weeks and months after a crisis hits, but there's a limit to how much you can store; eventually you're going to have to start producing your own. Foraging for wild foods can take up some of the slack, but in the end it's going to be a lot more labor-intensive than growing it.
The question is, what should you grow? A look at any seed catalog will quickly tell you that there are thousands of options, so which ones to add to your stores? It's tempting to get the widest selection you can, but in fact that's not a good idea. You need to be selective about the seeds you buy – you need the right varieties, and the right number of varieties.
For the same acreage, you'll spend more time and effort on it if you grow a larger number of crops. That's a good argument to keep the number down as much as you can. On the other hand you don't want too few crops either. That way, your entire food supply is vulnerable to a disease or pest that just happens to target what you have. If you're growing two things and one of them picks up a disease, you've lost half your food. If you're growing ten things and one gets an infestation you've only lost a tenth.
You also need to think about future crops. You can harvest seeds from this year's, but you might not want to grow the same crops every year – that can be a quick way to exhaust the soil. Rotating the same crops around different patches can help, but varying the actual crops every year or two won't hurt either. Having some extra seed varieties on hand will give you much more flexibility.
Finally, make sure you're growing a balanced diet. Some crops are high in carbohydrates, some in proteins, some in fiber – but very few are high in all the nutrients you need. To keep yourself healthy you need a mix of crops that provides all your requirements.
So you need to have a few types of seed, but not too many. Getting the balance right makes the difference between a productive plot and hungry frustration. Avoid that by stocking up on this selection of all the seeds you'll ever need:
 #1. Squash
Squash is a great food crop; it's easy to grow, and the fruit is high in carbohydrates. It contains a lot of other nutrients too, including magnesium, potassium and Vitamins A and C. The squash family is diverse, too, meaning you can find varieties that thrive in almost any climate. Butternut squash and pumpkins do well in warm climates; zucchini is the one to go for if you live somewhere temperate to cold.
Squash is also a very versatile crop. Depending on the variety it can be used in both sweet and savory recipes. It's easy to store, too. Whole squash can be kept in a root cellar for up to three months. Alternatively it can be canned or dehydrated for longer-term storage, and it freezes well too.
Squash seeds can be bought, and it's also easy enough to harvest seeds from your own crop.
#2. Potatoes
Potatoes are another carbohydrate-rich crop and they also contain an array of other nutrients – they're a good source of potassium, copper and Vitamin B6. Potatoes can be grown from seeds; either buy them, or collect them from the seed pods on mature potato plants. The drawback with potato seeds is that it takes two seasons to produce edible potatoes. In the first year the plants produce small tuberlets; use these as seed potatoes to grow a real crop the next year. On the other hand seeds can be stored long term. To cover the next season's crop, keep a supply of seed potatoes as well.
Related: Preserving Potatoes Year Round – A Solid Choice for Preppers
#3. Corn
This grows best in a sunny climate, but if you live in a farming area you'll know where it thrives and where it doesn't. Corn is a very useful crop; apart from being eaten as a vegetable it can also be dried and ground, then used to make cornbread.
Corn is a wind-fertilized crop, and it will pollinate better if you plant it in blocks instead of rows. One thing to be aware of with corn is that it's vulnerable to inbreeding, so aim to have at least 100 plants to guarantee a healthy gene pool.
#4. Spinach
Spinach is another versatile plant, which can bee eaten cooked or raw as a salad. It's very nutritious, containing plenty of fiber as well as iron, magnesium, manganese, potassium and Vitamins A, B-riboflavin, B6, C, E and K. It grows in spring and fall, so most (not all) varieties will deliver two crops a year. It's also easy to grow.
Whenever you plant spinach, don't pick it all when it's ready to eat – leave a few plants to fully mature, then collect the seeds from the female plants. You can recognize the females by checking the small balls that grow under the leaves; on a male plant these are yellow, but on a female one they're green. Let the plants grow until they turn yellow then pull them up, hang them upside down in a cool dry place for two weeks, then shake them to collect the seeds.
Related:22 Cans You Can Purchase for $1 or Under
#5. Beans
Most preppers already have a load of dried beans in their food stores, for a few very good reasons. First, they're easy to keep and have a long shelf life. Second, they're versatile and can be turned into a wide range of meals. Third, they're a great source of protein and fiber. Sadly there's a limit to how many beans you can stockpile, but the good news is they're also easy to grow.
There's a huge variety of beans on the market, but if you want to grow beans for storage the most popular choice is the navy bean. Green beans and peas can be canned. Some varieties are bushes while others need to grow up a stick; this can affect how much space they need. Most varieties do prefer warmer weather,, but they can be grown in most of the contiguous 48.
#6. Wheat
If you're serious about self-sufficiency you need to reckon on growing, and processing, wheat. It's one of the most nutritious thigs you can plant, being high in carbs, protein and fiber, and it also has significant amounts of B vitamins. Processing it into flour can be quite labor-intensive, but if you can manage that you're able to be self-sufficient in proper bread.
There are plenty more seeds you can add to your collection depending on personal preferences, but if you have a good stock of these six, store them properly and rotate them as required, you've got the basis for a sustainable long-term food supply. Make sure you get heirloom seeds – GMO ones are often modified to stop them producing fertile seeds of their own, forcing farmers to buy more seeds every year. That's obviously no good in a crisis, so look for more traditional non-GMO cultivars that can be bred generation after generation. Do that and you'll have an endless supply of produce that will secure your long-term food supply.
You may also like: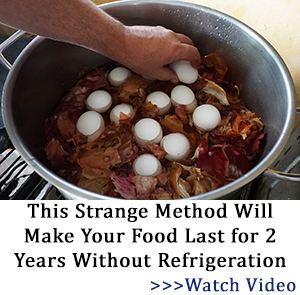 The 5 Seeds That You Need to Stockpile in Your Pantry
Cheap and Easy Way to Build Root Cellar in Your Own Back Yard(Video)
21 Wild Edibles You Can Find in Urban Areas
The Best ORAC Foods to Stockpile