Since the isolation we have come to appreciate the idea that 'our home is our sanctuary' and we can do much more with our property to make it even better! While it is essential to get out into the world, we can set ourselves up for success and survival by adding some small DIY survival projects to our to do list.
From quality leisure to practicing survival skills, we are going to look at a collection of survival projects that are small and simple. These are not big DIY builds or things that require plans and a shed full of tools.
You might look over your property and see a bunch of restrictions. You might think you have topped out what is possible. The reality is, there is much more you can do with just a few small spots in a yard or in some woods around the home.
The First One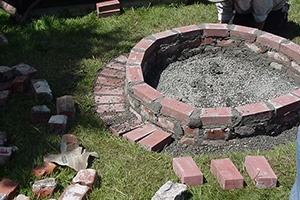 Making fire and cooking over a fire are two skills that any survivalist should be practicing on a regular basis. Making your own firepit is as simple as stacking some stones in a circle outback.
You could also repurpose things like cast iron grills and use them to burn in.
You can be as simple or as creative as you like with your firepit but having one gives you a means of starting fires and cooking over fires on a regular basis.
Be sure you understand your burning laws and don't make a firepit of local river or creek rocks as they often contain water and can burst and spray your family with hot rock fragments. Fire brick is the best thing to build the inside of a fire pit from.
A Protein Source On Your Property 
The keeping of hens has changed a lot about my preparedness on a whole. From the simple protein standpoint, I have eggs being produced each day. That means we have a protein source on our property. However, we have also managed our land to deal with predators, added trees to provide natural food for the birds and of course we manage a chicken coop.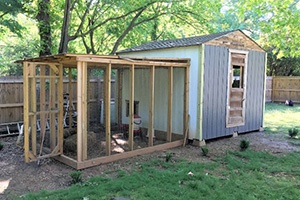 Making your own chicken coop is easy and if you have no building or wood working acumen you can still make a chicken coop from an old shed. The shed must be secure and safe. It should be as draft free as possible and be able to lock up tight at night to keep predators.
Small, shed coops are easy to clean and give the birds lots of room even on rainy days. However, there are somethings you will have to add to your shed to make it work as a coop.
Cut some windows and screen them
Add some roosting polls
Create nesting boxes on the wall (I have even seen people nest old bowls into a circular cutout of an old wood chair and use it as a nesting area.
Feeding Area
Water Container
You can also frame out a small coop with wood and just build your own. This can be a lot of fun because there are a variety of coops and coop building plans you can use to help you build your own little coop.
An Ingenious Project
We have been smoking meat to preserve it probably since we discovered fire! Thousands of years. It plain works, and it is also delicious. Why not have a little smoker in your backyard that you can spark a fire up inside of and smoke some ribs or chickens.
This is an off grid cooking option that any prepper would benefit from.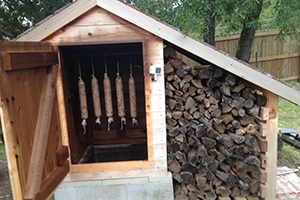 Using a simple cinderblock base and A framed smokehouse you can build the smoker itself with very little investment.
The A frame can be framed with 2x4s and sit right on top of the cinderblock base. Make your base about 2ft tall with cinderblocks and sit the A frame on top.
You will have to attach a firebox to the cinderblock base to create the smoke. You will need a small metal or brick firebox with a door or opening that can be closed. A simple flue can be used to run hot smoke from the firebox to the smokehouse. Just make sure whatever you use can stand up to the heat!
Another easy tip is to add hooks to your smokehouse rather than racks. These are cheap and easy and can even be forged at home if you have some blacksmithing skills. Get smoking!
Related: How to Build a Smokehouse In Your Backyard 
The Most Simple One
Gardening is not as easy as it looks. Depending on where you live and what kind of land you are dealing with, gardening could be an utter nightmare with limited success, at best. It might not be something you feel confident in banking your life on.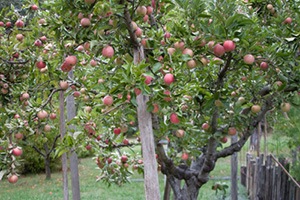 We grow in a marsh and we have great years, and we have terrible years. This on/off success brought us to the conclusion that we needed to start thinking about an orchard along with our garden.
So rather than count on the garden for all of our fresh food we started planting peach trees and thinning wild paw paw trees in our backyard.
We have plans to add apples and persimmon this year as we continue to build on our micro orchard. The micro orchard is a great way to produce food and you can plant a lot of dwarf trees on a very little bit of land.
We pull fruit from 8 different trees, at the moment, and our entire property is .8 an acre!
Compost Pile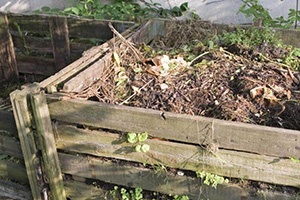 This one is a no brainer, but I am consistently amazed at how many bags of leaves I see the average American schlepping from the back yard to the curb to be picked up.
When the leaves start falling in my yard, it's like gold is raining from the sky.
A compost pile can be made from three pallets! You can just have a compost pile covered with a tarp if you want. It is not an investment.
We all know the importance of growing your own food. Compost provides you with a highly nutritious growing medium to bolster your soil year over year.
Related: 39 Items You Can Compost
A Remarkably Simple Build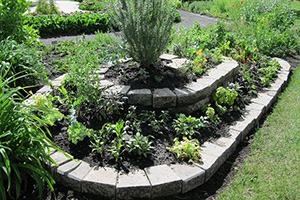 A microclimate herb garden sounds like something overly complicated but in reality, it's just a circular spiraling stack of bricks that is built with less bricks on the outer wall but gets taller towards the center.
By building this kind of spiraling brick or stone herb garden you create shadows and wind blocks for some plants and others always get direct sunlight.
This is a remarkably simple build that is just about simply stacking bricks and filling the empty spaces with quality soil and then planting a variety of herbs.
Hygiene Bin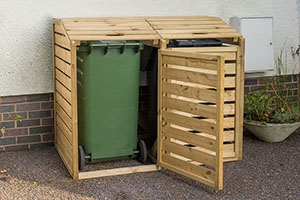 Living through a pandemic, people have come to appreciate things like soap, sanitizer, toilet paper and masks.
To create a simple hygiene bin, you just need to buy a large trashcan with a lid, or some other waterproof container simply begin adding items to this bin on a weekly basis.
Buy an extra bar of soap and toss it in the bin. Add a pack of gloves and some toilet paper the next week. Just keep at this until you fill the trash can or container up. When the next disaster occurs and you have people rushing the stores, you will be able to sit back and know you have hygiene taken care of.
An Uncommon Idea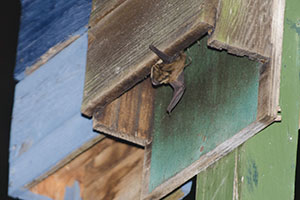 Pest management is a big part of prepping. This is another aspect that is not overly exciting to the average survivalist but when you have a pantry full of mice, you will give it the respect it deserves.
Mosquitoes are disease carrying monsters that are also a serious nuisance. Bats will eat about 6,000 to 8,000 mosquitoes a night. That is an incredible feat!
Building bat boxes is a great activity to take on with your kids and it yields some great results.
Related: Mosquito-Repelling Weeds That you can Plant in your Backyard
As complicated as our lives have become thanks to things like the pandemic, government response and the riots in our streets, it's still the simple things in life. Life is still all about the simple and satisfying things in our lives.
When you send an arrow 30 yards downrange into that homemade haybale target you feel a sense of calm like nothing else. This is so important in the age of outrage and fear that we are living through. These small DIY projects are great ways to get your mind off the nonsense and get back to life.
Most everything on this list can be done with kids at your side, too! Get the family involved and round out your fortified survival property.
You may also like: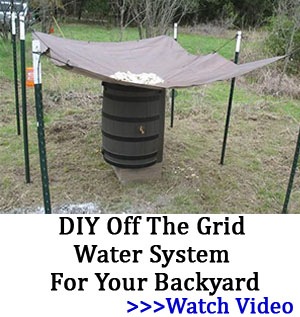 How To Make A Mini Root Cellar In Your Backyard In Less Than Two Hours
What Medicinal Plants Should Never Be Planted Together (Video)
Disinfect Huge Amounts Of Water With This Common Household Item
25 Powerless Appliances for Your Homestead Kitchen
The Best Natural Sleeping Pill That You Can Grow In Your Backyard