It's no secret that homesteaders and off-grid folk are about as independent as they come. When it comes to necessities, making or producing as much as they can on their own land to provide for their basic needs is a major lifestyle goal. However, not all of us are there yet.
For a lot of homesteaders, monthly or bi-monthy trips to town are necessary.
When you can't make or craft an item that you need for your homestead, there's a great place to get essentials that you may be overlooking. This place houses a ton of items for a fraction of the cost found at other shops.
Yep, you guessed it — the dollar store!
Perhaps unfairly so, the dollar store is often viewed as having a bad reputation. Sometimes people discredit these shops for being home to stockpiles of plastic "junk" that does little more than collect dust, but this is far from accurate.
You might be surprised to find that there are actually some extremely useful homestead items at dollar stores, especially if you know exactly what to look for.
Duct Tape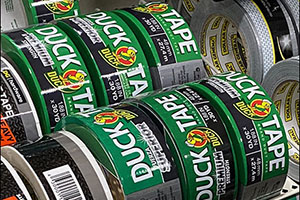 It's no surprise duct tape is the number one homesteading item on our list of dollar store finds.
From temporary fixes to patching up leaks, and even helping in tight survival conditions – duct tape is undeniably useful in many sticky situations.
Some homestead duct tape uses:
Patch up damaged shoes when you don't have a sewing kit on hand
Seal leaks, windows, and holes in your living structure
DIY bandages and temporary sling or cast in case of injury
Can be used to weave a sturdy rope
Dental Floss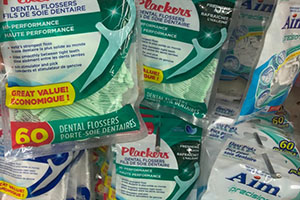 Dental floss is one of the most important items you can add to your bug out bag or first-aid kit.
Aside from the obvious uses for oral health, this tough waxed string miracle has a host of practical uses in the wilderness and on the homestead.
Some homestead dental floss uses:
Emergency shoelaces
Ultra-strong thread alternative for heavy-duty hand sewing
DIY fishing line
Makeshift tripwire for protecting campsites
Related: Dental Care after SHTF
Garbage Bags
From water collection to gathering up dead leaves in the fall, chances are the garbage bag is probably already a regularly used item on your homestead.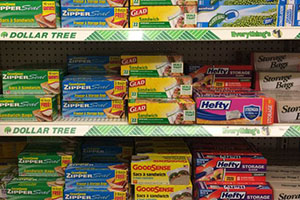 However, these are far from just your everyday ordinary plastic bags. These rolled up packages of bags are basically biodegradable multi-use tarps.
Plus, you can use them along with duct tape for added effectiveness.
Some survival garbage bag uses:
Can be cut into a large rectangle for ground covering
Emergency water storage and DIY rain catcher
Waterproofing
Waste collection
Gardening and composting
Emergency shelter
Baking Soda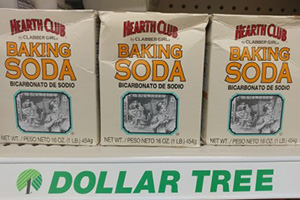 If your home is like most homes, you've probably got a few boxes of baking soda laying around.
This fine powdered substance also known as sodium bicarbonate has hundreds of uses and works wonders for both indoor and outdoor purposes.
Some homestead baking soda uses:
Relieves itchy bug bites and painful stings
Natural deodorant and antiperspirant
DIY toothpaste
Helps to extinguish grease fires
Cast iron cleaner
Clears clogged drains
DIY laundry soap
Chicken coop cleaner
Related: Baking Soda – 112 Uses (WWII Series)
Sewing Kit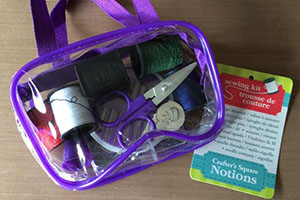 A sewing kit might not be on the top of your list for homestead supplies, but it's an important item to consider.
Life on the homestead means you'll probably experience wear and tear of shoes, clothing, and protective gear at a faster rate than you'd expect.
Knowing how to sew and having a reliable sewing kit available to you is a huge relief when you have to make minor repairs.
Sewing kits usually come with other useful items such as a tape measure, scissors, needles, and spare buttons, so you'll be fully prepared to fix any unexpected rip or tear.
Some homestead sewing kit uses:
Make an air filtration mask for dust protection
Darn your socks
Repair holes in blankets and clothing
Repair tents and tarps
Related: 7 Prepping Items To Look For At The Amish Store
Gloves
A good pair of gloves is a lifesaver for homesteaders. Naturally, gloves get dirty, burned, torn, and covered with unidentifiable goop almost every day while working on the homestead.
It's good to have a few backup pairs around so you can use different gloves for different tasks. This is especially true when handling plants and animals.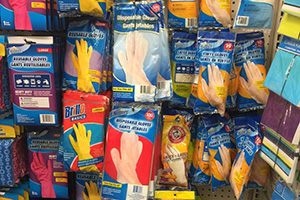 Most dollar stores offer several types of gloves.
So whether you need back-ups for work, gardening, or for the kitchen — you can pick up a few pairs at the dollar store at a bargain price.
Some homestead glove uses:
Gardening
Caring for livestock and pets
Heavy duty protection
Compost pile handling
Cold weather protection
Kitchen and food handling
Food Storage Containers and Glass Jars
Those who homestead are often interested in traditional cooking methods and old-fashioned recipes.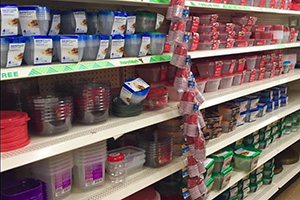 What better way to connect with the past and be self-sufficient than to prepare food for the whole year by using old preservation methods?
At the dollar store, you can find canning jars and food storage containers that rival big box brands for pennies on the dollar.
Some prepping uses:
Fermenting foods
Canning and jarring
Dry storage for grains and legumes
Dried fruit and nuts storage
Recycled crafts and creative projects
Seedling starter
Related: 61 Fruits and Veggies You Can Grow in Buckets
Buckets and Large Bowls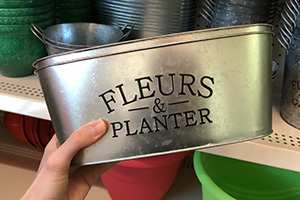 Almost any dollar store you find is sure to carry every imaginable shape and size of bucket or bowl.
You'll find 5-gallon buckets, metal planters, and extra-large multi-use plastic bowls for storage, cleaning, and more. The practical uses of buckets around the homestead are infinite.
Some homestead bucket and large bowl uses:
Pest-resistant storage for animal feed
Outdoor sink set-up
Container gardening
Clothes washing basin
DIY compost toilet
DIY water dispenser for chickens
The dollar store can be a great place to shop for preppers and homesteaders on a budget.
Although often overlooked in favor of big brand stores, these thrifty items will certainly get the job done.
You may also like: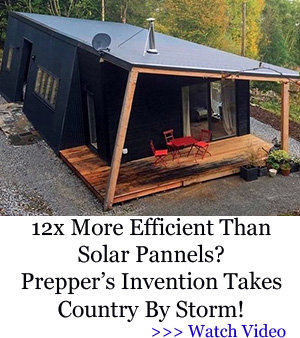 What Do You Think About These 5 States' New Gun Control Bills?
10 Medical Supplies You Need To Stock Up Before It's Too Late (Video)
Can a Nuclear Plant Shutdown Safely After an EMP?
How to Make Your Own Semi-Automatic Off the Grid Washing Machine (No Electricity)
The States with the Most Medicinal Plants. Do You Live in One of Them?