Those who have been preppers a while usually have a pretty good stockpile of food. Stockpiling that food seems to be the way that most of us start out and we just seem to keep adding to that stockpile. But what about someone just starting out? Do you remember how hard it was to get going when you were first starting out as a prepper? Worse, were you one of those who was trying to do that on a shoestring budget?
The average grocery bill for American families works out to somewhere between $165 and $345 per month. But that's probably buying more than 2,000 calories per day. We probably shouldn't expect to eat that much in survival mode. Even eating 2,000 calories per day is going to mean that we're eating a whole lot more than those around us. If we go too long like that, they may start getting suspicious.
Related: The SHTF Diet: Minimum Food And Water Supply For 3 Months
So what's realistic in a survival situation? We're going to need calories, just so we can do the various survival tasks we need to accomplish. But at the same time, we've got to keep our budget down. Fresh bacon and eggs for breakfast and steak for dinner might be nice, but that definitely doesn't sound like a survival diet to me.
Let's see what we can do, building a starter survival stockpile for one person for $200. That's going to have to be enough food to last that one person for two months, providing three meals per day. Breaking that down, we get $3.33 per day, for the three meals we need. Not much, is it?
Since this is survival planning, we're going to go with a survival diet, concentrating on the macronutrients, rather than the micronutrients. That means we want roughly:
65% carbohydrates (for energy)
25% fats (for a second boost of energy)
10% of proteins (the basic building blocks of life)
I wouldn't count on your normal variety in a survival diet. To start with, we're going to have to work with foods that are likely to be in your stockpile. That means a lot of carbs and not many proteins. It also means a lot of repetition. If you're the kind of person who lives to eat, rather than eating to live, you might find yourself struggling to feel satisfied on a survival diet.
In fact, I'm not giving you two months' worth of menus here; I'm not even giving you one month's worth. If you think about it, most of us eat a rather repetitive diet anyway, repeating the same dishes every week or two. So that's what I'm planning on for a survival diet as well.
Related: How To Choose, Use & Store Protein Powder for Preppers
Beans and Rice
No matter what you do for a survival diet, I'd recommend adding in beans and rice on a daily basis. There are a lot of places in the world where beans and rice are the staples, eaten every day. The beans provide essential protein and both of them provide carbohydrates. On top of that, they're an inexpensive addition to your survival diet, with beans costing you about 20₵ a serving and rice costing your about 11₵.
So regardless of whether I mention it in a particular day's menu or not, plan on eating beans and rice with either your lunch or dinner, expanding those meals, and helping your food go farther.
Another thing you're going to want to add to your menus is bread or other baked goods. We normally receive a fair amount of our carbohydrates through grains and baked goods. Simple bread, like pan bread, isn't all that hard to cook and isn't all that expensive either. I'm not mentioning the bread in most cases, as you can add it in where you want.
Related: Bean and Rice Survival Soup – Easy and Adaptable Recipe
Breakfasts
Breakfast is the easiest meal of the day on a survival menu. What you're after is carbs and a cup of coffee to get you going in the morning. Fortunately, most of us are used to eating more or less the same thing every morning for breakfast. So we can do the same thing on a survival diet. That makes the average breakfast something like:
Oatmeal
Toast with jelly
Coffee
Of course, to have that toast, you're going to have to bake your own bread, which will cost you about $1.50 a loaf for something that's better than what you're buying in the grocery store. One loaf will last you through a week of breakfasts and a few sandwiches as well.
For the oatmeal, you'll probably want to add some sugar and cinnamon, which I've included in the cost.
Sum total for this meal: $0.55
A couple of times per week you can substitute granola for the oatmeal, but that's going to raise your breakfast cost to $0.80, so you don't want to do it too often.
Lunches
I would suggest making lunch your big meal of the day, rather than dinner. In survival mode, you'll probably be winding down at sundown, just as they did in the olden times. So the food you eat for dinner won't really be providing you with much in the way of energy for the day's work.
This means that lunch is going to be the most expensive meal of the day. More than anything that means that this is the one meal where we're going to add some meat into the diet.
Meal 1
Canned chicken
Packaged Spanish rice
Beans
Total Cost for this meal: $1.99
Meal 2
Canned corned beef
Instant mashed potatoes
Canned vegetables
Total Cost for this meal: $1.93
Meal 3
Spaghetti with meat sauce
Total Cost for this meal: $2.43 (enough for two meals)
Meal 4
Canned tuna
Toast
Canned vegetables
Beans
Total Cost for this meal: $1.77
Meal 5
Chicken noodle soup – canned chicken pasta, spices, home-dried veggies
Total Cost for this meal: $2.01 (enough for two meals)
Meal 6
Canned ham
Yellow rice
Beans
Total Cost for this meal: $2.20
Meal 7
Pasta with canned chicken (casserole)
Canned veggies
Total Cost for this meal: $2.60 (enough for two meals)
Meal 8
Macaroni & cheese, with Vienna sausages
Canned fruit
Total Cost for this meal: $1.99
Meal 9
Fried Spam (the same can be done with Vienna sausages)
Baked beans
Total Cost for this meal: $2.61
Meal 10
Canned soup (only buy the chunky ones)
Dried fruit
Total Cost for this meal: $2.20
Note: A few of the items I've mentioned here will provide enough food for two meals. You can either choose to eat those for lunch and dinner on the same day or you can save it till the next day.
Of course, that means having some means of keeping the food cool, if not cold. The colder you can keep it, the less bacterial growth there will be. Always be sure to reheat any food you're keeping in a survival situation, bringing the core temperature up to at least 160°F.
Dinners
Since we've eaten our main meal of the day, dinner is something to get us through the evening. These are going to be lower calorie meals, but they can always be augmented as I've mentioned earlier.
Meal 1
Peanut butter & jelly sandwich (you're already baking your own bread)
Granola bar
Total Cost for this meal: $0.60
Meal 2
Ramen soup (add some small pieces of cut-up jerky and dried veggies)
Crackers
Total Cost for this meal: $1.00
Meal 3
Total Cost for this meal: $0.30
Snacks
In reality, snacks are a luxury; not something that any of us can afford on a survival food budget.
Even so, just about every list I've ever seen for building a food stockpile includes a number of items that could be considered snacks, like nuts, dried fruit, and granola bars.
If you have these in your stockpile, then, by all means, use them. But this article was written without taking those into consideration, as part of the idea was to do two months' worth of food for $200 or less.
Keep in mind that you don't want to be maintaining your weight when everyone around you is losing theirs.
That would be a sure sign that you have food, when others don't, causing people to come around and see what you have.
A Few Final Thoughts
Please keep in mind that this menu was based upon very few ingredients and assuming one person prepping only for themselves. In reality, most of us are prepping for a family. That considerably different. While the cost per meal will go up; the cost per serving will go down.
Where I'm using one small can of chicken as the meat for a meal, a larger can would be used for a meal cooked for three to four people; the same can be said for a lot of other ingredients.
In addition to the foods mentioned above, I'd recommend dehydrating a large stock of vegetables, specifically carrots, peas, corn, celery, and such. These can be added to soups rice dishes, ramen, and other dishes you prepare. They are low-cost to make, lightweight and won't take up a lot of room.
Related: If I Could Only Stockpile 10 Foods
They'll be even lower cost to make if you grow the vegetables yourself.
The other thing is that your survival stockpile will probably have a lot more ingredients than I'm showing here.
This was done based upon low-cost items, mostly generic, from my local grocery store. It doesn't take into account the bulk storage of food items, such as many preppers do.
Nor does it include anything in the way of spices and soup bouillon, which I consider survival necessities.
If you're going to be eating a diet as boring as this, you're going to want something to give your food some more flavor.
Any of the canned meats I've mentioned can be mixed into the rice or potato side-dishes. In fact, I'd recommend that.
Not only will it be easier to cook and clean up, but it will make for a more tasty meal.
You may also like: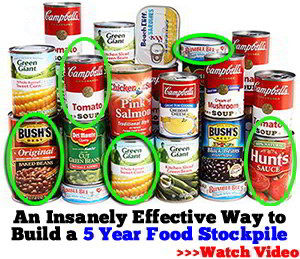 Amaranth Superfood – Storing And Using It For Survival
Why You Should Never Hide Your Stockpile In Your Basement (Video)
15 Reasons to Add 4lb Of Lard to Your SHTF Stockpile
How To Make Clarified Butter With 12-Month Shelflife