What you might not be aware of is that the tin can itself can be extremely useful , where the material is sturdy, the edges are sharp, and the shape of the can is perfect for tunnelling or digging.
To ensure you can make the most of the resources at your disposal, here are 13 ingenious uses for a tin can in a survival situation.
Tin cans can be extremely sharp when cutting, and while a small wound may not be that big of a problem in organised society, it can be a real pain after the SHTF. Cover up with gloves to prevent any issues.
1. Secret Storage
A tin can presents an excellent vessel for storing small items such as keys or cash in secret. You can scoop a chunk of dirt out of the ground using the can, before planting the can in the earth and hiding items inside. Retain the can lid or use a piece of plastic to cover the top, and then hide the can with a layer of soil or even a strategically placed rock. You now have a secret underground storage container that only you now the location of — just don't forget it!
Related: How to Conceal Weapons in Your Vehicle
2. A Scoop Shovel
As alluded to in the previous use, a tin can make an excellent scoop shovel. Simply remove the lid and use the empty can to lift out chunks of earth, sand, or whatever other material you're looking to transport or excavate. It's not a particularly quick digging tool but it's small and easy to carry, which is less than can be said for a shovel or spade.
3. A Cooking Pot
A tin can is also a ready-made cooking pot that would be great for boiling water; this can prove essential for making food, brewing coffee, and sterilizing medical apparatus. Simply hang the empty tin can over a fire using a wire handle and watch as the contents are heated thoroughly.
Related: The Lost Art of Scratch Cooking
4. A Cooking Stove
While using the same chemistry, this is different to using your can as a cooking pot. Constructing a mini stove involves filling the can halfway with sand, before dousing the material in a flammable liquid (alcohol is best as it emits low-toxicity fumes). Cook your food on a skillet or grate on top of the can, flipping and rotating it to be sure it cooks thoroughly.
Related: How To Build an Earthen Oven; DIY Easy Tutorial With Pictures
5. A Candle Holder
When SHTF and the electric goes down, you'll more than likely be relying on candles for a light source and even heat. Use a tin can to hold a candle, protecting it from wind and moisture. By puncturing the sides of the can, you can also create some atmospheric firefly lighting for your abode.
Related: How To Make 30 Hours Survival Candles with Soy Wax
6. A Plant Pot
While in an ideal world you will have a comprehensive garden full of nutritious vegetables, some plants need to start off in a small pot before being transported to the garden. Puncture a few small holes in the bottom of the can to allow drainage, before filling it about halfway with soil. You can now plant your seed and water the plant as and when. When your plant is big enough to be transported, you can remove the bottom of the can so the plant simply slides out, soil intact.
7. A Shower-head
If you're ever in a situation where your only source of water is a hose and spigot, you can make a relatively effective shower-head out of a tin can. Simply puncture a series of holes in the bottom of the can and secure the hose to the top with duct tape or a sheet of plastic — anything to ensure it is watertight. The water will spray out in the same way that it does a shower-head. While you may not wish to use this can as a shower-head again, given then rust, you can reuse it as a plant pot.
8. A Shiv
In a survival situation, you're going to want to carry a sharp, lethal weapon with you at all times. You can use a regular tin can to fashion a very effective shiv. Simply cut out an arrow shape from the tin can, making sure that the point is sharp and pronounced enough to use as a weapon. Wrap the arrow length with tape or string, so you can grip it tightly without injuring yourself. You may want to carry this in a pouch or cloth to prevent accidentally injuring yourself.
9. A Fishing Lure
Hunting food is essential in a post-apocalyptic environment, and it's likely there will be a surplus of fish due to disruption of global trade. While you can cut a fishing lure from the can using sturdy scissors, it's easier to fashion one from the lid of the can by folding it until it breaks in half, then doing the same with the two halves until you have 4 individual shiny fishing lures. The sharp edges will be great for baiting, while the shiny surface will capture the attention of fish swimming nearby.
Related: Six Primitive Traps For Catching Game In The Woods
10. An Alarm System
One of the major qualities of a tin can is the rattle it makes when disturbed. You can take advantage of this by creating a 'hobo alarm'. By surrounding the perimeter of your settlement with string attached to tin cans with a stone or two inside them, you will be notified if anyone attempts to pay you a visit by the jangling and rattling of your DIY alarm system.
Related: 3 Non Lethal Booby Traps From An Army Vet
11. A Water Filter
If you find yourself in a situation where water is in short supply, you may be forced to drink from natural water sources where the liquid isn't as clean or smooth as you would necessarily like. To make a water filter, puncture a few holes in the bottom of the can and then half-fill the container with layers of gravel, sand and pebbles. The water will pass through, leaving rogue debris behind, allowing you to collect the liquid ready for boiling.
12. A Signalling Device
The shiny qualities of a tin lid can make for a great emergency signalling device. Puncture a hole in the center of the lid, before shining and buffing one side of the lid — the idea is to make it as shiny as possible so it reflects light easily. You can then peep through the hole and aim the lid in the direction of the person you're looking to signal. The light reflection will capture their attention and alert them of your presence.
And finally…
13. Tin Can Alley
Did you ever play 'Tin Can Alley' as a child? The classic game involved shooting plastic cans from a wall using an electronic rifle. In a post-apocalyptic world however, you'll need to become proficient and accurate with a real rifle, and shooting tin cans off a wall is actually a great way to practice your marksmanship. You never know when you might need to use your rifle, so be sure that you're well prepared.
Whoever thought that a regular tin can could be so diverse? What do you do with your tin cans after you eat the content?
You may also like: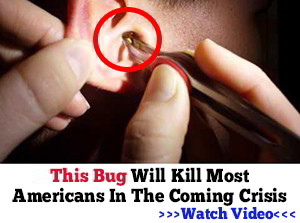 8 Tips To NEVER Get Your Car Stolen (from An Ex-Thief; Guest Post)

You Will Not Survive An EMP Strike Without This (Video)
Emergency Bag to Keep in Your Car in Case of an EMP
Debunking Expiration Dates – What You Need to Know