Living on a homestead is a dream life for many folks. The only thing that could make owning your very own patch of sustainable land is perhaps to be able to earn a living working without having to leave it, as well. We stumbled across a great article on Practical Self-Reliance that inspired us to delve more deeply into the subject.
Homesteaders with a desire to work full time from their homestead truly do not need to skim another list of casually thought out ways they could earn enough money to pay the bills courtesy of their land – or at least by ditching the regular 9 to 5.
You can make an extra $1,000 a month on a small homestead and not just a little extra cash to buy seed or feed with, as long as you are willing to roll up your sleeves and put in the time.
As an added bonus, many of the ways you can make money working from your homestead will enhance your self-reliance skills set in the process – making it a win – win scenario.
Top Ways To Make $1,000 A Month On A Small Homestead
#1. Produce Stand
Setting up a farm-side produce stand to sell what your grow, raise, and make on your homestead is legal in the vast majority of states. As long as the stand remains on your own property many laws governing vendors licenses, agricultural, or health inspections typically do not apply – a big money saver for small scale homesteaders.
#2. Healing Herbs And Oils
Growing herbs takes up very little space but can earn a homesteader a large profit. Not only can you raise naturally healing and rare heirloom herbs, you can also cultivate non-native varieties because herbs can easily be cultivated year-round in a tiny greenhouse or in the home beneath a grow light.
You could take this homestead money making opportunity a bit further and create your own essential oils and natural perfumes from the herbs and any flowers you also grow on the property. Selling herbs, seeds, essential oils, and natural cosmetics or perfumes online at website venues like Etsy, would increase your homestead-based selling power.
#3. Herd Share Service
Launch a herd share service to sell your excess dairy cow or goat milk. Raw milk is not legal to sell in most states, but selling a share of an animal or a herd, is. The individuals who purchase a share can milk the animal or collect raw milk that stems from it and use it as they desire.
#4. Livestock Breeding
Breeding and selling livestock have long been a money maker for farmers in the United States. To increase the demand for your animals, and the price, consider raising heritage breeds.
Heritage breeds of chickens, ducks, turkeys, goats, sheep, hogs, and cattle are in demand by homesteaders and farmers who do not want commercially raised, cross-bred, hormone and antibiotic injected livestock. These vulnerable populations of traditional farm livestock do not grow as quickly as their peers raised on factory farms, but are typically far more hardy and independent animals that can survive with limited human intervention.
It will generally cost more to purchase a breeding pair of heritage livestock and might take longer to find them, but the profit margin should be a lot higher…and you would be doing a good deed in the process. Joining the Livestock Conservancy group will put you in touch with other breeders, potential customers, and educate you about each breed.
#5. Predator Protectors
This breeding, and possible training, work from homestead income earner will help other livestock owners protect their animals from four-legged predators. Breeding miniature donkeys or livestock guardian dogs can earn you an extra $1,000 a month once you get the program up and running after a single breeding season.
Miniature donkeys used to be considered only farm pets, but that all changed once homesteaders and farmers learned these little cuties have quite a penchant for kicking the stuffing out of coyotes. Chasing and kicking a coyote or a fox seems to be a favorite sport for these small powerhouse members of the equine family.
Keeping mini donkeys will not take up any more space than that needed for livestock guardian dogs, as long as you can stockpile the hay they will need to eat if adequate pasture space is not available on your homestead.
#6. Beekeeping
This might be the best homestead money making venture for folks working within small spaces. Not only could you sell the honey the bees make, but also the bees themselves as part of a breeding operation. In addition to these possibilities, you could also earn $1,000 a month by building and selling beehives as well as renting out established hives to other growers seeking to pollinate their crops and fruit groves.
Related: How to Start a Beehive
#7. Agricultural Salvage
Put that old barn wood, rusty barbed wire, rusty tin roofing, and other vintage tools and materials that exist on your homestead or you find "going junkin'" in your area, to work for you. Selling just one hand-hewn barn timber would likely earn more than $1,000 from eager buyers. Selling agricultural salvage via the internet to upscale decorators or couples seeking to revamp or build using old-fashioned authentic materials will generally garner higher prices than selling them locally if you homestead in a small town or rural area.
Other commonly in demand agricultural salvage and authentic homesteading items include wood fence posts, hinges, interior doors, light fixtures, cast iron cookware, and manual tools.
#8. Composting
Help other homesteaders and backyard gardeners enhance their annual yield by selling composting material and homemade bins to store the nutrient-rich dirt. You could also raise composting worms and the housing units they need to live in once placed inside a bin or barrel, to increase the amount of money you can make from this type of homesteading business.
Related: How To Make A Lot Of Compost This Winter
#9. Event Space
You do not need double digit acreage to make money renting out space on your homestead. Agricultural tourism is a rising trend across the country, opening up a vast array of home-based income for homesteaders. In a growing number of states, agritourism activities are covered by standard insurance policies as long as some common-sense warning and/or premises policy signs are posted.
Common event space rentals on homesteads often include: barn rental for weddings, barn backdrops for photo shoots, herb and medicinal garden areas for social gatherings, and hands-on homesteading activity space for youth and civic groups.
#10. Sell Eggs
This is an oldie but a goodie for a reason. Selling your chicken and duck eggs at a local farmer's market or you own farm stand can earn some of the money you will need to achieve your $1,000 a month goal. Yes, it would take a whole lot of eggs to make that much money in a single month, but if you have a large flock that lays quality eggs, hitting your desired amount from eggs alone, could indeed be possible. Consider breeding Easter Egger chicken to increase sales around the holiday – along with selling chicks and ducklings, too.
Related: How to Keep Eggs Fresh for a Year with Isinglass
#11. Workshops
Make money sharing your knowledge with not just other homesteaders, but youth and community groups as well. You could host seed saving, dehydrating, beekeeping, etc. workshops on your homestead or also at regional expos and events related to homesteading and agriculture. Writing and making videos showcasing your homesteading skills can also help you earn a minimum of $1,000 a month after waving good-bye to the rat race and daily commute.
Purchase only the essential materials needed to start your business during the early months, if you do not already have most of them on your homestead. Increase your purchase list only as you start to see some sales and interest in your products or products.
#12. Homemade Gifts
Turn a hobby you are passionate about into part of your homesteading business. Make homemade dolls or Waldorf toys, stuffed animals, picnic tables, backyard game systems, quilts, embroidered items, rustic signs, vinyl printed shirts – the options are nearly endless.
One of the advantages of turning a hobby into a small business is the you already own the necessary tools and supplies to get started. Upgrade your equipment or buy additional tools and materials after you begin to make some sales.
Homesteading Business Start Up Tips
Marketing of your homesteading business is essential, but does not necessarily have to be a substantial expense. Use social media to create accounts and showcase your products or services. Put a personal touch on the business by sharing your own personal journey with potential customers. Buying a handmade baby dress or rocking chair from a local resident should leave the customer with a warm and satisfied feeling that buying commercially manufactured items made overseas and sold by a big box store, simply cannot provide.
The same basic principles of business apply to your homestead endeavour. Learn as much as you can about the supply and demand of your product or service before investing too deeply in your new dream.
Making $1,000 a month from a small homestead is entirely a viable goal. But, you should not quite your day job the day a great idea strikes you. It can take several months to a year to establish yourself locally and/or online as a professional homesteader – small business owner.
You may also like: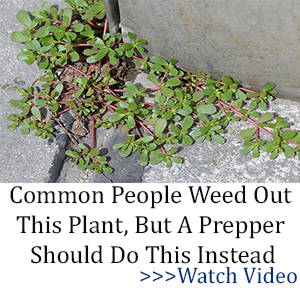 12 Woodworking Projects for Preppers and Homesteaders
World's Smallest Battery Powers House For 2 Days (Video)
The Best 5 States for Living Off-Grid
Prepping on a Budget – How To Get Survival Supplies When You Have Almost No Money
Best Fuels For Off-Grid Survival