I have some long-term food supplies put away, but I wanted to put together a 30-plus day supply for my husband and I that contains foods in all of the main food groups. My budget is only $100 and I want to make the most of it.
Walmart recently began offering free pickup in my area, so I decided to try it out on this project. Walmart's free pickup service gives me the advantage of keeping a running total of my order while I shop, plus having an easily accessible list that I can use while I shop and plan. The only downside was that there were no pickup times available for the same day that I ordered, so I had to wait a day to pick my order up. I guess you need to order before noon to get a same-day pickup in my area.
The Long-term Food Storage Plan
I live in a coastal region of Florida, so my biggest concern right now is a hurricane, but this food list will work for any disaster. I need to be able to either evacuate with these foods or shelter in place, so I am looking for foods that can be easily cooked on a hotplate or camp stove.
I am planning for at least 30 days' supply for two people, which is equal to 60 days for one person. You can multiply or divide to determine how long it will feed your family.  When I am done totaling up my meals, you will see that I got more than 30 days of meals for my $100. I think that the list I put together could actually sustain us both for 45 days or more, with some rice and pasta left over at the end.
With the exception of dried foods that are easily stored, I tried to buy in quantities that we could use in one day. For example, I chose to buy several small cans of pasta sauce rather than the giant sizes that would be cheaper by the ounce. I decided to do this because refrigeration might not be available to store the unused portion. If you are feeding a large family, you can save by buying larger packages.
I want a variety of foods that are cheap, tasty, and have a long shelf life. They also need to be nutritious, easy to prepare and containing enough calories to allow for hard work, if required.
Serving Sizes in Food Storage Plans
My serving sizes are calculated to be for a reasonable meal. You'll find that many long-term food storage plans use small serving sizes. One-quarter cup of rice is a serving if you are using it as a small side dish, but when eaten as a large part of a meal, for example in a stir-fry, it is not enough. I like to estimate that we will eat at least ½ cup of rice per serving, for planning purposes. My portions are generous because I won't be serving an elaborate meal with many different small servings.
Meats servings are estimated by the day. For example, a 4 ounce can of tuna contains 2 x 2-ounce servings of tuna for a total of 4 ounces according to the label. This works great for the two of us, but for 1 person, it's not so great. I would estimate 1 can as a single meal in that case because you can't store opened tuna with no refrigeration.
Many of the foods I have purchased will require water for preparation, so please allow for that in your planning.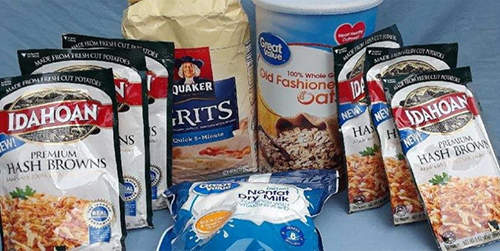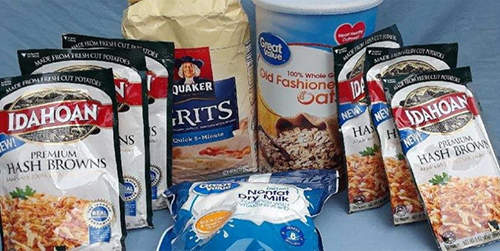 Breakfast Foods
My main breakfast choices are grits, hash browns and oatmeal. I also purchased one package of dried milk, although we do not drink much milk at our house. Grits, hash browns and oatmeal are easy to cook, filling and have a long shelf-life. I plan to season them with leftover fruits, vegetables, and spices (not included in my shopping). If you don't like any of the foods listed, substitute your favorites.
I purchased six 3-ounce packages of hash browns. Each package claims to be four half-cup servings, but as the main dish for the meal, I am expecting to get 2 generous servings per package. The expiration date on these packages is November of 2020 but, stored in mylar with an oxygen absorber, they will keep for five to ten years – possibly even longer.
I also bought a five-pound bag of quick-cooking grits. For $2.78, I got 61 servings of grits. Each serving is only ¼ cup, so I am allowing for only 30 servings or 15 meals for the two of us. The best-by date for this bag is April of 2022. Properly stored in mylar, I expect my grits to be good for at least five years and probably much longer.
The Great Value Old Fashioned Oats came in a 42-ounce cardboard canister, so I will be repackaging them into a mylar bag. The unopened package had a best by date of Feb 2020 ,but transferred to mylar with an oxygen absorber they should keep for up to 30 years. The canister contains 30 servings, or 15 meals for the two of us.
I also purchased a 25.6 ounce bag of nonfat instant dry milk for drinking, coffee or cooking purposes. I've listed it here, but I will probably use it mostly for the mashed potatoes.
Related: 11 Food Storage Lessons Learned from WWI
Meat for Lunches and Dinners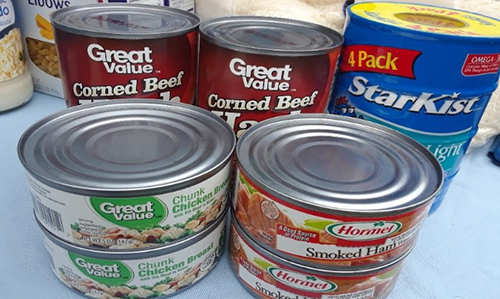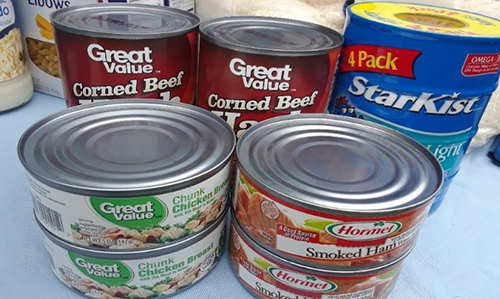 My plan allows for meat every two or three days with other high-protein foods such as pasta, rice and beans or macaroni and cheese on other days. Most of us eat far more protein than we need, so don't feel that you need as much meat as you might usually serve. I purchased a four-pack of canned tuna, two cans of corned beef hash, two cans of chicken and two cans of smoked ham. I will use one can a day for the two of us, giving us a total of ten days with meat entrees.
Rice and Beans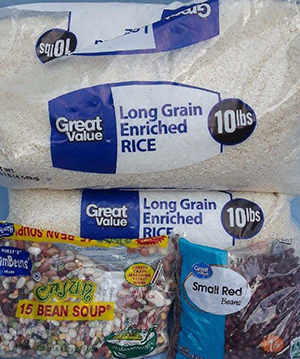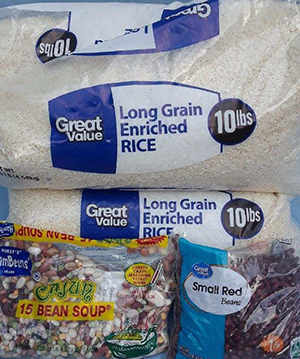 Fourteen main dish servings of beans for $3.42 and 100 half cup servings of rice.
I purchased 16 ounces of dried red beans and a 20-ounce bag of bean soup mix, along with 20 pounds of rice. We are not overly fond of beans and rice, but we do enjoy bean soup, and it is a great way to stretch your prepping dollar. Beans and rice are both available cheaper when bought in bulk, but for this purpose I wanted to concentrate on other foods, so I bought smaller amounts.
The beans will require a long cooking time, so I will probably cook several meals at a time if refrigeration is available. I usually pressure can my beans in pint or quart jars a pound or two at a time. The beans in this order will be stored dry in mylar and will keep for ten to 15 years.  The two bags of beans provide 29 half-cup servings, so 14 high-protein meals for the two of us.
Rice also makes a great side dish, or can be used with leftover vegetables and canned meat to make stir-fried rice or other dishes. I'll get a lot of mileage from my 20 pounds of rice.
Pasta Meals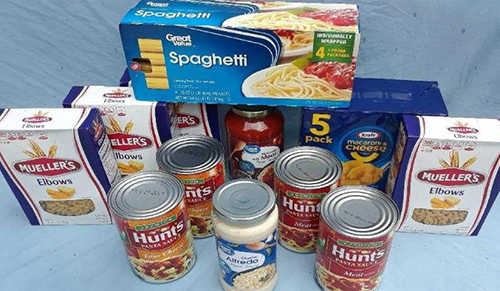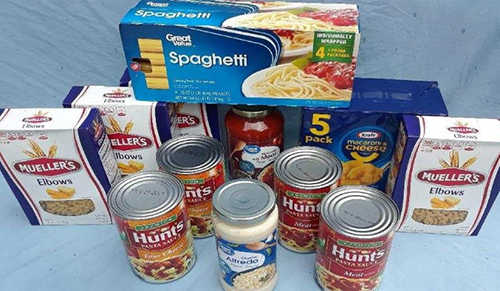 I purchased several types of pasta meals. First, I got a five-pack of Kraft Macaroni & Cheese. There are three servings per box, so 15 servings in total. When used as a main dish, I would cook one box for the two of us, so I've got ten main dish servings or five meals for the two of us. If you are cooking for yourself only, you can use part of a box as needed.
I also purchased four 16-ounce boxes of elbow macaroni and a four-pound package of spaghetti. I will use these to make main dishes, salads, side dishes and as a stretcher for soups and other foods.
To sauce my pasta, I purchased three cans of meat flavored sauce, two cans of four-cheese pasta sauce,  and one jar of Alfredo sauce.  I am estimating my haul to include six pasta main dishes, because that is how many cans of sauce I purchased. If I have refrigeration I could easily get twice that many, or I can use leftover sauce to flavor other dishes. The main disadvantage I see is that I end up with a lot of tomato based meals, but the sauces are flavored differently and can be used as a base for many meals.
My pasta packages have a best by date of 2020, but I will store them in mylar and they will last for five to ten years. The sauces are also best by 2020 to 2021, so I will rotate them into use in 2020. Most vegetables will keep much longer than the best-by date, but tomatoes are more acidic and can spoil faster if there are any nicks in the can liner, so I prefer to rotate them before the can has a chance to rust.
Related: Canning Pasta Sauce for Long Term Preservation
Vegetables and Fruits
I purchased mostly canned vegetables which have best by dates in 2020, but I fully expect them to last another couple of years past that date. Vegetables are safe to eat long past the best by date as long as it can in is good condition with no dents, rust, or bulging. I will probably put these into rotation in 2020.
I looked for a variety of vegetables that my family enjoys eating. I chose the German Potato Salad because it is already seasoned and could be eaten as a meal straight from the can in an emergency situation.
I only bought 4 cans of fruit, mainly to be used for an occasional dessert. Many of the choices available to me were packaged in plastic or glass. I prefer to use cans for long-term storage whenever possible, because of the possibility of glass breakage. Cans aren't the perfect container, but they are my choice unless freeze-dried fruits are available at a reasonable price.
Potatoes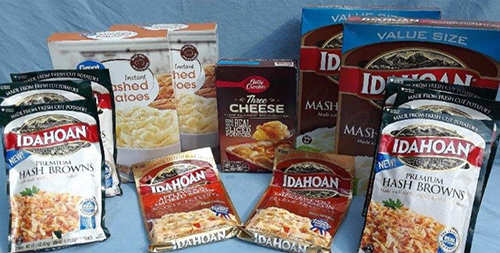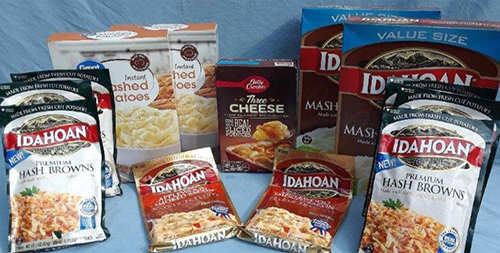 I purchased potatoes in the form of hash browns for breakfasts, a cheezy potato bake mix that can serve as a main dish, and several varieties of mashed potatoes, including 2 packages of mashed sweet potatoes. I chose to purchase both "complete" mashed potatoes that need no butter or milk, and plain potato flakes that must be seasoned. This allows me to use the potato flakes to thicken soups or other dishes. The mashed potatoes and sweet potatoes are great value when you consider that each pound of dried potatoes is equal to ten pounds of fresh potatoes. Potatoes also have a lot of nutrients and are a filling side dish.
In Hindsight, Things to Consider When Planning Long-term Food Storage
I probably should have purchased some gravy mixes, soy sauce and a few other seasonings. Oil would be a good addition, but it needs to be rotated frequently.
My meal plan uses mainly rice, potatoes, and pasta for bulk. It is important to use them creatively so you don't tire of them. Use them in salads, soups, stir-fries, and with spices. By varying flavors and ingredients, you can enjoy a different meal everyday without too much repetition.
Related: 10 Long Shelf-Life Canned Foods Every Prepper Should Consider Stockpiling
A List of What I Purchased, By Category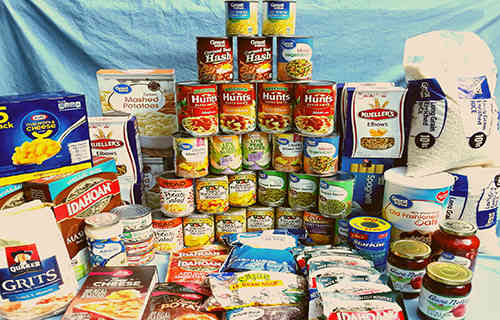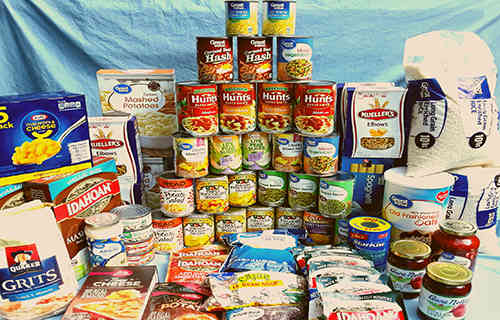 Meats
4 cans of Sunkist chunk light tuna in a 4-pack for $3.98
2 cans Great Value corned beef hash (2 x 1.98 = $3.96)
2 cans Great Value chunk chicken breast with rib meat (2x 0.98 = $1.96)
2 cans Hormel chunk smoked ham (2 x1.34 = $2.68).
Vegetables
2 cans Read German Potato Salad (2 x 1.18 = $2.36)
1 can Glory Foods Sweet Potato Casserole ($1.48)
2 jars Aunt Nellies Sliced Pickled Beets (2 x 0.88 = $1.76)
2 packages dried Betty Crocker Homestyle Sweet Potatoes (2 x 1.50 = $3.00)
2 cans Margaret Holmes triple succotash (2 x 0.84 = $1.68)
2 cans Margaret Holmes tomatoes, okra and corn (2 x 0.84 = $1.68)
2 cans Margaret Holmes Squash (2 x 0.84 = $1.68)
2 cans Great Value Sweet Peas (2 x 0.64 = $1.28)
2 cans Great Value mixed vegetables (2 x 0.68 = $1.36)
2 cans Great Value Green Beans (2 x 0.64 = $1.28)
2 cans Great Value whole sweet corn (2 x 0.50 = $1.00)
Fruits
2 cans Great Value Chunky Mixed Fruit in fruit juice (2 x 1.08 = $2.16)
2 cans Great Value Lite Pear Slice in Extra Light Syrup (2 x 1.08 = $2.16)
Pasta and Pasta Sauces
5 pack Kraft Macaroni & Cheese $4.50
4 – 16 ounce boxes Mueller's Elbow Macaroni (4 x 1.34 = $5.36)
4 lbs GV Spaghetti pasta $3.88
GV Meat Flavored Pasta Sauce, 24 ounce $1.50
GV Classic Alfredo Pasta Sauce, 16 ounce $1.50
2 cans Hunts Meat Pasta Sauce (2 x 1.50 = $3.00)
2 cans Hunts Four Cheese Pasta Sauce (2 x 1.00 = $2.00)
Potatoes
2 packages Idahoan Applewood Smoked Bacon Mashed Potatoes (2 x 0.88 = $1.76)
2 boxes Idahoan Original Mashed Potatoes, 26.2 ounce  (2 x 2.98 = $5.96)
2 boxes Great Value Mashed Potatoes, 15.3 ounce, (2 x 1.58 = $3.16)
Betty Crocker Three Cheese Potatoes $1.24
6 packages Idahoan Premium Hash Brown Potatoes, 3 ounces (6 x 1.00 = $6.00)
Rice and Beans
20 pounds GV Long Grain Rice (2 x 4.98 = $9.96)
16 ounces GV Small Red Beans $1.16
20-ounce bag Hurst Hambeens 15 Bean Soup, Cajun flavored  $2.26
Other
Great Value Instant Nonfat Dry Milk, 25.6 ounces $6.98
Quaker Grits, 80-ounce bag $2.78
Great Value Old Fashioned Oats, 42 ounces, $2.48
Total Spent:  $99.94
You can see that $100 can go a long way toward supplying your long-term food storage, especially when used to purchase inexpensive and filling foods. I feel good knowing that I have at least 30 to 45 days of food put away that will be filling, nutritious, and enjoyable for my husband and I.
You may also like: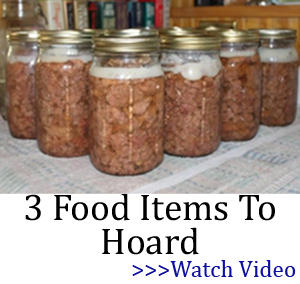 50 Foods to Dehydrate for Your Stockpile 
If You See This Plant in Your Backyard Burn It Immediately (Video)
Top 10 Foods to Grow for Survival
How to Build a 44-Day Stockpile for Only $2.40 a Day
7 Super Cheap Foods To Stockpile That People Usually Throw Away