Prepping is a never-ending challenge. Building a stockpile that will see us safely through any emergency we might face is something to be desired, while at the same time like it's something never to be attained. Nevertheless, it's up to us to do it or at least to try and do it as well as we can.
There are always areas we find, where we need to add to our stockpile. That's part of the process. As long as I've been in this, I still find things that I need to add.
Some of those are things I never realized I needed, some are things where I hadn't stockpiled enough and some are new items that I find, which I hadn't considered before.
Medical Area
One of the areas I find that people tend to overlook is in the medical area; both medicines and first-aid supplies. Part of this may be because people don't know what to stock and part might very well be because they're afraid of what it will cost.
Medical expenses tend to be high and we translate that into thinking that a trip to the pharmacy for over-the-counter medicines and bandages will be high as well. Yet with some careful planning and buying, we can get everything we need for a reasonable price.
Medicines and first-aid in general are an important part of survival. We can't assume that the medical community will be intact in the wake of a disaster. Even if it is, whatever hospitals and clinics are open will be overrun with people needing help.
The doctors and nurses will be run ragged, attempting to take care of people without the necessary medicines and supplies. As time goes on, this situation will become worse and worse, as supplies are used up. It's doubtful there will be any resupply.
That's assuming, of course, that we can get any sick or injured family members to a hospital or clinic. Once gasoline supplies run out, we're going to be limited to walking, unless we have some other means of transportation, such as a bicycle. That probably wouldn't work very good as a makeshift ambulance.
With that in mind, we want to be ready to treat as much as we can ourselves. That means having over-the-counter medicines and first-aid supplies on hand.
It would also be a good idea to take some time to learn as much as you can about first-aid and basic medicine. There are ample resources around, such as first-aid classes and videos available online.
Related: How Will You Treat Your Current Ailment When The Medical System Collapses?
Buying For Less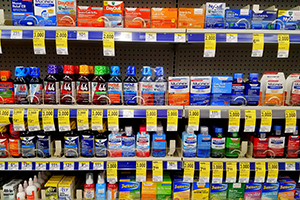 We all face challenges paying for our preps, so before buying anything, it's always a good idea to make sure we're getting a good price.
Fortunately, Walgreens has a house brand for many products, giving us a good way of saving money right off the bat.
But that's the only way of saving money. Some things can be replaced by less expensive alternatives; something that's definitely worth doing, especially if the alternatives will work about as well as the original product.
Over-the-Counter Medicines
The first stop in our trip to Walgreens is at the over-the-counter medicines. This is the major reason for the trip and one which we need to spend some time.
Symptoms for many minor medical problems can be alleviated through these over-the-counter medicines, allowing the body to heal itself.
While they aren't really curative medicines, few medicines are. most just treat symptoms, including many of those we need prescriptions for.
Here's a list of things to look for: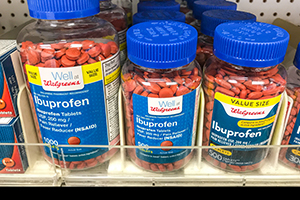 • Pain relievers – Ibuprofen and Acetaminophen will take care of most situations. Buying the extra strength version is a better deal.
For example; a box of 100 extra strength Tylenol works out to 10.5₵ per pill, which contains 500mg.
A box of 100 normal strength Tylenol works out to 8.5₵ per pill. But those are 200mg each. So you'd have to take 2.5 pills to get the same amount of medicine, which makes it 21₵ per dose.
• Lidocaine – a topical anesthetic cream
• Benzoine (optional) – helps promote adhesion of bandages
• Hydrocortisone cream – for reducing itches from rashes
• Antihistamines (equivalent to Benadryl) – to reduce runny noses and treat allergies (Walgreens brand is less than ½ the cost of Benadryl)
• Decongestant (equivalent to Sudafed) – to relieve stuffy nose
• Dental repair paste – for relieving a chipped or broken tooth
• Loperamide – for diarrhea
Related: The 10 Cents Medicine That Every Prepper Needs
Other "Medicines"
While these items aren't really considered medicines, I highly recommend adding them to your kit. They will serve to alleviate some conditions, without having to go find a doctor.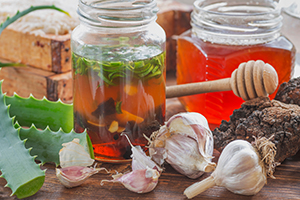 • Aloe Vera gel (not juice) – can be applied to the skin for treating burns and other skin irritations. If you have Aloe Vera plants growing at your home, you won't need this, as you can harvest the plants and extract the gel right from them.
• Garlic (with the vitamins) – One of the best natural antibiotics in existence, as well as being a natural anti-fungal and anti-viral. With the difficulty in buying antibiotics without a prescription, having garlic on hand, as well as other natural antibiotics is an important part of keeping your family healthy, especially if anyone develops an infection.
First-Aid
There's a greater chance of needing to treat some sort of injury that someone in the family has than there is of having to treat an illness. Therefore, it only makes sense to be prepared to take care of those injuries. That means having the means to clean and bandage them, regardless of the injury's size.
Before getting into specific first-aid supplies to pick up at Walgreens, let's talk a minute about what we're actually trying to accomplish with bandaging a wound.
First-aid supplies can be expensive. But there are alternatives we can use in some cases, which will actually do just as well, sometimes even better.
Whenever we bandage a wound, it is necessary to clean the wound first, removing foreign matter from it. This can be done in most cases by rinsing it with water. If water is clean enough for you to drink, it's also clean enough to rinse an injury with.
After that, an antibacterial cream, ointment or poultice should be placed on the wound to kill any bacteria that are there on the surface or in the injury. Then the wound is bandaged, which catches the blood and promotes clotting. The bandage also works to help keep the injury clean, so that it won't become infected.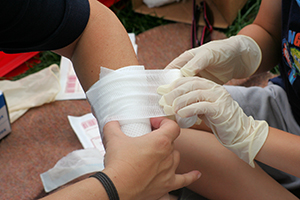 Long before modern adhesive bandages were invented, people were using cloth and even soft leather as bandages.
These can be sterilized in boiling water, making them as safe for use as something coming out of the pharmacy.
You'll most likely need to turn to cloth bandages eventually, although you will probably want some regular ones to start out with.
So, here are the first-aid supplies you really should have:
• Rubbing alcohol or isopropyl alcohol – as an antibacterial to clean out wounds
• Antibacterial ointment – to help prevent infection
• Bandages – Rather than buying a lot of gauze or bandages, I recommend buying sanitary napkins. These are much less expensive than bandages, are sterile and are designed for soaking up blood. They can be cut to the size needed, allowing you to get the most out of them. Buy some thin ones and some thick ones, as not all wounds are the same.
• Elastic Bandages – not an absolute must, but useful for sprains and breaks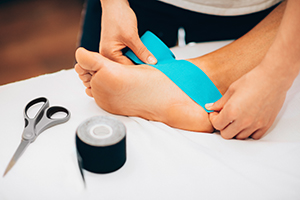 • Medical Tape – This is another expensive item that can be replaced by less expensive ones, especially if you are accustomed to using the new cohesive medical tape. I have used both masking tape and duct tape in place of medical tape. Both work well, although the duct tape can be difficult to remove.
As a replacement for the cohesive medical tape, I recommend buying cling wrap, of the type used for storing food in the refrigerator. It's a whole lot less expensive, the rolls can be cut to narrower widths and the cling wrap does a good job of mimicking the function of the cohesive tape.
• Tourniquet – A good tourniquet is invaluable for serious injuries; but the good ones are rather expensive. However, the same thing can be done with a piece of cord (like paracord) and a stick to act as a windlass to tighten it up.
Related: DIY Gunshot Wound Kit For When SHTF
Keep in mind that the idea is to be able to fulfill the function, rather than having something that looks pretty. Bandages should be changed often, at least twice a day; so even if you do try to buy regular bandages, you're going to need a lot of them to do the job.
The substitutions I'm talking about here may not look all that good, but they'll work, and that's ultimately what it's all about.
A Couple of Pieces of Important Equipment
Having the right medical equipment can be just as important as having the right medical supplies.
But once again, medical equipment can be expensive. Nevertheless, there are a couple of things which are important to have:
• Fine-pointed Tweezers – for getting foreign matter out of a wound
• Thermometer – for checking the patient's temperature, looking for infection
One Final Point
There are many other things I usually recommend in a family emergency first-aid kit, which I have left out of this article.
My goal here was to show you what you could do with $100; not to build the perfect first-aid kit. The point is, you don't really have to spend all that money to get something which will meet a lot of your needs.
If you have more money to spend at a later date, then I would recommend augmenting the first-aid supplies and medical equipment that I've listed here. But if you can't do that, what I've mentioned will meet most of your needs.
You may also like: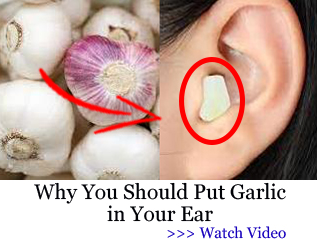 Frugal Prepping: How to Get Cheap and Reliable Ammo For SHTF
If You See This Plant In Your Backyard, Burn It Immediately (Video)
10 Prepping Items You Can Buy at the Salvation Army