10,000 Americans will turn 65 years old every day for the next decade. This is the most incredible statistic we have seen regarding the age of Americans as well as the size of a particular demographic. These baby boomers come from all walks of life. Some own lots of land. Every year we lose some of these great Americans to age and disease.
The land that is left behind winds up in the families' hands. This usually doesn't go very well. Sometimes there are tremendous battles over ownership and other times this land becomes a burden on the person to which it was left. Families are more fractured now and that land in Missouri does not do the child much good if they now live in Maryland.
Related: 10 Great Depression Era Strategies For Saving Money
Even worse for the family is if this land is left to a family member who cannot afford the taxes. Now you have a piece of land that the owner is uninterested in and cannot afford the taxes on. If you do not pay the taxes on a property the first steps the government will take is to put a tax lien on the property.
TAX LIEN
A Tax Lien is the first major step the IRS takes against individuals to collect back taxes. A Tax Lien gives the IRS a legal claim to your property as security or payment for your tax debt. It is used to protect the government's interest in your assets. – www.irs.gov
If taxes are unpaid for long enough the state will take possession of that property. They will then have what is called a tax deed.
TAX DEED
A legal document that grants ownership of a property to a government body when the property owner does not pay the taxes due on the property. A tax deed gives the government the authority to sell the property to collect the delinquent taxes and transfer the property to the purchaser. Such sales are called "tax deed sales" and are usually held as auctions where the minimum bid is the amount of back taxes and fees owed. – www.irs.gov
When you understand what type of land you are looking for and you know where to look for it you can start deed hunting. There are two very different ways to approach each but you can get land for incredibly cheap and sometimes even for free if you do some research on tax liens and deeds in the area you are looking to buy in.
Where to Get Cheap Property
For the purposes of this article we are going to concern ourselves with hunting tax liens because we don't want to get tied up in an auction that could use more money than we are willing to spend.
At the very least there are a few things you must look for when considering where you want to buy property. If you are looking for very cheap land and are not tethered to a certain location go West of the Mississippi. If you must stay close to home look for a smaller track of land in a rural location. This land is still abundant and if you follow the process below you will have success in finding that dirt cheap piece of land for no money out of your pocket.
Related: Prepping on a Budget – How To Get Survival Supplies When You Have Almost No Money
Research
There is not a piece of land out there that you won't have to do some research on. That is the cost of doing business. You will have to earn this piece of land. To get your hands on something free or insanely cheap you will pass up lots of great land.
These are the types of things you will be looking for in a great piece of land.
PROPERTY TYPE – You are basically looking for any type of land that is categorized as residential/agricultural. If you go looking for larger swaths of land they may be in agricultural only.
FLOOD ZONE – Be very careful about the 100-year flood zone. Make sure your property does not fall in this zone. You will have consistently moist land that will be tough for homesteading on and it will be filled with pests and bugs. You don't want to have your bug out location flooded if you are running from civil unrest.
LOCATION – This depends on what you think you are capable of. Some people want that piece of land to homestead and live on, others want it to hunt on or even as a BOL. Just be sure you can get there if you need to, in a hurry.
OWNER – The owner is very important. You will more than likely be contacting them if there is a lien on the home. To contact them you will need their address. This will not be the GPS coordinates of the land they own. You will need to find out who the owner is and what their mailing address is.
Related: 5 Things You Need to Do When There'll Be No Rule of Law
County Papers and Offices
One of the best ways to find out about properties that are in tax trouble as well as some of the information above is to look at county newspapers or contact government offices. Most of these government offices have sections of these properties. You can often download PDF's on this information or be put on a mailing list about properties.
On county government sites look for the treasurer page. They are the keepers of this information. You won't have to do much digging to find the page but each county handles these things differently.
Software
Software is a new player in the cheap land game. The downside is that it comes with a price. Still, I thought it important that we talk about it in this article as we are always looking for innovations. You may have to spend a little up front but it could net you the perfect property.
Land Vision is a comprehensive software that allows you to research areas of interest. This product will offer you in depth information on the property as well as what the tax conditions are. You will be able to find if a property meets your criteria or not with a single click.
Make an Offer
So, you want land but you have no money, right? Well you are going to use that chunk of money you get each year from the government. Yes. Use your tax refund. This will assure that you have the right amount of money for the land and come to the table with a bargaining chip.
The best time to seek out great deals on land is in the Fall. This means you will have to be disciplined and hold onto that money till the Fall season. Everyone wants to buy land in the early Spring and Summer.
Once you have identified the right piece of land and the owner, you need to approach them. The people who are making a living flipping raw land are doing this every day. Their method is very clear. They mail a cordial yet succinct letter to the owner that contains an offer.
Since you have your money in cash you should also mention that. This small cash offer could be all you need to get your hands on that land. Remember what I told you about the burden of land ownership in 2017. Many Americans have come into land and it is merely a bill they must deal with.
If you follow the trail of tax liens you will undoubtedly run into an owner who just wants to let that land go!
You may also like: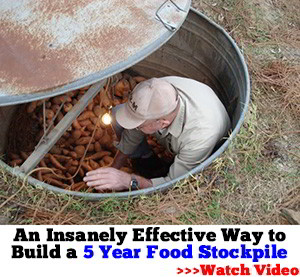 24 Prepping Items I Don't Spend Money On
How to Make Your House Invisible to Looters (video)
50 Low-priced Items That Will be Invaluable when SHTF
23 Things a Prepper Should Never Throw Away. Why?