Prepping is a state of mind. At a fundamental level you believe in preparedness or you don't; it's black and white, a binary choice.
Either you're the sort of person who responds to any crisis by calling for help, or your instinct is to get to work and cope with it yourself. You're a prepper or you're not a prepper – you can't be half of one.
If you are a prepper, though, there are different levels of preparedness. Being prepared is a strategy to get you through life in the best shape – but within that strategy, at the tactical level, how prepared are you?
Preparedness Level 1 – Life's Little Bumps
Most people who get into prepping don't even realize they've taken the first steps.
They buy a few boxes of candles and get a proper first aid kit for their house. In their own minds, they're not becoming preppers – they're just taking a few common-sense precautions against something going wrong.
Of course, we know what they're really doing. They're aiming to be ready if a mishap strikes. You know – prepared. They're preppers; they just don't really know it yet.
A Level 1 prepper is ready to overcome disruptions in their day-to-day life. Could you cope with these scenarios, based on the common-sense precautions you've taken?
• A power outage. Do you have a box of candles in a closet, ideally with a lighter or box of matches tucked into one end? Or maybe you picked up two or three LED lanterns when the hardware store had them on sale, and you keep them fully charged "just in case".
• A twisted ankle or sprained elbow. Most people's home medical supplies don't go much beyond Tylenol. If you can bandage a swollen ankle or treat a nasty cut you're already ahead of the curve.
• Storms. If it snows heavily do you just hunker down and wait for the ploughs and a thaw? Or do you have a snow shovel to clear a path to your car, and chains to keep it moving?
---
Preparedness Level 2 – Serious Incidents
Once you've taken the first step, and accepted that it's up to you to deal with life's challenges, it's easy to upgrade your preparations to handle things that are a bit more serious.
Stepping up to Level 2 is when you go beyond being ready for things that are probably going to happen and prepare for things that might happen:
• Your car breaking down in the middle of nowhere. Do you have the tools and spares to fix common problems? Is there an emergency kit in the trunk in case you have to spend a night in the car?
• A fracture or major wound. If someone in your home breaks a leg or suffers a bad cut, you're going to call a doctor – but it's good to have the skills and supplies to handle it yourself, just in case the doctor's delayed or can't reach you because of the weather.
Related: How To Make Antiseptic Sugardine To Treat Wounds And Inflammation
• Utility failures. What happens if the town water supply gets contaminated? Will you be waiting for the government to drop off a pallet of bottles, like all your neighbors? Or do you have a few barrels of water stored for emergencies, and perhaps even a rainwater catchment system?
---
Preparedness Level 3 – Having A Bad Week
You're prepared for things that happen and need to be overcome, so you can get on with life. How about things that change the way you live, at least temporarily? Something as simple as the weather can throw you back on your own resources for days, maybe even weeks.
Moving up to Level 3 is where preppers start to maintain stockpiles of food, fuel, and other essentials. It's where you can cope without power for extended periods. Could you deal with these scenarios?
• A serious blizzard. Bad winter weather can leave you cut off for weeks. Even when the snow stops falling it can take a while for roads to be open again. If you have enough food and fuel to keep you going until life returns to normal, you're at Level 3.
• Major power outages. Level 1 and 2 preppers can cope if the power's out for a few hours because someone wrapped a truck round a utility pole. At Level 3 you can ride out an outage lasting days or weeks. Maybe you have a generator and fuel supply. Maybe you have kerosene lanterns and a wood stove, so you don't need electricity at all. Either way, you're pretty prepared.
---
Preparedness Level 4 – Major Collapse
Of course, things can get much worse than a bad blizzard. We all saw that in 2008 when the financial crash hit.
The Covid pandemic was another great example of how bad things could get. Remember when toilet paper was selling on eBay at $99 a roll?
Related: Toilet Paper Pills – The Best Invention You Didn't Know Existed
And of course, there are major natural disasters to think about, too.
• Earthquakes or floods. What if there's a disaster bad enough that it's not just a matter of clearing snow off the infrastructure, fixing some damage, and switching it back on? What if serious rebuilding is needed, taking months or years? Will you have to abandon your home, or are you independent enough from the grid that you can carry on with life?
• Financial crisis. This has happened before and it's happened again. If you lose your job do you have a cash reserve to keep you going, the skills and supplies to grow your own food, and independent sources of energy and water? If so, you're at Level 4.
---
Preparedness Level 5 – It's The End Of The World As We Know It
Global war. EMP attack. Extinction-level impactor event.
The worst that could happen has happened – but it didn't land on your house, and for now you're still alive. Help won't be coming though, because every other survivor is at least as badly off as you and probably a lot worse.
This is the ultimate challenge. Are you prepared enough to not just survive the catastrophe, but to carry on and start to rebuild? Do your skills and supplies make you self-sufficient, able to provide everything you need even if the stores never open again?
If so, congratulations – you're a Level 5 prepper, and you're ready for anything!
You may also like: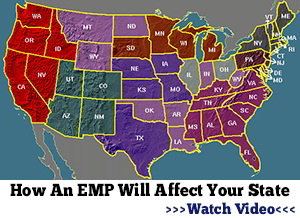 What To Do When Gun Control Gets Really Bad
The EMP Proof Shelter You Need For The Upcoming Crisis (Video)
How I Survived Alone for 10 Months Living Off the Land
20 Foods that Will Outlast You