Canning bacon is an easy option for storing your bacon for up to a decade and beyond. I'm not talking about expensive canned bacon you can buy at the store. I'm talking about fresh bacon, without any added preservatives or unnecessary ingredients that quite honestly are better left undigested. Canning your own bacon is oh so right, on so many levels.
So, if you are in possession of a lot of bacon, there is no need to eat it all up in a rush before it goes bad, or let it go to waste. And, you don't have to rely on a freezer, which can lose power on any given day, resulting in all product having to be thrown out.
Canning bacon is easy and doesn't require too many items.
Supplies Needed for Canning Bacon
The majority of these items might already be in your home. If not, they are easy to purchase at the store. Here is what you will need:
Bacon
Unbleached parchment paper or masking paper
Pressure canner (traditional or electric)
Sterilized canning jars (wide mouth is best)
If you don't have a pressure canner, you can probably borrow one for this first batch. Test it out to see if this is something you would like to do again in the future. You might realize that you want your own pressure canner, after seeing how easy it is to have good bacon on your shelf, without risk of spoiling.
The most important thing to remember when choosing a canner for safely canning meat, is that it requires a 10 psi, or 15 psi for high altitude areas, which is pressure per square inch.
The Process of Canning Bacon
There are variations of this process around, but I found this is probably the easiest and most reliable. Before starting this process, and for exact timing and pressure settings, make sure to follow directions for your particular canner.
#1. Cut out a piece of parchment or masking paper, about 18" long, and lay it on a clean working surface.
#2. Place individual strips of bacon along the paper, without layering on top of each other.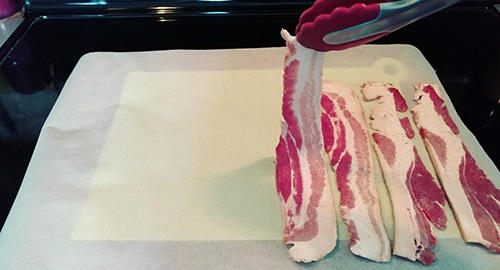 #3. Carefully fold over the bacon and paper, in half.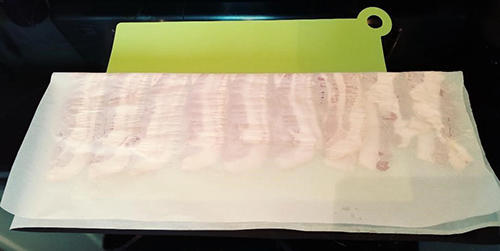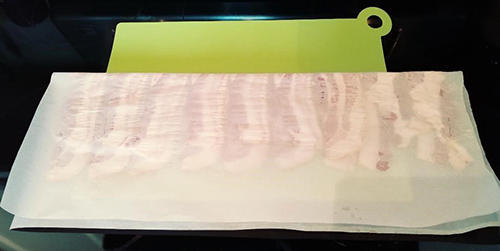 #4. Roll the bacon and paper into a roll, as tight as you can get it.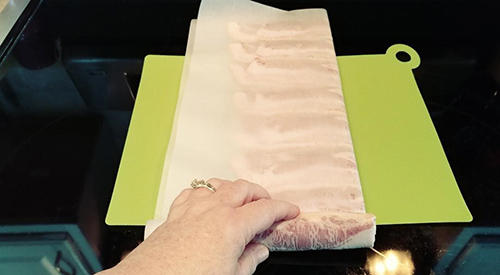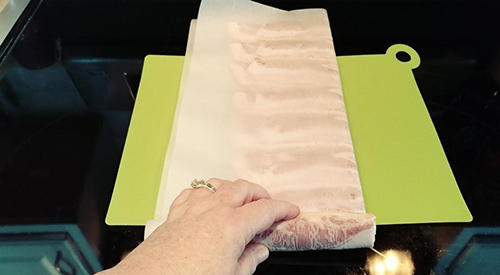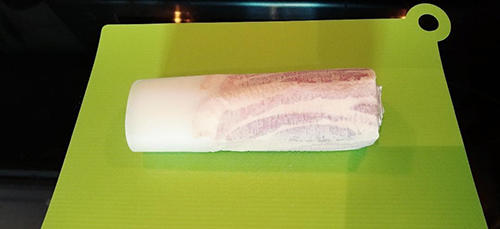 #5. Place the roll of bacon into the jar (this is where wide mouth jars are more convenient), without adding any other ingredient, including water.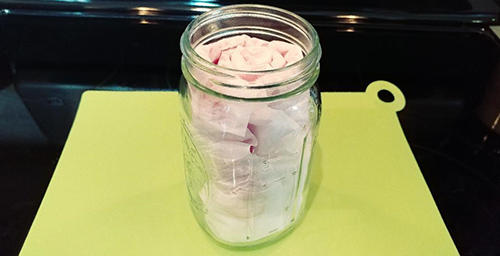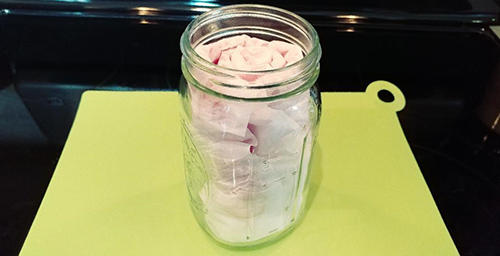 #6. Place the lid and ring on each jar, and tighten gently.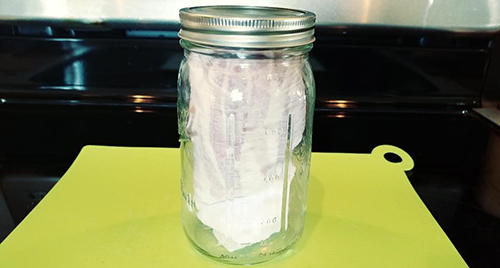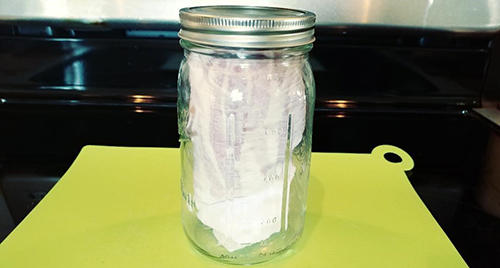 #7. Process the bacon jars in the pressure canner for 90 minutes, at 10 pounds of pressure.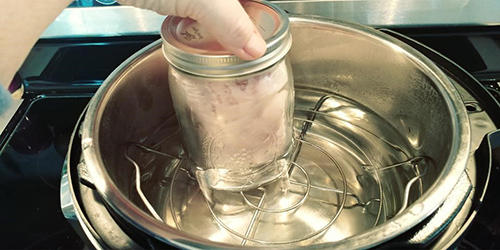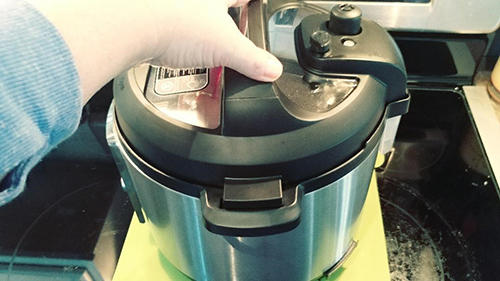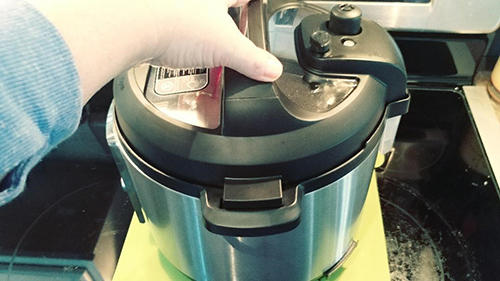 #8. Once the process is over, you will notice some bacon grease at the bottom of each jar, which is normal. See the photo below to get an idea of what it will look like.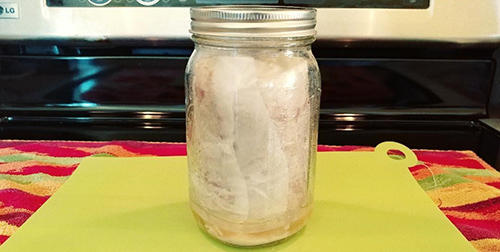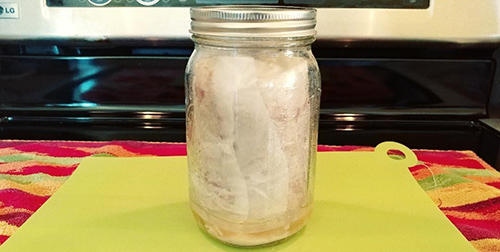 The final step is the best. When you are ready to have some bacon to eat, open the jar, unroll the bacon, and cook up what you want to eat at that time. Minutes later, you will be enjoying crisp and tasty bacon.
After the seal has been broken, place any unused bacon back in the jar and store in the refrigerator, just as you would with fresh bacon that has not yet been canned or frozen, typically no longer than 1 week. Keep in mind that once the seal of the jar is broke, it's no longer safe to store outside the refrigerator or for long periods of time.
Various Ways to Can Bacon
If you want to change the above process up a bit, it doesn't take much effort. For example, canning maple bacon is almost as easy as canning raw bacon. And, who doesn't like maple bacon? Here is an easy way to have it on hand, ready to eat when you crave it:
Cook the bacon
Lay the bacon on the parchment paper
Brush the bacon with maple syrup
Then roll up the bacon as you do in the raw bacon method, and follow the above directions for canning in the pressure canner to make sure the jars are sealed.
Another option is to can your very own bacon bits to use on salads and additions to many dishes. Simply cook the bacon and crumble it. Place the cooked crumbles in pint jars, then use the pressure canner to seal the jars.
You could have delicious bacon on your shelf, ready to eat or use in dishes, every day of the year. No more need to thaw frozen bacon, or take up precious space in the freezer. Or, wondering if the bacon in your refrigerator has spoiled before you can eat it.
You may also like: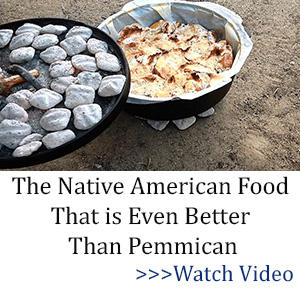 How To Smoke Bacon The Old-Fashioned Way
What Happens If You Add Honey To A Coconut (Video)
7 Super Cheap Foods To Stockpile That People Usually Throw Away
What the Pioneers Stockpiled To Survive Winter
14 Must-Have Canned Foods You Didn't Know Existed