There are many reasons to check for gold on your property. If you live in a gold mining area you might be sitting on top of the mother lode. However, most people find gold in the form of buried treasure.
During the civil war, Southerners would bury their household silver, gold, and other valuables when the Northern army came near. I know a man who still buries his extra cash in jars in the backyard. I don't envy the family when his day comes. They'll definitely need a metal detector.
If you own gold, you know that storing it can be a problem. It can be difficult to find a secure spot that won't be found by thieves or family members. Even a safe is not secure if you are forced to open it.
For this reason, many people – in the past, and even today – have resorted to burying their gold and other valuables. Sometimes the owner fails to tell his heirs where it is hidden, or even that it exists. Every property is a potential goldmine, especially older properties.
My Own Experience with a Metal Detector
We bought my son a metal detector for his birthday a few years back. A little exploring in our front yard discovered an abandoned oil tank. It was so rusted that I am surprised it hadn't caved in from kids playing only a foot above it.
Later, our first trip to the beach with his metal detector turned up an iPhone, a gold watch and a few quarters. Talking to others with metal detectors, we heard a number of stories about the items they had found; gold wedding rings, keys, coins, jewelry and a lot of metal trash.
One retiree claimed to hunt almost daily and was able to supplement his retirement income nicely. He enjoyed finding hidden treasure of all kinds and said that the hunting kept him moving and healthy.
Related: How to Invest in Gold and ETF
What Can You Find with a Metal Detector?
You can find gold, silver, tin, aluminum, steel, and any other metal. Did you bury your money in a jar and can't remember where it is? You can find that jar lid and any other junk metal or treasure with a basic metal detector. Some of the more expensive detectors are tuned to detect only gold or possibly silver. This keeps you from having to sort through a lot of bottle caps, but it can also cause you to miss other valuables.
If you've buried your emergency food supply in the backyard I can find it, as long as there are some canned goods or other metal included. This is a good point to remember if you are considering burying your cache.
Better metal detectors can find metal that is buried up to four feet deep, so dig your hole deeper or stash only non-metal items. Another way to foil a hunter with a detector is to bury your metal valuables or food deeper, cover it with a foot or more or soil, then bury some decoy metal on top of your cache. If you are lucky, they will find the decoy and move to another spot.
Related: How To Pan For Gold, Platinum and Other Metals
What Features Do You Need?
There is a wide variety and price range of metal detectors available on the market. What do you really need to find gold or other valuables on your property? We purchased a basic-model metal detector for our son and it did everything we needed.
For me, easy tuning, the ability to discriminate between target metals and background minerals, and a solid rugged build would be the most important features.
There is a learning curve with most metal detectors. You need to learn to tune the detector to pick up the types of metal you are looking for and tune out background noise. It takes a little practice to be able to do this quickly and recognize the signals for various metals.
For a beginner, an inexpensive model can be purchased for under $100. You can spend much more, but I recommend a basic model until you learn whether treasure hunting is for you.
As a prepper, you are probably aware of the importance of having some gold and silver in your investment portfolio. Preppers prefer to own physical gold for obvious reasons, but you don't need a lot of money to get started in gold.
One way to build up your gold stores is to regularly use a metal detector as we have discussed here. You may have days where you find nothing, but the days where you find lost coins, jewelry or a hidden stash will make them all worthwhile. Over time you will build up a collection of gold items to provide your family with a little security when things get tough.
If you want to learn more about investing in gold, and why you should have some gold put away to protect your family, I recommend that you read Adam Baratta's new book. He is offering a hardback copy of #1 Financial Book in America ranked by USA today! It includes valuable information on how to protect your investments and your family. Knowledge is power and in this case it could make a difference to your family's survival.
You may also like: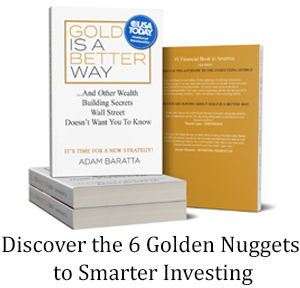 50 Prepper Items To Shop For At The Thrift Store or Yard Sale
How to Roll Over Your 401k Into a Gold Ira
I Asked a Friend What I Should Stockpile for SHTF: The Great .223 Remington Or The Stalwart .308 Winchester?
11 Smart Tips to Make Your Bug-Out Bag Lighter and Smaller