Hams and HAM Radio
Traditionally, HAM is the informal name for amateur radio operators. The origin of the acronym HAM goes all the way back to 1908, when HAM was the radio station call name (call sign) of the first amateur radio stations from the Harvard Radio Club. Radio amateurs who used the HAM call sign were Albert S. Hyman, Bob Almy, and Poogie Murray. They called their station HYMAN-ALMY-MURRAY, or HAM.
Nowadays the people we call hams are dedicated enthusiasts in radio communications, with an endless passion for electronics, modern digital signal processing, radio propagation, and computing techniques.
In radio clubs and in their homes, hams use different types of radios and antennas on all available radio frequencies to communicate with other HAM radio enthusiasts across the country and around the world. They use HAM radios for establishing contacts with family or friends, for their  own personal enjoyment; for emergency communications, and for experimenting with radio equipment. For communication, hams use microphones, telegraph or Morse keys, computers, cameras, and even dedicated satellites like OSCAR.
They develop their own hardware components, usually antennas or amplifiers. Some old-fashioned hams make Morse code machines tailored to their specific needs. Others develop their own software applications and data transmission protocols that are integrated with navigation systems.
Besides the above-mentioned passion and enthusiasm, hams also love to help younger colleagues and to support them in their own efforts to become well-trained radio amateur operators. This tradition has been around for more than 100 years. According to the available statistical information, there are 800K+ licensed radio amateur operators in the U.S.
Related: The Best SHTF Radios
How to Operate a HAM Radio
Before someone starts operating a HAM radio you will need to meet some conditions, such as licensing, knowledge of the equipment that's used for amateur radio communication, QSO contact establishing, and QSL cards exchange.
At the beginning, it is very important to get familiar with specific terminology and the protocols and procedures for communication in the hams' world. This is something that can be done quite easily. For example, even eight-year-old children have gotten licensed – or "got their ticket," in HAM language. There are several types of licenses which each grant different privileges and responsibilities, such as Technician, General, Amateur Extra and so on. The starting point for a ham career is to get a Technician-class license. When joining an amateur radio club or buying your own radio equipment, this license allows you to talk to people at long distances using less than 100 watts of radio power. Other types of licenses, like General and Extra, offer some additional frequency bands (HF frequency bands) for radio communication at very long distances and using more power. U.S. amateur radio frequency bands and short comments about the frequency allocation models are presented in Picture 1.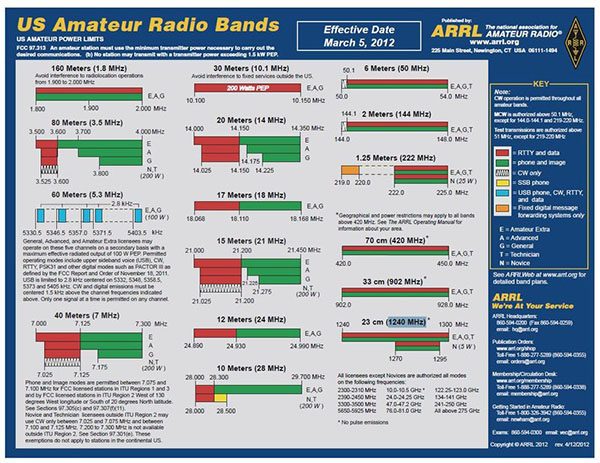 If you want to use available ham resources like repeaters, it is also important to be aware of repeater channel spacing and offsets. Some radios are pre-programmed to repeater channel frequencies, and some will need to be programmed. Table 1 presents a list of repeater channel spacing and offsets.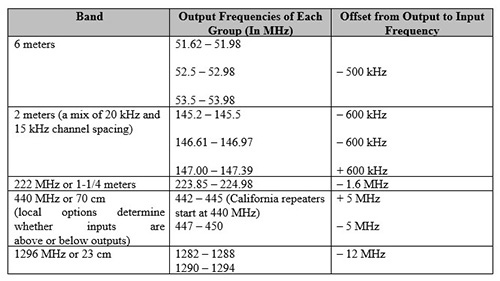 After they get their ticket, they will have to know some basic things about radio equipment that they either already have or plan to use at an amateur radio club. It is necessary to know details about the following:
Radio transceiver – This includes frequency range, power, manipulation (changing the power, channels/frequencies, tuning the radio, connecting the antenna and power supply, microphone, Morse key, additional cables or loudspeakers, etc.).
Power supply – This has to be compatible with the transceiver. It has to provide the needed voltage for proper functionality of the transceiver. If the voltage is too low, the transceiver will not be capable of turning on. On the other hand, if the voltage is too high, it can burn out the transceiver.
Antenna and antenna tuning unit – If needed, these have to be compatible with the transceiver's frequency range and power. There are different types of antennas, and it is important that their usage does not cause any legal issues (in terms of power, size, where they are mounted, etc.).
Microphone or key – Depending on the mode, a microphone can be used to send voice or a key can be used for Morse code sending.
Now it is time for QSO. The radio has to be turned on, and a clear frequency must be found. It is always polite to check again to see if the frequency is being used by someone. If it is clear, the recommended time to check if someone is present and waiting is three to four minutes before changing the frequency. Sooner or later someone will answer, and then information can be exchanged according to protocol. After introductions, communication usually proceeds with the exchange of data about radios, power and antennas on both sides, age, precise locations, weather, amateur radio experience, etc. Hams use Q-code for this communication on every mode and even in face-to-face conversation. Each Q signal is represented by a three-letter question or answer. A complete list of ham radio Q signals, including those used on nets and repeaters, is presented in Table 2.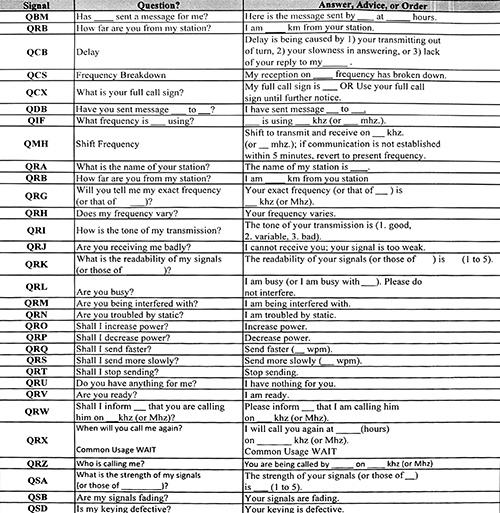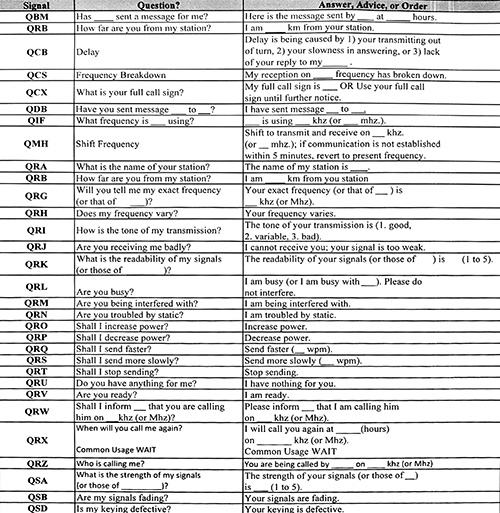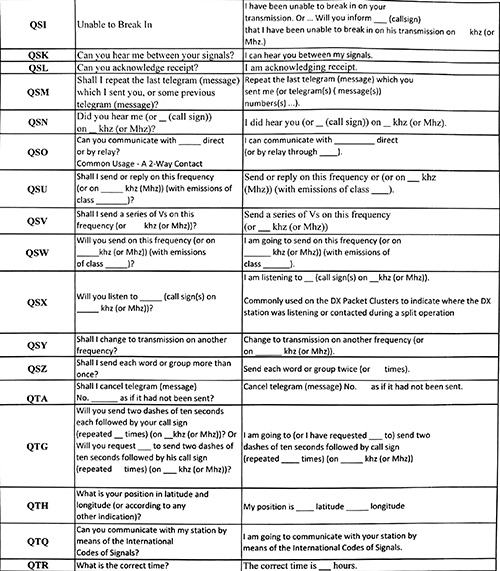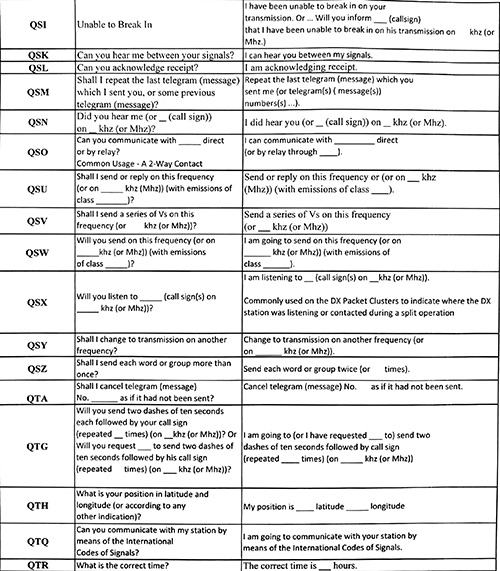 Related: SHTF Survivalist Radio Lists
Besides the official Q-code, there are also some internationally adopted acronyms that are very useful for conversation between hams:
73 – Goodbye
88 – With Love
SK – Signed off (last thing you send)
GL – Good Luck
CU – See you
AGN – Again
HPE – Hope
GM – Good Morning
GA – Good Afternoon
GD – Good Day
PSE – Please
HNY – Happy New Year
UR – Your or You're
FB – Fine Business
OM – Old Man
YL – Young Lady or any woman who is unmarried
XYL – Wife
After contact is over, it is common practice to exchange QSL cards between hams involved in communication. They can be sent using online logging websites or by mail. Many hams enjoy collecting them.
Benefits of HAM Radio
Although the ham community in the U.S. is very representative and gathers people from different professions, HAM radio is also the first choice for preppers. Preppers need radio that:
Can provide a long range in different surroundings (urban, rural, woods, deserts, tropical forests, etc.), according to modular power, allocated frequency ranges, etc.
Is capable of receiving emergency radio broadcasts.
Can support communication with emergency services.
Is able to fit emergency needs.
Is suitable for maintenance.
The general conclusion is that HAM radio fulfills all the mentioned criteria. A very important fact is that HAM radios are extraordinary and robust communications devices that work in all kinds of emergency conditions.
Related: How To Make A Tin Can Directional WiFi Antenna to Extend your Communication after an EMP
In typical emergency scenarios like hurricanes, earthquakes, or other public emergencies, HAM radio is on the front lines supporting organizations like the Radio Amateur Civil Emergency Service (RACES) or providing source information to Skywarn.org, which is a public weather-gathering effort of the National Weather Service.
In these situations, HAM radio clubs activate their local HAM nets to track severe weather and provide all kinds of useful information.
For example, preppers and public emergency services used HAM radios when there was an earthquake in Seattle in February 2001. It was possible to know where all the disruptions to traffic flow were. It was also possible to contact hams and receive useful information over HAM radios while all phones, including cellular lines, were down.
After the devastating hurricanes in 2017, especially when Hurricane Maria knocked out Puerto Rico's communications, HAM radio operators established crucial contacts with rescue agencies.
It is very easy to imagine various scenarios where communication could make the difference between life and death at an individual level.
The ability of preppers to be ready for HAM radio information exchange when receiving a call from an emergency communications group is very important. It is useful to have prepared personal equipment like the following:
Dual-band (VHF/UHF) handheld radio and mini manual
Full-size flexible whip antenna
Copy of your Federal Communications Commission (FCC) license and any EmComm IDs
Mag-mount antenna with necessary adapters for connecting to various connectors
Extra battery packs and charger
AA-cell battery pack if available and fresh batteries
AC power supply and cigarette-plug cord with spare fuses
Headset with microphone (preferred) or speaker mic
Copy of your local EmComm frequencies, phone numbers, and procedures
Pocket knife and/or multipurpose tool
Flashlight or headlamp and spare batteries
Pencil and notebook, clipboard, and permanent marker
Duct tape, electrical tape, and a few small cable ties
Cash for food, gas, and telephone calls (about $20 in small bills and change)
For newcomers and hams that want to refresh their knowledge, there are some very interesting websites that can provide necessary information:  ARRL, AC6V, QRZ.com, eHam.net, Radio Amateur Satellite Corp, DXMAPS.com, DX Summit, TAPR , WA7BNM Contest Calendar, 
We must be aware that HAM radio is the optimal solution for a diverse range of use cases. It is a way for meeting new friends, it feeds explorers' imaginations, it very often provides the one and only way to contact people in emergency scenarios, etc.
Finally, somebody's next HAM radio contact may be someone like Carlos, King of Spain – EA0JC; Les Hamilton (He first alerted Britain of Argentina's invasion of the Falklands in 1982.) – GM3ITN; Bhumiphol Adulayadej, King of Thailand – HS1A; Francego Cossiga, the former Italian President – I0FCG; Akio Morita, the founder of Sony – JP1DPJ; Masaru Ibuka – Co-founder of Sony-  J3BB; Patty Loveless, country music singer – KD4WUJ; Stuart Alden Cook (Stu Cook), bass guitar player in American rock band Creedence Clearwater Revival – N6FUP; and many others.
The idea of establishing contact with some of them is at least worth a try.
You may also like: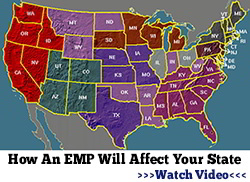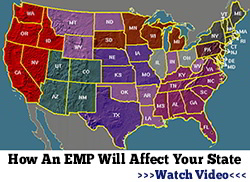 Nuclear Protection Supplies You Need To Have Ready
US Nuclear Target Map. Do You Live in The Danger Zone?  (video)
How To Tell When People Are Lying to You (in a crisis)
23 Motives to Prep Even If Doomsday Never Arrives
US Official Procedures Before SHTF. How to Know Before It Hits