It is no secret that we are amid an economic crisis affecting people worldwide. Living expenses and costs are rising and have reached an all-time high in many areas.
Eating healthy can be challenging when your rent, mortgage, and bills use up more than three-quarters of your monthly income. Add increased food costs to this already dire situation, and you have a recipe for disaster that only worsens with time.
Currently, economic fallout is one of the most likely ways things can go wrong for humanity. The impact of a financial crisis is significant in terms of monetary losses and human suffering.
While we may not be able to avoid the full impact of this widespread issue, there are things we can do to prepare.
One of the first places a recession is felt is in food access. A grocery bill that was once manageable is now astronomical. A simple trip to the grocery store has increased in cost, and many people find it challenging to make ends meet, let alone feed their family a healthy, balanced diet.
Related: Looming Economic Crisis Threatens To Push Millions Of Americans Into Starvation
Thankfully, if you start now, you can prepare for things getting really tough.
While stocking up on toilet paper, canned goods, medications, and essentials is always a good idea; you need to consider the bigger picture. Canned beans and survival crackers are not a long-term solution.
The effects of any type of crisis could last for weeks or even years, but life will inevitably continue. If you hope to be able to live in a relatively normal state, you will want to have healthy, hearty meals on hand.
The good news is that you can create these meals today while you can still afford the ingredients. Preparing now means you will have meals on hand later if you are in a situation where you can't afford to buy food or cannot safely access it.
Here are some easy-to-prepare meals that can be stored for extended periods, so you are ready when SHTF.
Turkey Dinner In A Jar
Even amid chaos, you can enjoy turkey dinner with your family if you prepare.
Ingredients:
1 cup freeze dried turkey
5-7 tbsp chicken or turkey gravy powder
1-2 cups seasoned stove top stuffing
dehydrated vegetables – carrots, celery, onions, etc.
salt and pepper
Layer the ingredients in a large mason jar, vacuum seal, or add an oxygen absorber. Store until needed.
Cooking Directions:
To make this meal, boil 4 cups of water and add the mixture from the jar. Let stand for approximately 10 minutes, adding more water if required.
Related: 5 Instant Dry Soup Mixes Every Prepper Should Have In Their Food Storage
Simmer this meal for 20 minutes, allowing it to soften and the flavors to absorb.
Tacos In A Jar
Tuesday night tacos become so easy with a stored dry mix.
Ingredients:
2-3 tbsp taco seasoning
salt and pepper
2 tbsp tomato powder
freeze dried onions, beans, corn and other vegetables of your liking
dried chilis or pepper flakes
½ cup freeze dried hamburger
Layer all ingredients in a mason jar and seal. Add an oxygen absorber if you are not using a pressure canner. Store in a spot that is away from heat and light.
Cooking Directions:
Dump the mixture into a pot and add 6-8 cups of water. Bring the mix to a rapid boil, then turn the heat to medium for 15-minutes to thoroughly cook the beans. Add more seasoning if required.
A longer simmer will create a thicker mix. Serve with tortilla chips or put it on a taco shell with sour cream and salsa if they are available. You can also eat this meal as a taco soup by increasing the water and creating more liquid.
Super Simple Sloppy Joe's
Sloppy Joe's are always a family favorite and easy to make. In a crisis, you can still enjoy this favored meal if prepared ahead of time.
Ingredients:
1-1 ½ cups freeze dried ground beef
½ cup each freeze-dried tomatoes, onions, and peppers
¼ cup each freeze-dried celery, corn, and tomato powder
3-4 tbsp Sloppy Joe's flavoring powder
salt and pepper
Layer all ingredients in a mason jar and vacuum seal using a pressure canner.
Cooking Directions:
Boil 4 cups of water in a saucepan. Add the mixture to the water and reduce heat to medium. Simmer for 25-30 minutes. Serve on hamburger buns for a filling, flavorful meal. If fresh bread is not readily available, this meal is also great on its own or served over crushed tortillas.
You can create extra sloppy joe sauce by combining minced onion, garlic, dry mustard, celery salt, and chili powder in another container and adding water when you are ready to serve. Put these ingredients in a baggy and store them within the jar for easy access later.
Fantastic Fajita Casserole
Rice, beans, and delicious flavors form this simple storage meal. You will want to make extra jars because the whole family will love this creation.
Ingredients:
1 cup each red and black quick-cook beans
½ cup of tomato powder
1½ cups of taco seasoning
¼ – ½ tsp each dried garlic, onion, chili powder, red pepper flakes
Layer ingredients into a large mason jar. Cover with a canning lid and vacuum seal. Store in a cool, dry place until needed.
Cooking Directions:
Empty the contents of the jar into a large casserole dish and cover with 6 cups of boiling water. Bake uncovered for 40-minutes
You can top this delicious dish with freshly grated cheese or serve it with sour cream if available. Alternatively, you can add cheese or sour cream powder to the mix to allow for a creamy delight even during an emergency.
Mac And Cheese In A Jar
Mac and cheese is the ultimate comfort food, which may come in handy during a crisis when tensions are high. This simple storage version of a favorite family classic is perfect for your preparedness kit.
Ingredients:
cheese powder
butter powder
milk powder
salt and pepper
elbow macaroni
Add dry ingredients to a plastic baggy and vacuum seal, or remove as much air as possible. Fill a jar ¾ of the way with elbow macaroni and place the dry ingredients baggy on top. Add an oxygen absorber.
Vacuum seal the jar or allow the oxygen absorber to do its thing and wait for the jar to seal itself. Store the jar in a dark, dry place until needed.
Cooking Directions:
Remove plastic baggy and set aside. Add elbow macaroni to a pot of boiling water and cook for 8-10 minutes. Once the pasta is cooked, set aside approximately ½ – ¾ cups of the pasta water.
Drain the remaining water from the pasta and return it to the pot. Pour ½ a cup of the pasta water back into the pot and add the dry ingredients from the baggy. Stir until thick and cheesy, adding more water if required.
You can use other kinds of pasta, but cooking times will vary. You may also want to add some freeze-dried veggies to make this meal more nutrient-rich.
Taste Of Texas Chili
Chili is the perfect meal on a crisp fall day, and it is also an excellent option for a stored meal that is easy and affordable to create.
The best part is that it is fully cooked and ready to serve or store. Feel free to spice it up, add more veg, thicken the sauce, or experiment in other ways.
Ingredients:
1 can of kidney beans, drained or two cups of dried beans, cooked and drained
1-1 ½ lbs ground beef
1 onion or dried onion flakes
1-2 cloves of garlic or 1- 2 tsp garlic powder
1 tsp oregano
1 tbsp chili powder
1-2 bell peppers, seeded and chopped
½ a can of root beer
chili flakes and any other spices you like
Cooking Directions:
Cook ground beef in a pan with onion, peppers, and spices. Add the ½ can of root beer to the meat halfway through cooking and continue until the meat is browned and the root beer is beginning to thicken a bit. Add the kidney beans and tomatoes, simmer for 10-15 minutes.
Pack the cooked chili into heated jars, leaving 1-inch of headspace. Wipe the rim, add the lid, and seal in a pressure canner for 1 ½ hour. Store in a spot that is dark and cool.
Savory Beef And Potato Stew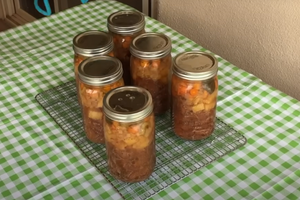 Stew is an excellent meal for storage.
It is nutritious, filling, and easy to prepare, the perfect combo in a crisis.
Related: Canning $5 Amish Stew
Make a delicious beef and potato stew today and store it for an emergency.
Ingredients:
1-2 lbs ground beef, venison, or sausage meat
2 tbsp Worchester sauce
1-2 tbsp cornstarch
4 cups beef broth
1-2 cups cooked, cut potatoes
1 cup carrots, baby carrots, carrot chunks, or frozen
1 cup frozen green beans
1 cup frozen corn
1 large onion sliced and diced
garlic powder, onion powder, salt, pepper, and any other spices you like
Cooking Directions:
Cook the meat with your choice of spices. Heat the broth to a boil in a pot. Add the spices to the broth along with Worchester sauce.
Related: How to Safely Store Homemade Broth for 6 Months (No Canning or Freezing Required!)
Mix the cornstarch with cold water and blend until smooth; add this to the broth mixture. Without fulling draining the meat to preserve the flavors, add it to the broth, seasoning as desired.
Throw all your vegetables into the broth mixture and simmer over low-medium heat until the vegetables are fully cooked and the flavors are combined. It is best to add the potatoes during the last 10 minutes of simmering, as they are already soft and cooked.
To store this meal, add it to jars, leaving 1-1 ½ inches of headspace. Let the jar settle, wipe the rims, and place the lid on top. Seal using a pressure canner. Store in a cool, dark space.
Why Store Food? What Are The Benefits Of Food Storage?
People often take for granted that they can go to the grocery store and purchase the items they need to create a healthy meal.
What happens if this ability were to vanish suddenly or if you simply didn't have the money to purchase food?
As you probably know, this is not such a far-fetched idea. The risk of impending doom makes having a stockpile that includes hearty meals essential. Storing food, especially ready-to-eat meals, is an excellent idea with many benefits.
A critical aspect of any prepper's strategy, food storage can mean the difference between life and death. However, there are things to remember when looking to store foods for extended periods.
It is also essential to consider how many people you will be feeding, and it is a good idea to store extra food in case someone manages to access your stock, you fall ill, or something terrible happens.
Remember, being prepared may become the only way to survive when SHTF.