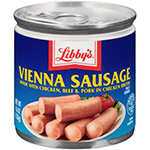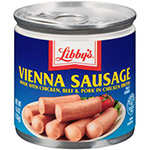 I stockpile a lot of canned goods, from tomatoes to chicken, to beans and beef. But my favorite canned goods are Libby's chicken Vienna sausages (see picture).
So I tried to make them at home and believe it or not, they are more delicious than the ones I bought.
The ones I stock have a 3 year expiration date. I have eaten lots of things that were expired. These will still be good years after that. So in the title I mentioned a 2 years shelf life for my sausages, but it can actually be much more. We'll find out.
Ingredients:
– 6 lbs ground pork
– 4 lbs ground beef
– 2 cups cold milk
– 1 cup flour
– ½ cup grated onion
– 3 tbsp salt
– 2 tbsp ground coriander
– 1 tbsp sugar
– 1 tbsp mace
– 1 tbsp paprika
– ½ tbsp cayenne
– 5 tbsp beetroot juice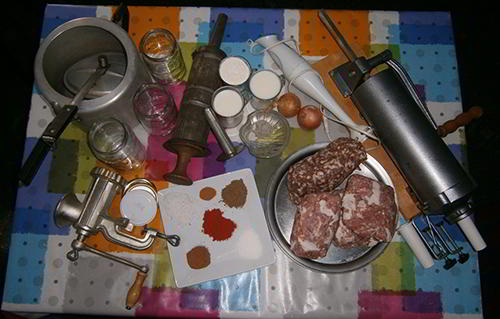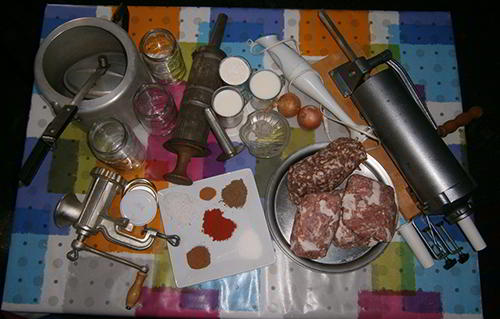 Step One: Extracting the Beetroot Juice and Grinding the Meat
Beetroot juice is used to give it the usual color of Vienna sausage that we all know.
First, grind down the beetroot; then push it through some sort of filter to get all the juices out of it. You don't really need a lot, so it's okay to work in smaller amounts.
After you are done with that, grab the meat and grind it down two times with a grinder to make sure that there are no large chunks.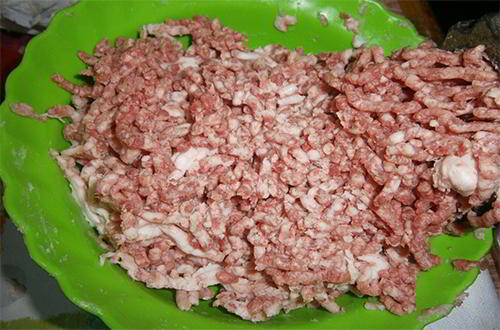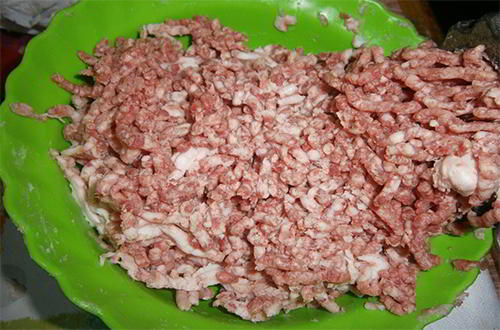 Add all of the ingredients, and grind it down four more times with a hand blender, stopping blending after 10 minutes and resting the blender for 30 minutes to cool it down.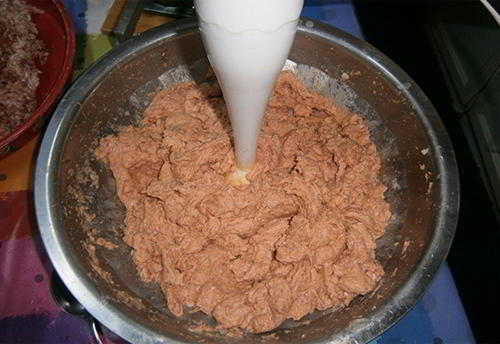 After mixing and grinding the meat, leave it in the fridge to rest for two hours.
Step Two: Making the Sausages
Vienna sausages are thin compared to normal sausages, and because of that, we need to use sheep intestine. Grab the intestine, and gently wash it out with water. Make sure both the inside and the outside are clean.
Then pull the guts onto the sausage filler gently, making sure not to puncture or rip it.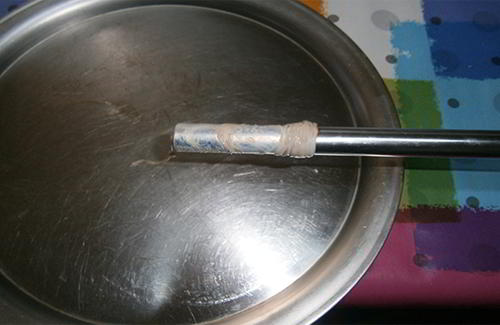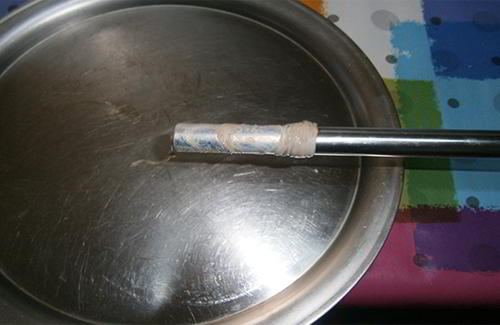 Now we have everything ready to start filling.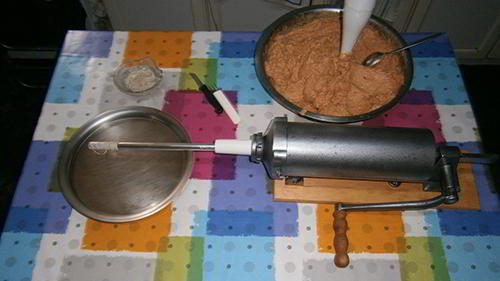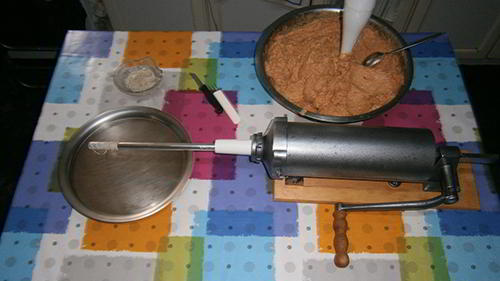 Tie a knot to the end of the gut, and slowly start filling it up with the sausage mix.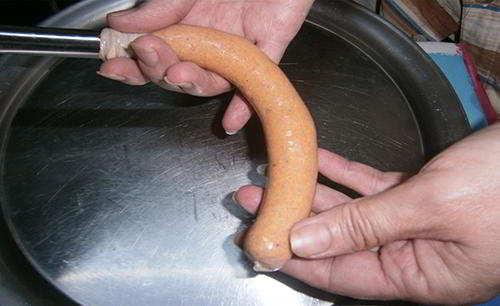 The longer you can get it, the better. Vienna sausage is usually kept long then twisted to create the smaller-sized sausages.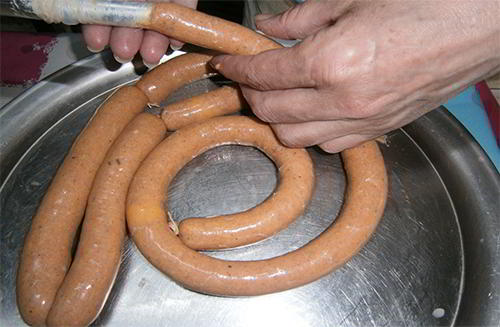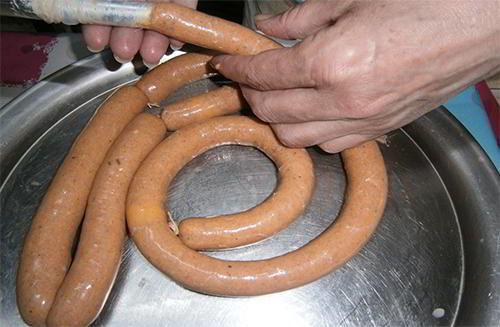 This is what I was working with. Gently pinch the sausages, pushing some of the meat away, then slowly and gently twist it once like you would twist a balloon.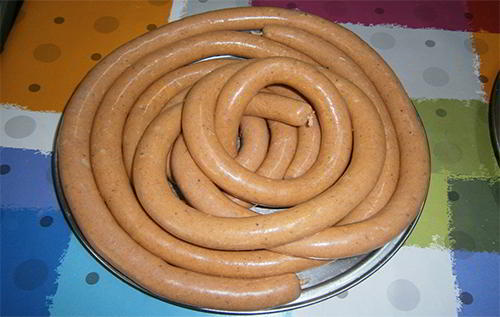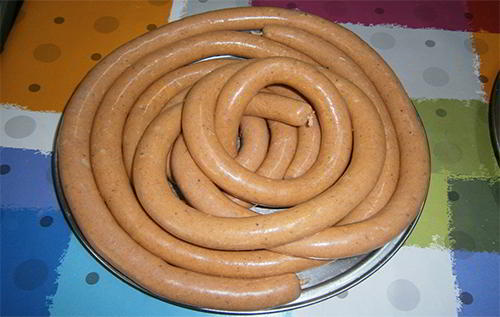 Step Three: Smoking the Sausages
First, start up your grill, and separate the charcoal into two parts with a metal container. They must be fully separate; this way you will get two fires that can keep the container heated. Fill the container with water.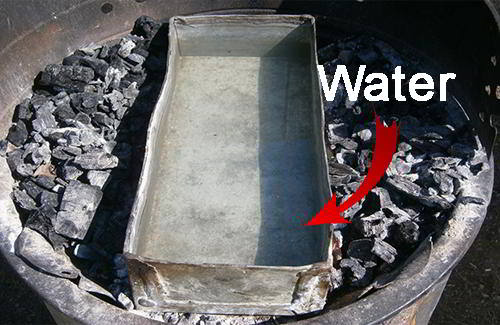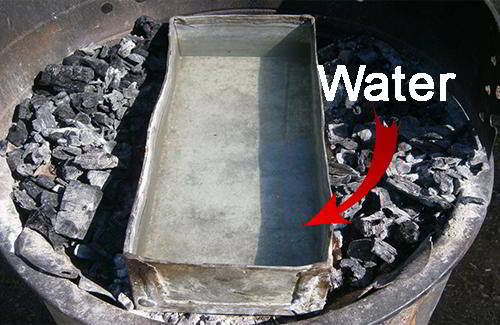 Now cover the water and leave it until the water begins to boil.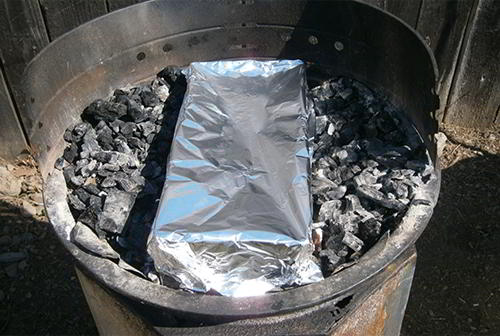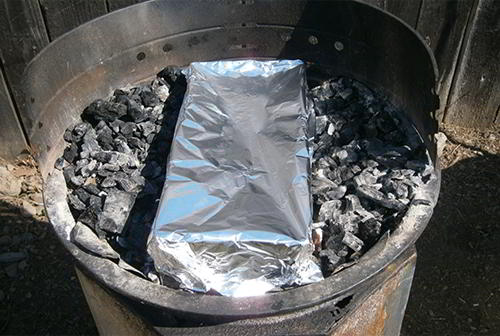 After it's boiling, you can now grab the sausages.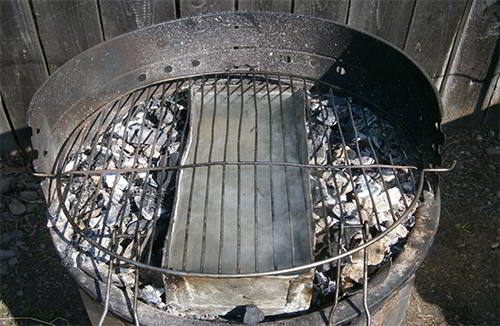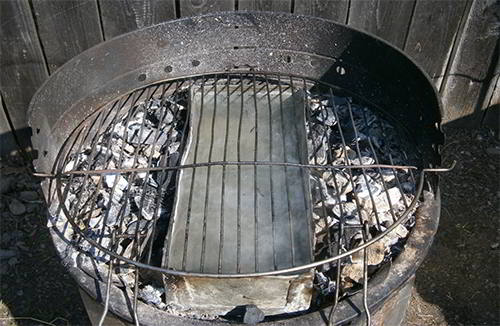 Place the sausages right on top of the boiling water on a grill. This way it will boil, and with the coal, it will gently roast.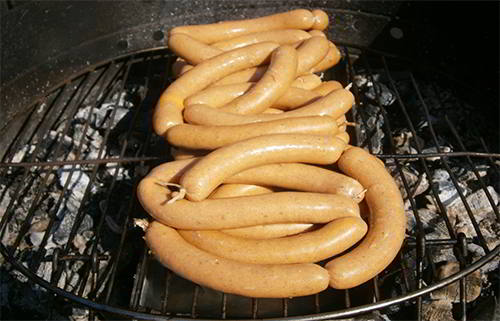 If you have an enclosed grill, the next step will be easy, but if you don't, you need to start thinking of a way to cover it. I simply put a large pot over it.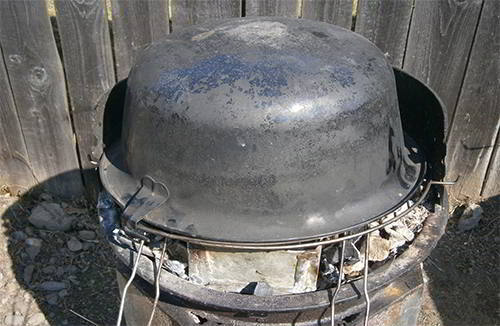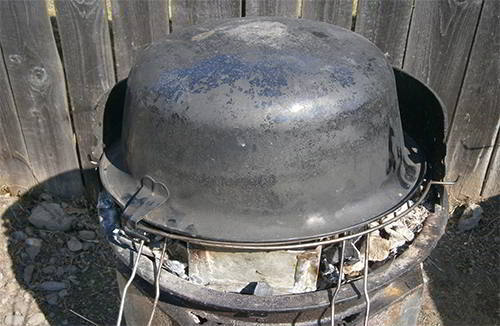 Leave it covered until the internal heat of the sausages reach 152°F. This is how mine looked after finishing. Mine took one hour to heat up.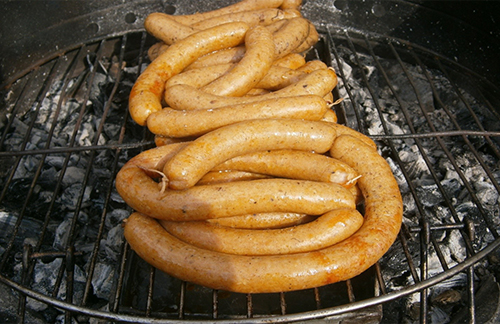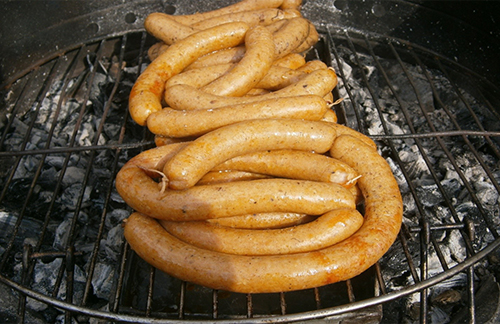 Step Four: Heat Treating the Sausages
After you are done with smoking the sausages, you need to heat treat them. First make a salt mixture with water, putting as much salt into it as you want, depending on your tastes. I used a teaspoon of salt in two cups of water.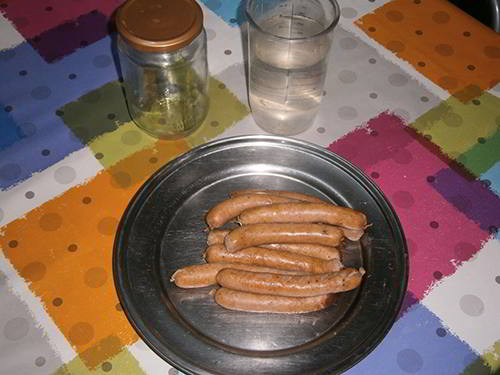 Place the sausages tightly inside a jar until it's filled to the brim.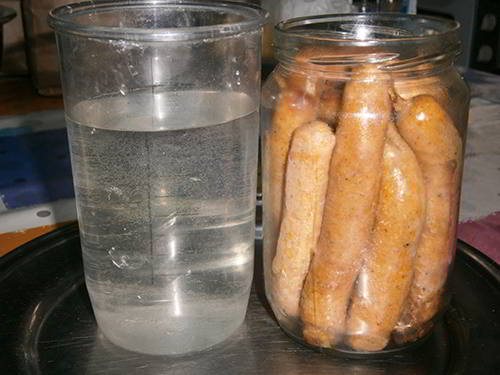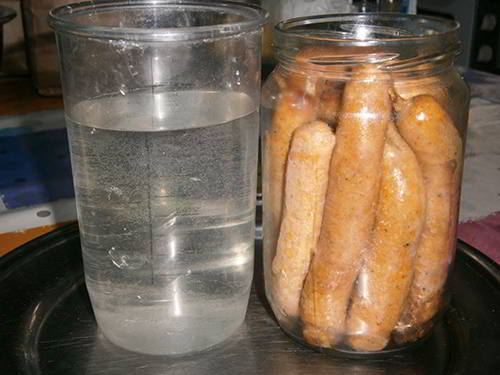 Fill it with the salt water, and seal it tightly with the cap.
Grab your pressure cooker, and place the jar inside. Fill the cooker with water until the jars are one-third covered. Don't forget to use cold water.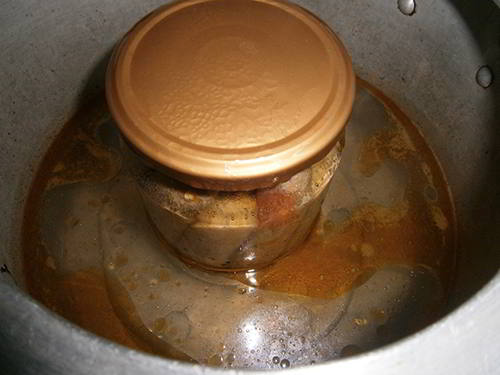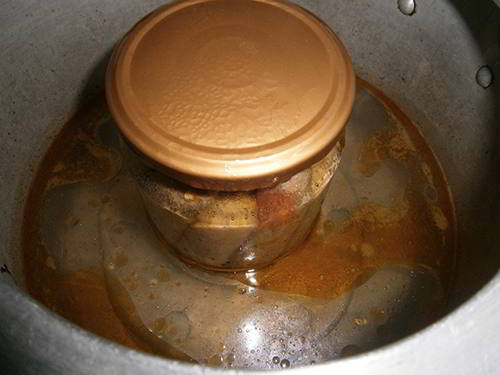 Turn on the stove, and cook it until the water starts boiling. Leave it inside for five more minutes then turn off the stove and let it slowly cool off inside the cooker.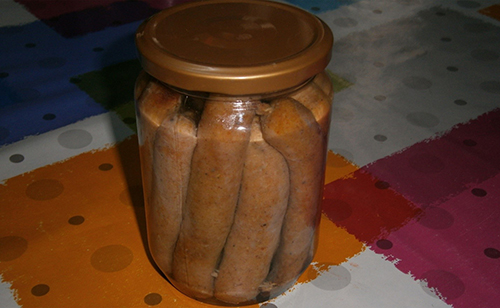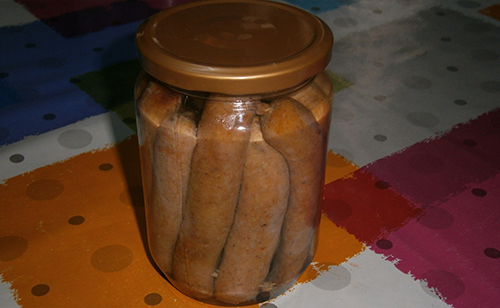 After smoking it, heat treating it, and placing it inside a cold storage room or a fridge, these sausages can last up to two years. Once you do end up opening a jar, you have 48 hours to snack on those delicious, homemade, fresh Vienna sausages, but I'm sure they won't last for an hour.
You may also like: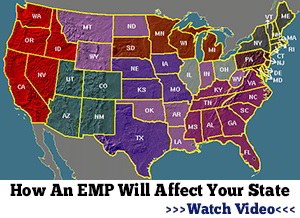 How to Build a Smokehouse In Your Backyard (with Pictures)
An Insanely Effective Way to Build a 5 Year Food Stockpile (video)
How To Make a Mini Root Cellar In Your Backyard In Less Than Two Hours