I am many things in this world, but by far my favorite is my role as a father.
I love spending time with my kids, and I love spending that time outdoors, and if I can teach them things along the way I pretty much feel that I am in the total groove of who I am supposed to be in the world. The reason I bring this up is because if you are like me, learning animal tracks is a great way to spend time with your kids and gain a valuable skill at the same time.
One of the best times to learn the basics of tracks and tracking is when there is fresh fallen snow. Snow is the perfect canvas for the critters of the area to paint their story across. You can learn all kinds of things about the types of animals that are around, patterns of movement, who's hunting who, where different species den up or bed down, you name it. Animals always write their story in tracks, but where tracking on a forest floor can be a lot like reading brail fresh snow is like large font bold face. So, in the interest of learning all we can about the creatures that are around us (and because playing in the snow is fun!), the kids and I have spent countless hours out in the woods after a snow fall.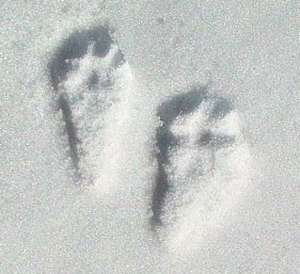 My favorite tracks to introduce new trackers to, particularly in the snow, are the tracks of the cottontail rabbit. I like these because on first inspection they appear to leave only three tracks, two large ones in the back, and a single small front track. This is because they hold the front feet very close together when they hop or sit, and when kids first see them it is always an interesting conversation about what kind of three legged animals might be bouncing around. Once you get them to the bottom of the three legged dilemma, they get many insights into the general behavior of the rabbit, as well as what the rabbit was doing. When the front prints spread out, get further from the back prints, and the back prints are really digging in you can be assured that it was frightened or being chased. If you find predator tracks close behind you can see who was doing the chasing, but if there are predator tracks following a calm rabbit you know the predator was stalking or trailing the rabbit. Cottontails on snowy ground are a great learning tool for new trackers, they illustrate a wide range of the things tracks can show in an easy format, and once you know what kinds of clues you are looking for they are easier to spot when there isn't snow to help.
Related: How to Get Your Wife and Kids Involved in Prepping
Aside from trips into the snow, your best learning tool is a good field guide to tracks, and there are even some phone apps out there these days that are very helpful tools. The next thing you will need to have is a pretty good idea of what critters are in your neighborhood. If you can find a good spot from which to observe wildlife, watch for a while and then go check out the tracks of animals you have actually seen.
There are some broad categories which are easily distinguished. The first of these is birds. Bird tracks are generally three front toes with claw, and a back toe that points to the rear. You can distinguish individual species by size of the track, behavior (How the tracks are moving), and other clues. For example, whether tracks progress in a hopping manner or a walking manner can help, Turkey tracks and Buzzard tracks are about the same size but buzzards hop (Feet almost parallel to each other) whereas turkeys walk or run (tracks offset by this stride).
I am often interested in what predators are around. This is a matter of safety for my poultry and other stock. In my area, the primary predators fall under the headings of Canines (Dogs, Coyote, fox), Feline (Cats, Bobcats, and the occasional Mountain Lion), and "other mammals (such as Raccoons, Opossums, and Skunks).
Starting with the Canines, in general you will see four pads with a large central pad behind. The toes will show the toe nail, and occasionally you may see a fifth nail mark from the dew claw (usually in domestic dogs). As a general rule, domestic dogs have a more rounded foot and therefore a more rounded track than fox or coyote. Beyond that, size of track will be a prime differentiator. Fox have a rather small foot and a relatively smaller rear pad, coyote a medium sized foot, and domestic dogs come in all sizes. You should know roughly what dogs are in your area, both yours and neighbors, so more often than not you will know which dog made the track. If you live in wolf country, wolf tracks are a larger version of coyote tracks, generally narrower and slightly more elongate than domestic canines of a similar size.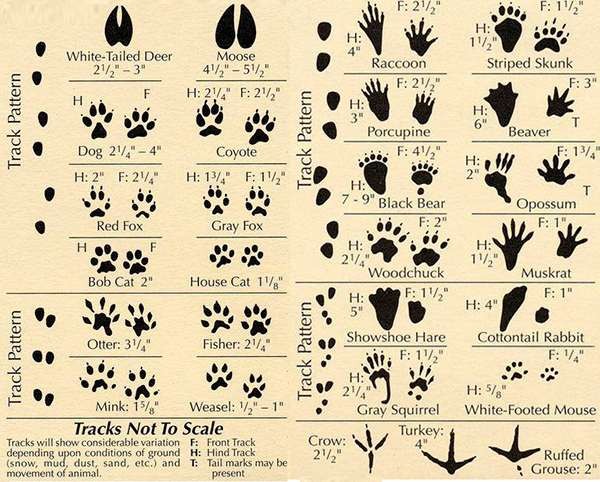 Felines have very compact rounded feet. The pad configuration is similar to that of the canines, but you will never see nail marks at the front of the pad due to the feline feature of the retractable claw. In North America, we have the domestic cat, the bob cat and lynx, and the Mountain Lion occupying the Feline group. Generally speaking, the sizes are so dramatically different that identifying tracks should not be an issue.
Related: 19 Survival Skills You Should Teach your Children This Summer
Moving into the other mammals category.
If there are bears around, their tracks are the big ones. If you live in Brown Bear territory, their tracks are the Very Big ones. Bear tracks show 5 toe pads, a large elongate foot pad, and a vey distinctive nail mark often well in front of the toe pads.
Raccoon are one of the biggest threats as raiders of supplies and poultry. They have a rather elongated foot print, the fronts are significantly smaller than the rears. All five toes show, and of particular note is their very impressive and versatile thumb. It is often simple to find good representative 'coon prints because of their affinity to water, muddy pond banks and sandy creek beds are good places to look.
Skunks, weasels, and ferrets all have similar tracks. They also show five toes, but there is less size difference between the front and back tracks. The toes are shorter than those of the raccoon, and the toe in the thumb position is much less differentiated.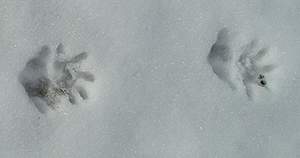 Opossum have very rounded and small front feet showing 5 toes equally spaced. There is a big difference between the front and back feet. Hind feet are much slimmer and longer and the toe in the thumb position is placed very far back and protrudes to the side. The thumb position gives the opossum its tree climbing grip.
We have already talked about cotton tail rabbits, they are of interest as a potential food source, not as a threat to other food sources. There are a wide range of other small creatures that can provide a meal for you, such as squirrels and even chipmunks in a pinch, going into all their tracks is beyond the scope of this article however. You can learn these, as well as solidify the information on the others, with a decent guide book or phone app and some time in the woods. Tracks can provide a host of information, both about potential food supplies and threats to your food supply. As an added bonus, learning about them provides an excuse for some great outdoor family time, and an opportunity to hone other outdoor skills as well. All of this is well worth knowing, and well worth passing on to your children and grandchildren, so get to it!
You may also like: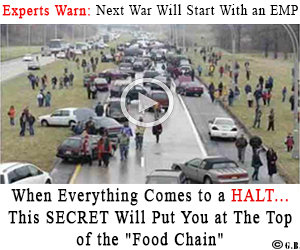 30 Lost Ways of Survival from 1880 We Should All Learn
H2O Dynamo – The Awesome Device That Turns Air Into Fresh Water! (video)
This Common Driveway Weed is One of Nature's Most Powerful Survival Plants