Fruitcake is by far the most underappreciated dessert around—and that's a shame!
With all the excessively sugary mass-produced sweets available today it would seem that this rich, spiced, and delicious cake does not get the respect it truly deserves. Fortunately, that means more fruitcake for us!
If you're a prepper, a homesteader, or someone who just loves to cook traditionally, making a true fruitcake is a labor of love and a tradition worth keeping alive.
The History of Fruitcake
Many cultures have their own versions of fruitcakes, but the earliest fruitcakes as we know them today date back to the middle ages during the Crusades.
Made with dried fruits, stale bread, and mead, these cakes could last anywhere from months to years. Since then, fruitcake has remained wildly popular.
In the 1600s, as sugar became more affordable, the true old-fashioned fruitcake we know and love was born.
Fruitcake Shelf Life
Thanks to its high sugar content, preserved fruits, and a process known as "mellowing"—soaking in alcohol every so often—these cakes can really last!
Properly stored and cared for fruitcakes can last decades and are an excellent addition to your emergency food stockpile.
You may have heard about the 125-year-old fruitcake famously tasted by Jay Leno. A man named Morgan Ford took his great-grandmother's 125-year-old fruitcake, a family heirloom, to California to share with the famous TV personality. After tasting the ancient cake he joked, "It needs more time".
Although the recipe for that particular fruitcake is unknown, we do know the earliest American fruitcake recipe.
Published in Connecticut in a 1798 cookbook, the recipe uses unfamiliar measurements such as "one drachm nutmeg". Since we no longer measure in drachms, we have to approach these old recipes to the best of our abilities using ingredients and measurements that are slightly more modern.
The result will be a long-lasting, flavorful fruitcake that has the potential to last for decades.
Related: Antarctica Keeps 106-year-old Fruitcake "Almost Edible"
How to Make Your Own Forever Fruitcake
With a little work and preparation, baking a fruitcake that can last for decades is something you can easily accomplish at home. Homesteaders and preppers are resourceful people and often use what they have on hand.
This recipe supports and encourages the use of substitutions as needed.
Supplies
● One or 9 inch round cake pan, or whichever cake or loaf pans you have available
● One or two tea towels
● Parchment paper or waxed paper
● 2 large mixing bowls
● Mixing tools such as a wooden spoon or hand mixer
● Cheesecloth or other breathable fabric
● Bread steamer, steaming pan, or a DIY steamer using a large pot and a small amount of water.
Baking
This recipe is a traditional English recipe shared with me by a relative. It yields one to two round fruitcakes.
However, just about any fruitcake recipe will do.
Related: 11 Wartime Ration Recipes Every Prepper Should Try
Ingredients
● 1 pound mixed dried fruit such as cherries, apricot, cranberries, dates, or plums.
● 1 pound chopped nuts such as pecans or almonds, salted or unsalted.
● ½ – 750 ml. bottle of brandy, sherry, port wine, or mead. Any kind of alcohol will do in a pinch.
● 4 cups of flour
● 2 cups of brown sugar
● 1 cup of butter or lard
● 6 eggs
● 1 teaspoon of salt
● 1 teaspoon baking powder and baking soda
● 1 teaspoon ground cinnamon
● 1 teaspoon ground ginger
● 1 teaspoon ground cloves
● 1 teaspoon ground nutmeg
● 1 cup molasses. A bit of extra brown sugar (or even maple syrup!) will work just fine if molasses is scarce where you live.
● Zest from one orange
● Zest from one lemon
● Juice from ½ orange
● Juice from ½ lemon
Instructions
Step 1: Preparing the nut and fruit mixture
● Add the fruit, nuts, and alcohol to a large mixing bowl and toss to combine.
● Cover with a tea towel and allow the mixture to soak overnight.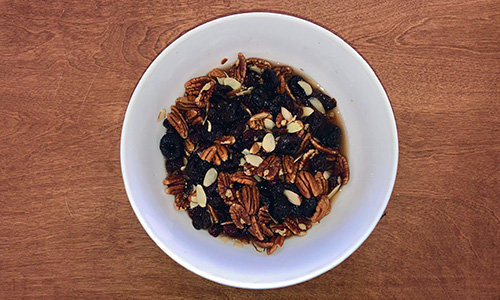 Step 2: Preparing the cake batter
● In a separate mixing bowl from your fruit and nut mixture, cream butter and sugar together then combine remaining ingredients until a smooth, thick batter forms.
● Carefully fold fruit and nut mixture into the batter and mix well.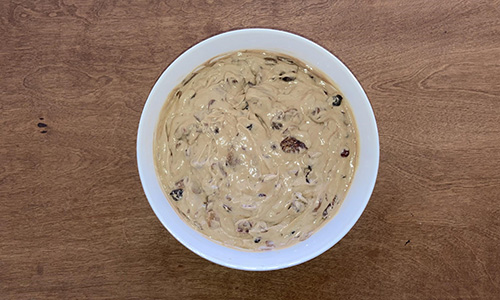 Step 3: Preparing the cakes
● Grease the prepared baking pans.
● Cut the wax or parchment paper to fit the bottom of each pan.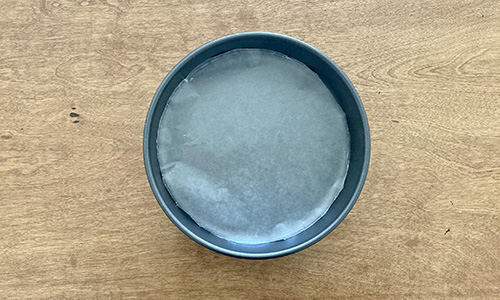 ● Pour the batter into prepared pans about ¼ inch from the top. Fruitcakes rise very little during baking since there is no added yeast.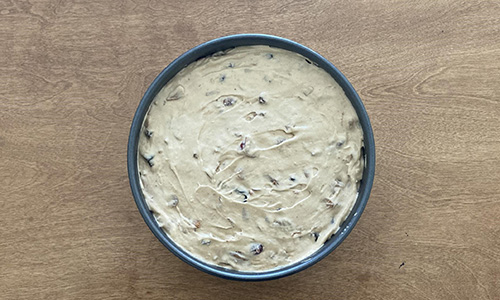 Step 4: Steaming the cakes
● Cover and steam for 2.5 hours.
● If you don't have a steamer, you can easily make a DIY version. Place an upside-down bowl or a saucer on the bottom of a deep stockpot and place the unbaked fruitcake on top. Then, fill the pot with enough water to reach the bottom of the fruitcake pan.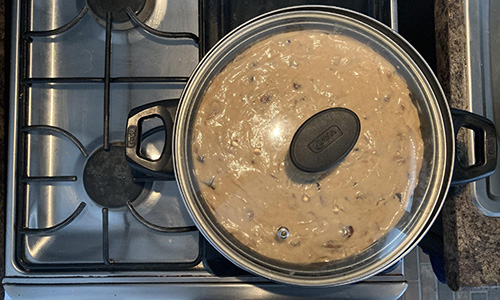 ● Add water to the steamer as needed.
● Allow the cake to simmer inside of the covered steamer for 2-3 hours.
● Preheat oven to 300°F.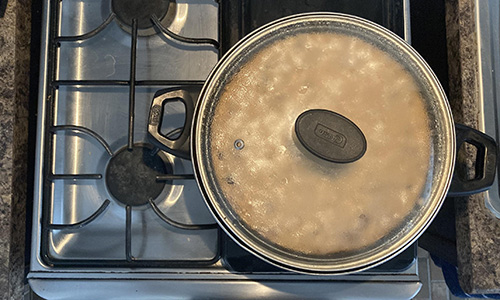 Step 5: Baking the cakes
● After the cake has finished steaming, carefully remove the cake and transfer it to the preheated oven for one hour.
● Remove the cake and allow it to rest covered on the counter for 12 hours.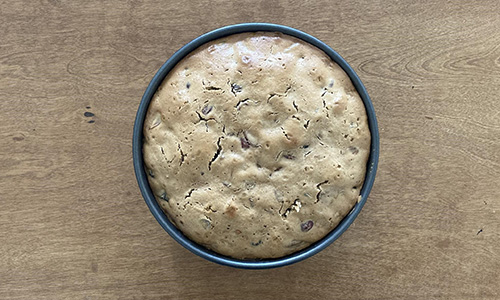 How to Store Your Fruitcake
Mellowing and Aging
After your cakes have had the chance to rest, wrap them tightly and securely in cheesecloth or other breathable mesh-like material.
Finally, pour a generous amount of alcohol onto the wrapped cake.
Store in a cool, dry place such as a refrigerator or a root cellar and age the cake until you're ready to eat.
Related: How Long Can You Keep Fruitcake? In This Case 106 Years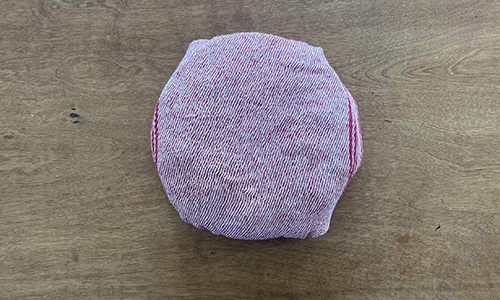 It's important to "feed" the cake every week or two by brushing it with additional alcohol. This process not only helps to preserve your cake but keeps it nice and moist for years to come.
Why Preppers Should Add This Fruitcake to Their Stockpile
Of all the long-lasting cakes and breads that preppers buy or produce themselves, having a comfort food like homemade aged fruitcake in your arsenal is a real treat.
In a survival situation, even those who claim to hate fruitcake would warmly welcome this rich and comforting dish.
But then again, once you finally have a bite of your aged fruitcake, you may not want to share!
You may also like: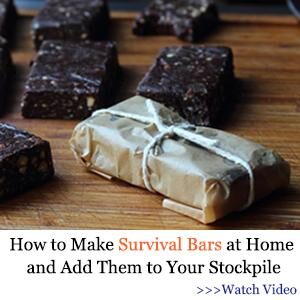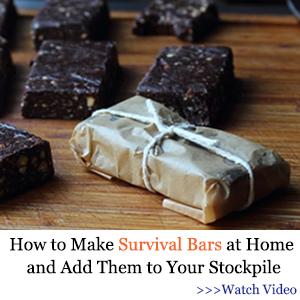 7 Mistakes To Avoid When Harvesting Rain Water
This Strange Method Will Make Your Food Last For 2 Years Without Refrigeration (Video)
How Does This Man Grow Oranges in Nebraska's Cold Winter?
The Greatest Water Crisis In The History Of The United States. Is a 'Megadrought' Coming?