Every once in a while you run into someone who's really got it. Such is the case of 85 year old Russ Finch, a retired mailman who has embarked on his second career as a geothermal expert.
Actually, Russ has become an expert in using geothermal heating to make greenhouses, which allow growing of citrus trees in the frigid Nebraska wintertime. Yes, that was citrus I mentioned: oranges, lemons, limes. I also mentioned wintertime; the time when citrus fruit dies and the trees go to sleep.
I know that if I didn't get the fruit off my own citrus trees before one of our rare freezes where I live, they would die on the tree. But here Russ is growing them in an area with an average daytime high of 37°F in December and February and an average daytime high of 33°F in January. He's not losing any fruit either.
What's his secret? He's managed to find a way to tap into the natural underground temperature, cooling his greenhouse in the summertime and warming it in the winter. As far as his fruit trees go, he's got an ideal growing climate, with a year round temperature of 55°F.
Related: What Foods Can You Bury Underground For Winter?
Special Greenhouses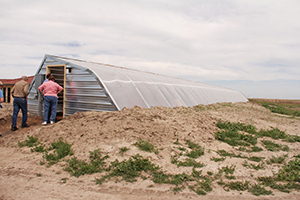 Finch has combined two growing technologies together to create his ideal growing environment.
First, he's using greenhouse. But not just any greenhouses will do; he's got underground greenhouses. These greenhouses are a little secret that most people ignore because of the extra work it takes to build them.
But that extra work is totally worth it, especially in a normally cold climate like Nebraska's. Building underground, with only the sloped roof exposed, utilizes the natural insulation value of the earth to help keep the warmth in the greenhouse, rather than having it radiate out into the atmosphere.
He's gone a step further than this, in building his greenhouses on an east-west axis and only having the southern slope of the roof glazed. The northern slope, which isn't going to receive any direct rays from the sun anyway is covered and insulated, blocking another convenient means for heat to exit his growing area. What he's left with is an extremely efficient greenhouse, with a sturdy Lexan sun roof.
Geothermal Heating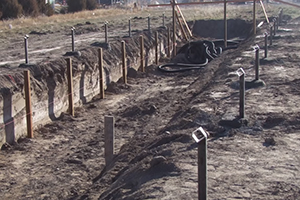 That's the passive part of Finch's heating system, almost perfect passive solar. He adds an active geothermal system to that, drawing heat out of the ground in the winter and cool air in the summertime.
The amazing thing is that Alliance, Nebraska really isn't considered the geothermal capital of the world.
Rather than the hotter underground temperatures that are found in the Western and Southwestern parts of the country, Russ is dealing with an underground temperature of a consistent 55°F. But compared to the above ground temperatures he's facing mid-winter, that 30 degrees of temperature differential makes it seem toasty warm.
Here again, Russ is breaking with the norm and using technology to his advantage. Rather than using deep-well geothermal energy to warm his greenhouses, the system that Russ has designed and is using runs only eight feet below the ground.
That's deep enough to get below the frost layer and down to the point where the ground temperature is consistent, year round. Perhaps even more importantly, it's something that can be done with a backhoe, rather than the time and cost of drilling.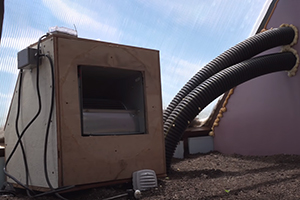 The other way that Russ is breaking with the norm is to run eight inch convoluted plastic pipe in his trenches.
Air is blown through them, rather than running pipes with water and then a heat exchanger is used to heat air.  Then the air is distributed as if through a normal HVAC system.
One of the reasons why this combination is so effective in the greenhouses is that there is no need to raise the air temperature to the 75°F "comfort zone", as you would for a home. He's trying to keep it warm enough for plants to grow, not warm enough so that people can lounge around in shirtsleeves, watching television.
Related: How To Make A Lot Of Compost This Winter
Geothermal Cooling Too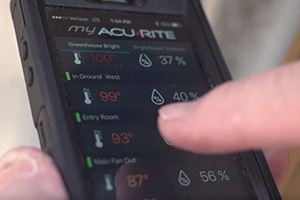 Russ is doing more than just heating his greenhouses with geothermal, he's cooling them as well.
In the summer, when the average temperatures are in the 80s, the 55°F air from his system works even better than air conditioning to keep his greenhouses cool.
The average air conditioning system will lower the air temperature 15°F, much less than the 25°F to 30°F temperature drop he's getting out of his system.
To get this level of heating and cooling, Finch has 16 ducts running through the ground at a depth of eight feet. The loop these ducts make is about 225 feet long. This is enough to guarantee that his air output will be at 55°F, regardless of what the incoming air temperature is.
To put that into the perspective of a normal HVAC system, Russ has a 16 ton heating and air conditioning system, which is running on peanuts.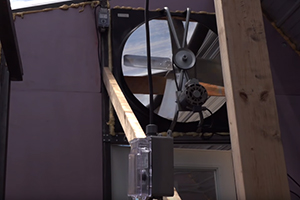 The only power this entire system uses is the power needed for his blowers and his thermostats.
I say blowers, because he currently has blowers at both ends of the system, either pushing or pulling the air through the underground duct system.
He's experimenting with both, trying to determine which will ultimately be the most efficient. When he does, he'll remove the other blower.
Related: Is It Legal To Go Off The Grid In Your State?
Lots of Potential
I must say that I'm extremely excited about the possibilities that this presents. I've been at the pencil and paper stage of designing such a system for cooling my home, as a cost-saving venture.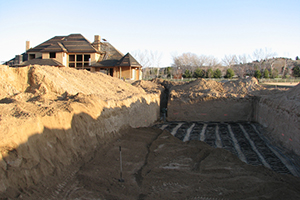 Living in a part of the country where temperatures hover around 100°F six months out of the year, it's not unusual for me to pay $450 a month for electricity in the summer. A system like this could save me thousands of dollars a year, while still keeping my family comfortably cool.
But that's actually nothing in comparison to the potential this has for the agricultural industry. If Russ Finch can grow citrus in Nebraska, 900 miles north of where it normally grows, that says huge things for growing food in areas where it was previously impossible to grow it.
Not only can citrus be grown in the northern parts of the country, year-round, but lettuce and other cold-weather crops can be grown in the hot south, where they won't grow.
From a purely survival point of view, this concept could totally transform the idea of survival gardening. While there is still a need for some electric power, it is low enough that you or I could produce that power through solar or wind.
The closed nature of the greenhouse environment would drastically reduce the amount of water consumption in the garden, as well as reducing potential problems with garden pests. But the best part is, we could grow food year-round, greatly enhancing our ability to provide for our families.
Granted, there would be some considerable cost involved. Russ says that each of his greenhouse costs about $25,000 to build, with its geothermal network. You'd also have to have enough land to build it on. But if you were willing to do the work yourself and had access to a backhoe, you could probably lower the cost considerably.
Are you dealing more with a problem of trying to grow food in the cold or the heat? How could geothermal heating or cooling help your survival efforts where you live?
You may also like: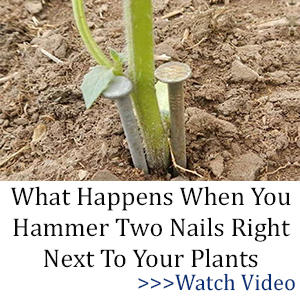 How Growing Your Own Vegetables Can Get You Arrested
12 X More Efficient than Solar Panels? New Invention Takes (Video)
How To Make Sauerkraut – The Most Effective Probiotic
The Ten Cent Modification You Can Do to Double Your Radio's Range