The chance of getting your car stuck in the woods is much higher than an EMP strike. So you may think that it's nonsense to have an EMP emergency kit in your car.
But think of it this way: if you are prepared for an EMP then you are prepared for anything.
When an EMP knocks out the power grid, our cars, our mobile phones, and any electronics… EVERYTHING will come to a halt! You'll have to walk your way home no matter if your car got stuck 100 miles away, no matter if this happens when you are on a highway, in the dessert, on a cold stormy winter or on your way to work. Nobody will come for you. You'll be totally on your own!
On your way home you may need to provide food, water, clothes, shelter, protection and aid for you and maybe your family. This is why I said that an EMP Emergency car bag will surely help in any emergency situation.
How to Build Your EMP Survival Car Bag
First things first, you need to think strategically when deciding what bag to use and what to put in it. Be sure to build it for your personal needs. There's little sense in adding an asthma inhaler if you don't have asthma. But if you do have, then it would be crazy not to throw one in your bag.
Here's what you need to do by the numbers.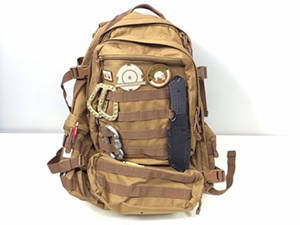 1. The bag itself should be a backpack. The reason is you may have to leave your vehicle behind and set out on your own and backpacks are simply the easiest and most efficient way to tote your gear.
2. Footwear. This is one people always forget. If you live in a hot state and wear flip flops all the time take a pair of tennis shoes or cross training shoe boots. Hiking cross country with snakes, rocks or cactus will be challenging in flip flops. If you live in a four seasons state take a good pair of boots. If you're driving in dress shoes or tennis shoes and have to deal with mud or wet, slushy, ice cold snow you'll be glad you did.
Tip: Tie the footwear to the side of the pack with the laces, a zip tie or use a carabiner to secure them to the side. This way they don't take up valuable pack space but stay with the pack. If you do leave your car you'll be putting them on your feet so you won't be carrying them anyway.
Sub Tip: Be sure your footwear is well broken in. Blisters while survival hiking can be problematic at best. Also, take 2 pair of socks. Keeping your feet fresh and dry is essential to your success.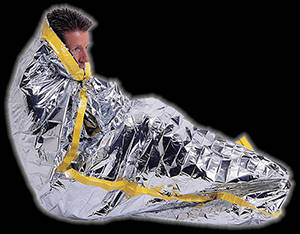 3. A Mylar Survival Sleeping Bag to act as a survival blanket and as a Faraday Cage. If you're freezing and going into hypothermia you're not much good at other survival tasks. If you're in the desert they will keep the sun off of you. Either way, a Mylar survival blanket is a must have no matter if you are on your own on COLD OR HOT weather.
Tip: Use your Mylar Sleeping bag to act as a Faraday Cage. Simply place all electronics listed bellow in the sleeping bag and sealed it. Then test it and see if it works. If it doesn't, then put it in thee trunk and test it there. The trunk offers some protection itself.
Don't know how to test your Faraday Cage? Read this article. (and comments)
4. A small Faraday Cage with electronics to replace the fried ones and to get your car back on the track… or electronics to get in touch with people.
Don't be so enthusiastic about the fact that you can repair your car. Most streets will be blocked with useless cars… just like huge, long traffic jams. But the parts can be really useful if you're stuck in the middle of nowhere.
There isn't a general rule for the parts you need to replace. Every car has its different mechanism. But most cars will need a new PCM (Power Control Module), an Anti-lock braking system, Fuel Electronic Injection and the Electronic Ignition.
Second, you may add a small radio, an old (charged) mobile phone (one you don't use anymore) and a solar battery charger if you want. The mobile phone won't help you as much as you think, but the small radio (especially a HAM Radio) will probably be the only communication available after the EMP.
Also add a small hand crank powered flashlight. Don't rely on battery powered flashlights. They're heavier and when the batteries die you're done.
Here are 10 easy to build Faraday Cages of different sizes. See what would fit best in your BOB or in your trunk.
Tip: People with diabetes should also store in their Faraday cage a small glucose tester.
Sub Tip: Instead of a solar battery charger you can take a Hand-Cranked Charger which is cheaper.
5. Water is essential. Keeping a gallon water jug in your car is a great idea for your emergencies plus vehicle overheating issues and more. But what happens when that water runs out? You can go with little or no food, but water is a different story. Keep the tools to make a sunshine still in your pack because even in the desert as long as you have sunshine you'll have some water. Of course you'll have to dig a lot deeper.
You may think: if I'm walking how can I use the still? Well if you are in the desert (where you really need water) it is best to walk in the mornings and the evenings. In the afternoons seek for shade and set the still to produce some water for you: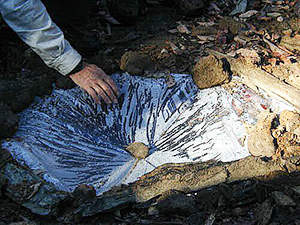 Here are the tools and how to build it. Keep a 3 foot square piece of visqueen type plastic sheeting and a cup with a broad base on it that won't fall over easily. You can keep a folding shovel or dig your still holes with a stick or your hands.
Find a spot with soft ground and all day sunlight. dig a hole no more than a foot and a half wide. Keep digging in depth until you feel the earth is cold and moist. Place the cup in the exact center of the bottom of the hole firmly so it doesn't tip over. Lay the plastic sheet over the hole and hold it down on all 4 sides with rocks or whatever you have. Place a small stone or object in the very center of the sheet above the whole. This will make a depression in the center of the sheet. The sun will create a sauna in the covered whole. The vapor will rise, collect on the plastic, run down to the depression and drip into your cup. The water is pure because it was steam before it dripped into your cup, so no worries there.
This still will work in nearly any environment and will also work on a boat in the ocean. Use a pan or bucket for the hole you would have dug and put a little sea water in the bottom. Place your cup and cover as you learned above. The steam is 100% fresh water that has been completely desalinated. You can survive at sea for long periods with this.
Here's Your Check List Of Items To Be Sure Are In Your EMP Survival Car Pack
6. A compass and a map. The compass is a no brainer and the map will keep you oriented, let you know what's ahead and how far you have to go. You can't count on the GPS… unless you have one in your Faraday Cage. And even so… some satellites will be fried from a Solar EMP or even a nuclear one.
7. A water filtration straw. This is a great device that will let you drink from many water sources that you may find on your way home.
8. A decent knife. Why? Well, only about 2,000 reasons.
9. A length of rope. Again 2,000 plus reasons.
10. A fishing hook and fishing line. If near water the reason is obvious. If in the desert catch one of the pesky bugs that's been annoying you. Then put it on the hook. Place it in spots where you would go if you were a lizard. Trust me, if you're hungry enough lizard looks like fillet mignon. Fishing line also makes great string, repair or suture material. 
11. A first aid kit including drugs. Because survival can be dangerous and because there won't be any ambulances to come and get you.
Be sure to take into consideration your personal needs! Think about what your main medical issues are… like high blood pressure, diabetes, asthma, Cardiac failure, Arthritis and so on. These issues should become top priority for you!
12. Matches and a steel striker fire starter. The striker is in case the matches get wet or fail. Also having one of those small bricks of fire starter material is not a bad idea either.
13. A Leatherman type of all purpose tool. With all the gadgets these things have on them they can come in real handy.
14. A whistle. If you know help is near a whistle can be heard a lot farther than you voice which may crack from all the yelling anyway. Also useful for scaring bears.
15. A Sturdy folding shovel. Keep one side sharp and you have a shovel, an axe, a hammer and a frying pan of sorts. It's a great all purpose tool that you'll be glad you have in your pack.
16. Food. Pack an assortment of dried foods. You can buy them all over the place online. Make sure to get the ones with the most nutrition. Don't get the deserts and junk. Sugar will make you weak and weaken your immune system. You can treat yourself when you get back home.
Tip: Bring a fiber drink that you can mix with water. Many survival foods can be a little constipating. Hiking out of a problem constipated is no fun.
17. Minerals and Vitamins. Did you know that you can develop malnutrition if you lack a single vitamin in your diet? Plus I'm sure it will boost your energy, speed and concentration. They only take a small space.
18. Toilet paper. Its main use is obvious. But one sheet can start a fire from a spark. Place it under some super dry tinder, light it and voila, you have fire.
20. Some cash. Although I'm pretty sure you won't need it in case of an EMP. You can obtain almost anything if you let people make a phone call from your phone. That will be your best thing to barter with, without actually loosing anything (if you have a manual or solar charger of course). But cash will help in other events. And I'm sure nobody make a kit only for EMP's.
The Biggest Tip
The biggest survival pack tip I can possibly give you is: if you don't have one built, DO IT NOW. We never know what tomorrow might bring. And telling your loved ones who are scared or bleeding that you were going to build your pack but never got around to it won't comfort them much. Do it today, so tomorrow you can be glad you did.
EMP Car Test:
You may also like:
How An EMP Will Affect Your State (Video)
Deinfluencing You: 14 Items You Should Stop Stockpiling Right Now
8 Deadly Mistakes When Storing Water For SHTF