Toilet paper has only been in existence for roughly a century and mankind has been around a whole lot longer than that. So how did folks wipe their bottom before toilet paper factories existed?
They used plants. Once upon a time, affluent people wiped themselves with lace, wool, or hemp, followed by a washing with rose water. But everyday people used plants as an early form of toilet paper.
Wiping yourself with leaves might not sound like an ideal way to clean yourself up, but in a survival situation you must be prepared to adapt. We need to be able to find safe and suitable alternatives for items that are impossible to find when SHTF.
Three Toilet Paper Plants To Grow
The top three varieties of toilet paper plants to grow are Mullein, Indian Coleus and Dombeya Burgessiae. The leaves of all these plants are soft, absorbent, and do not commonly cause any type of allergic reaction.
#1. Mullein (Verbascum thapsus)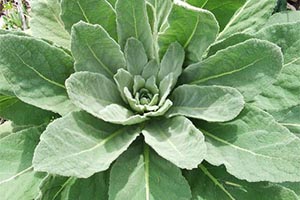 Mullein, also known as the "Cowboy Toilet Paper Plant", or the "Indian Toilet Paper Plant" is a biennial plant, commonly disregarded as a weed by far too many people.
Not only is Mullein generally deemed safe to use as toilet paper, it also boasts a copious amount of natural healing properties.
This plant can commonly be spotted in partially shaded areas and along roadsides in nearly every region in the United States. Mullein grows over six feet tall on average and sprouts a bright yellow top, making it easy to both spot and identify, even by novice wildcrafters.
Thankfully, the Cowboy Toilet Paper Plant does not have any poisonous look-alikes. Some folks who are prone to skin irritations could experience contact dermatitis when using the Indian Toilet Paper Plant. The skin irritation tends to be temporary.
The leaves on Mullein plants are incredibly soft. They are so velvety soft that, in fact, they would be likely more pleasing to your bottom than the scratchy, cheap manufactured toilet paper that is likely stocked at your workplace.
You can dry the Mullein leaves to ensure that you have a survival toilet paper source during the winter months. The leaves will not be fuzzy or velvety soft like they are when freshly picked, but they are still surprisingly absorbent and get the job done nicely.
You can forage for mullein in spaces where you know it has not been sprayed or grow your own to keep an abundant supply readily available.
Related: Edibility Test: Find Out Which Backyard Weeds are Edible
#2. Indian Coleus (Plectranthus barbatus)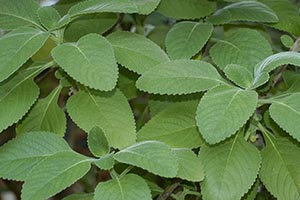 This toilet paper plant is also often referred to as "Indian Coleus", "Kikuyu Toilet Paper", and "Coleus forskohlii".
Like Mullein, it is also a biennial plant but it grows primarily in tropical regions.
Outhouses and latrines were once (and still are in parts of Kenya) built amid the Plactranthus barbatus plants. This way folks on their way to relieve themselves could simply pick a few leaves to use on their way in.
This toilet paper plant has a sweet smell and broad leaves that are incredibly soft to the touch. The leaves, which may hold medicinal properties for humans, are thick and fleshy, so you do not need to snag too many of them at once to clean yourself up after a trip to the outhouse or a squat behind a bush.
Plectranthus barbatus plants have been used as tissues, as well as toilet paper in many cultures throughout the centuries. Eating this toilet paper plant is toxic to animals, allowing it to grow in large quantities in the wild.
Related: 23 Medicinal Plants the Native Americans Used on a Daily Basis
#3. Dombeya Burgessiae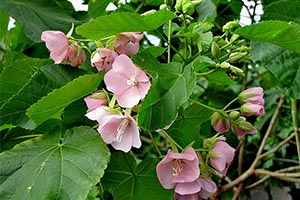 This beautiful plant has both been used as a natural or emergency source of toilet paper and to adorn the hair of young women who are off for a special evening out.
Dombeya Burgessiae flowers with delicate pink and white clusters, as well as soft and thick leaves.
This plant grows naturally only in horticulture zone 1, but it can be cultivated in nearly any location, as long as it is brought indoors for the cold winter months. You can also extend its growing zone by growing it in a grove, as described in how to grow a wild food forest. The proximity of other plants creates a microclimate, enabling you to grow plants that wouldn't usually grow in your growing zone.
In its native Kenya, the fiber from the bark of this toilet paper shrub-like plant has also often been used to make rope and for basket weaving.
Why  Grow Your Own Toilet Paper
Can you really stockpile enough toilet paper to service the needs of your family during a long-term disaster? Think about the sheer volume of toilet paper that you would need to amass to even modestly fulfill the needs of a four-person family for just three months.
In case of a doomsday-level disaster, the likelihood that society would return to normal after just three months would probably be nothing more than a pipe dream. It will take only few hours for store shelves to go empty of all staple commodities.
The toilet paper you happen to have on hand when disaster strikes will be all that you have until the disaster is over and society rebuilds itself. This could take many months or even years.
Imagine the savings if you were to grow your own toilet paper plants, whether you're in a survival situation or not!
Precautions
Simply because an item you want to use, even topically, comes from nature does not mean it may not cause an adverse topical or internal reaction. Although these three plants have been used as toilet paper for centuries in a safe manner, that does not mean they will be absolutely safe for everyone to use.
As with natural herbal remedies and homemade beauty and cleaning agents, always research possible drug interactions and side-effects, as well as speaking to your doctor, before substituting a foraged or naturally-grown item into your daily routine.
This article was gladly contributed by Elle Meager, editor in chief of Outdoor Happens.
You may also like: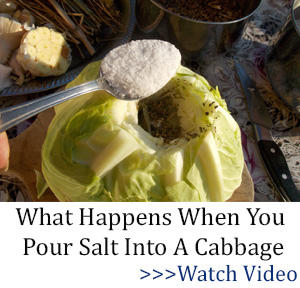 The 5 Most Common Edible Weeds In Your State
Do You Make These Fatal Mistakes In A Crisis? (Video)
8 Edible Backyard Plants And Their Poisonous Lookalikes
Prepper Items You Should Look for at Goodwill