Prepping can get expensive. Almost all of us need to invest some money in equipment and supplies, and that can take a good bite out of our income. To keep prepping affordable, most of us are always looking for ways to save a few cents on every purchase – and as the Brits like to say, "look after the pennies and the pounds look after themselves".
There are plenty of ways to save money on your preparations. Walmart and other big-box stores are a great option for buying food, for example. Preppers often tour yard sales looking for bargains on tools. Ebay has also become a popular way to buy all sorts of useful stuff. There's one option a lot of preppers overlook, though – the local Goodwill store.
Goodwill and other thrift stores can be real goldmines for a smart prepper. They carry an amazing range of items, and it's always worth taking a good look – you never know what you'll find collecting dust in a corner. Here are some of the common prepper items you'll find at Goodwill: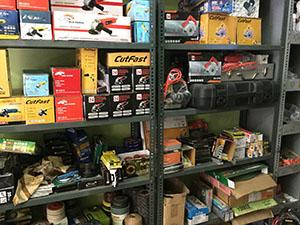 #1. Most preppers already have a pretty good collection of tools – but do you have spares? Hammers don't break often, but that's not the same as saying they never break. Saws tend to be more fragile, and most of us have mangled a screwdriver on a tougher than average screw. Thrift stores are a great place to pick up cheap tools to either round out your kit, or give yourself an emergency backup.
#2. If you're cooking over an open fire you really want to be using cast iron cookware – but that's become fashionable and expensive. Goodwill often has iron pots, skillets and Dutch ovens, though. Sometimes they're unwanted gifts, often still in in their boxes; other times they're old attic finds that will be as good as new after being cleaned and seasoned.
Related: 10 Advantages Of Using Cast Iron Cookware When SHTF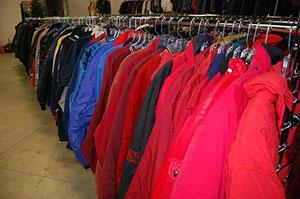 #3. Clothes are a big part of the thrift store business, and you can find an amazing variety. After Christmas is always a good time, as people unload unwanted gifts – but if you take a look in spring, as the weather starts to warm up, you can get some real bargains on winter coats, hats and boots.
#4. Spring is the time to look for cheap winter clothes – but the end of hunting season is worth remembering, too. Every year a lot of people decide to take up hunting, and kit themselves out with everything they need. Then, at some point in their first season, they discover that shivering in the woods waiting for a deer isn't for them after all. A lot of that hunting gear – hides, camouflage clothes, binoculars – ends up on a shelf at Goodwill.
#5. Looking for some extra backpacks to make up bug-out bags for your family? Check Goodwill. You might not find the sort of premium rucksack you'd want for your main BOB, but if you're looking for something to let the kids carry a few essentials, you should find something that will work just fine. Want an extra rucksack to make a car bag, or a get-home bag for the office? Something from Goodwill should be fine here, too.
#6. Thrift stores tend to have a good collection of candles. People get them as gifts, pass them on to the store, then you can pick them up for pennies. Even the ugliest ornamental candle will burn just fine, and when you need it to provide light you won't care how it looks. Goodwill stores also sometimes have bags of stubs or broken candles for a couple of dollars; you can melt these down and recast the wax into fresh candles.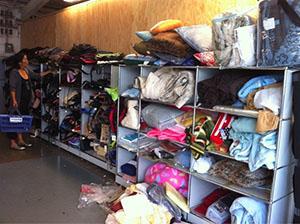 #7. Old-style wool blankets are heavy, bulky and slow to dry, so they've fallen out of favor with most people. Preppers love them though, because they're also durable, warm, fire-resistant and keep providing insulation even when they're wet. Goodwill is an excellent source of these classic survival items.
#8.  Hiking, like hunting, is an activity that many try but fewer stick with. You'll often find tents, camp stoves and other gear at Goodwill. Sometimes it's an older item that's been well used and cared for, then replaced with a newer one. More often it's been used exactly once. Either way, it's a bargain for you.
#9. Who couldn't find something to do with more canning jars? Well, quite a few people apparently, going by how many you can find at Goodwill. Preppers can always use more canning supplies, though, so take a look!
Related: Canning Amish Poor Man's Steak
#10. A lot of families, seeing the kids permanently glued to some kind of screen, take their old board games to Goodwill. If you're preparing for life after TEOTWAWKI you already know that the future – for example life post-EMP – might not include computer games. A stash of old favorites, like Monopoly or Parcheesi, will help pass the evenings when the games consoles are all gone.
#11. If you're looking for entertainment, have a look at the shelves of books every thrift store contains. You can often pick up bestsellers for a dollar or less, giving you a cheap way to build up a good stock of reading material. Don't forget to look for cookbooks and DIY handbooks, too – people often give these away.
#12. These aren't exactly a glamorous item, but it's almost impossible for a prepper to have enough buckets. Carrying water, foraging in the woods for mushrooms, providing emergency toilets in a fallout shelter… the humble bucket has many uses. Search your Goodwill store for them. They're often in a storeroom or stuck in a corner at the back, so if you don't see any, ask.
#13. No, you're not going to find bullion bars at your local Goodwill (and if you do, please let us know where it is). What you might find is single earrings, broken necklaces and other old, discarded jewelry. That doesn't have a lot of value in normal times, but if it's gold or silver then it's precious metal that will hold barter value if the dollar economy falls apart.
You may also like: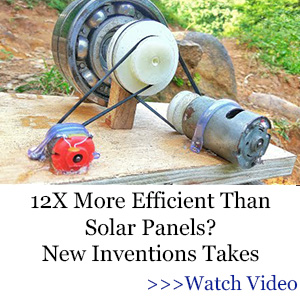 25 Powerless Appliances for Your Homestead Kitchen
The U.S. Army's Forgotten Food Miracle (Video)
Building The Three Bucket Bio-Water-Filter
7 Deadly Canning Mistakes Even Smart People Make
13 Weird Survival Tools Every Prepper Should Stockpile