Dogs have always been man's loyal best friend but also an invaluable tool for survival. From herding to hunting, our dogs work hard to make us happy.
With this recipe for long lasting dog treats you can DIY, you will show your dog the appreciation that they and their forefathers deserve!
Most dog treats that last a long time are pumped full of chemical preservatives. Chemical preservatives can be detrimental to our health as well as our dogs.
It's very important to have dog food in your stockpile. Our canine companions can't eat everything we can. This includes some important dry goods like grapes and certain nuts.
Dogs are important to our survival. Like any survival tool our dogs need to be maintained and healthy to be of use, and as our companions our hearts would be devastated to watch them starve or become sick.
Related: Why You Should Get A Dog For When SHTF
In the DIY recipe for dog treats that last a long time we're keeping it simple. Using natural preservatives (like cinnamon and honey) and simple ingredients it will be a safe healthy long lasting treat for your dog that you can even eat yourself!
What You'll Need:
 A bowl
Rolling Pin
Whisk
Cinnamon
Powder Peanut Butter
Eggs
Steel cut oats
Honey
Flour
Cookie cutter
Let's get started making dog treats that last a long time!
Preheat your oven to 350 Fahrenheit and let's get started!
1. Gather your ingredients. You'll need: 2 eggs, 2 ¼ Cups flour, 1 tsp of cinnamon, ½ cup of steel cut oats, 2 tbsp of honey, ⅓ cup powder peanut butter and ¼ cup water.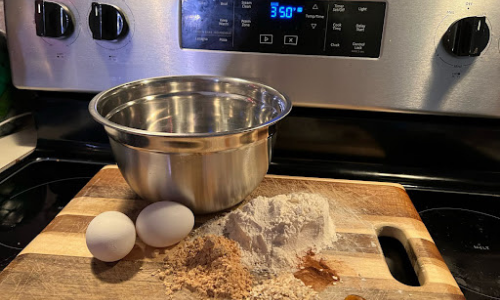 Oils and fat can be the enemy of preservation. That's why we're using powdered peanut butter to create a long lasting treat so it won't go rancid.
2. We're first going to combine the dry ingredients: 1 tsp cinnamon, ½ cup steel cut oats, and ⅓ cup powder peanut butter.
Only use 2 cups of the flour; the remaining ¼ will be used when you roll out the dough.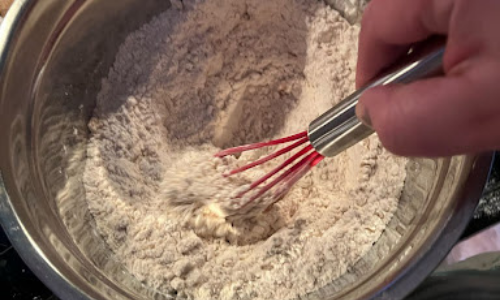 Mixing the dry ingredients by themselves means you will evenly disperse them throughout the flour base, which is important for an even batter or dough. Cinnamon is also a natural preservative.
3. Add in the wet ingredients and combine with a whisk or fork: 2 eggs and 2 tbsp honey.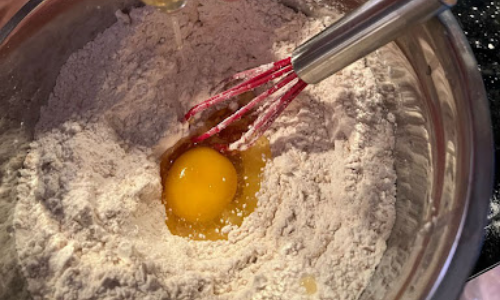 Honey works as a preservative because the high concentration of sugar in honey forces the bacteria cells that could otherwise contaminate the food.
It also makes the dog treats more appealing for our loyal companions.
4. Now we will slowly add the water to create a dough.
You want to minimize the amount of water you use so only add a little at a time till you have the right consistency. We used about ¼ a cup of water.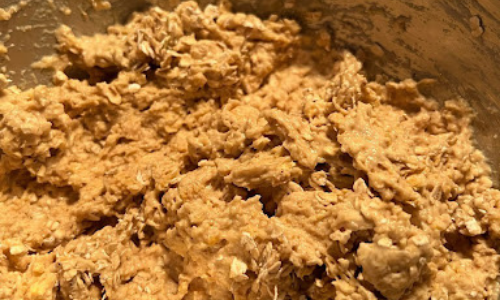 The consistency should match that of a sticky dough. The water will bake out but using as little moisture as possible will make a longer lasting treat.
Related: No-Knead Sourdough Bread
5. Now we need to knead our dough only enough to incorporate the last of the flour into our dog treat dough.
This will take the stickiness away to make rolling next easier. Let the dough rest for about 15 minutes.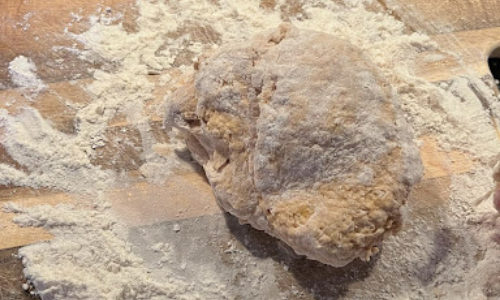 The gluten molecules will tighten, create strands and become less elastic as you knead the dough. Allowing it to rest will allow the gluten to relax so it can be rolled out.
6. Next sprinkle some flour and roll out the dough for the dog treats until it's about a quarter of an inch thick. Pick out your favorite cookie cutters and stamp out some delicious dog treats to bake.
My amazing kids helped make these during our homeschooling and picked these cool unicorn cookie cutters. It's a great activity to make these DIY dog treats with your kids or grandkids!
7. Pop these awesome dog treats in the oven for 30 minutes or until golden brown. These cookies are low moisture so cracking will most likely occur.
Once the timer goes off, put them on a wire rack to cool.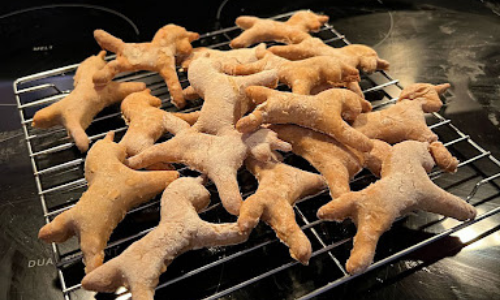 Your loyal dog will be jumping over the rainbow for these delicious DIY dog treats that last a long time.
8. Store these delicious treats in a mylar bag to last up to 3 years. If they make it that long! They also are safe for human consumption and taste like a cracker.
Our peppy pups Chopper and Corvo loved eating these DIY dog treats that last a long time.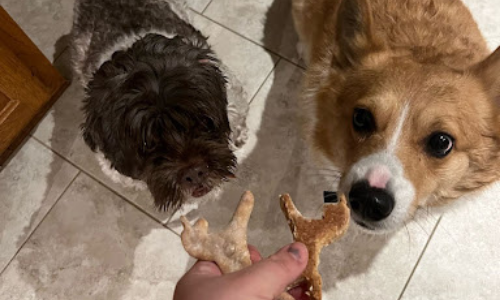 Here are more DIY dog treats that last a long time:
Dog Treat Chews That Last a Long Time
Ingredients:
2 cups whole wheat flour or any flour your pet can have
2 teaspoons baking powder
 ½ cup applesauce
½ cup finely shredded carrot
1 cup oatmeal (old fashioned)
1 egg lightly beaten
¼ cup milk
2 tsps of Cinnamon
Directions: 
Preheat oven to 325 degrees F.
Line 2 baking sheets with parchment paper or spray with non-stick spray.
In a medium bowl, whisk together flour and baking powder.
In a mixer bowl, add applesauce, carrot, oatmeal, and half of the flour mixture.
Mix on low speed and gradually add the remaining flour mixture.
Drizzle in the egg and milk.
Mix on medium speed until well combined.
Scoop 2 tablespoon portions onto the prepared baking sheet. (They do not spread much during baking, they stay in the scooped shape.)
Bake for about 15 minutes or until lightly browned on the outside but still soft on the inside.
Remove and allow to cool.
Floral Note Dog Treats That Last a Long Time
Ingredients:
4 cups old-fashioned rolled oats
1 cup oat flour
1 cup brown rice flour
¼ cup oat bran
1 tablespoon dried parsley
1 tablespoon dried rosemary, crushed
4 tablespoons safflower oil
1 cup boiling water
2 tablespoons raw honey
1 tablespoon apple cider vinegar
2 medium eggs (including shells)
Directions
Preheat the oven to 350 degrees Fahrenheit.
Crack the eggs into a large bowl. Wash the empty eggshells in warm water until all of the egg white is removed, leaving the membrane in place. Air-dry the shells on a piece of paper towel, then break them into small pieces. After that, grind them in a coffee grinder or nut mill. Alternatively, you can also place them in a plastic zip-top bag and use a rolling pin to grind them.
Combine the oats, buckwheat flour, whole wheat flour, dried parsley, dried rosemary, and ground eggshells in the large mixing bowl and mix well. Add the boiling water, safflower oil, molasses, and honey. Mix to form a sticky dough.
Roll the dough out on a lightly floured surface to about ¼-inch thick. Place the dough on a parchment-paper-lined baking sheet and bake for about 30 to 45 minutes or until lightly browned. Turn off the oven.
Score the dough into squares with a knife or pizza cutter. Place the snacks back in the oven and leave them overnight (to make them harder).
Meaty Dog Treats That Last a Long time
Ingredients
1 beef or chicken bouillon cube
½ cup hot water
Up to 1 teaspoon salt
1 egg
2½ cups whole wheat flour, all-purpose flour, or oats
Directions
Preheat your oven to 350 degrees.
Dissolve the bouillon in a mixing bowl with the hot water
Mix/knead in the remaining ingredients one at a time until you have a ball of dough.
Roll out your dough with a rolling pin until it's about ½ inch thick, then use cookie cutters to make shapes.
Place your cookies on a greased baking sheet and bake for half an hour.
Dogs have been there for us for centuries helping us survive and keep us company. They deserve healthy food and treats just as we give ourselves. If we can't eat it, why feed it to them?
These delicious DIY dog treats that last a long time are perfect for our hardworking loyal companions, and are pretty tasty for us pet owners too.
The sweet honey and spice of cinnamon make this a scrumptious sweet treat that we stand by. How many of you have dogs? Let us know in the comments!
You may also like: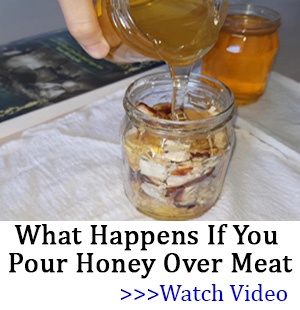 DIY Projects for Your Prepper Pantry
This Strange Method Will Make Your Food Last For 2 Years Without Refrigeration (Video)
How To Shield Your 401k From The Upcoming Recession
Top 6 Popular Types of Guns Not Suitable for SHTF
The Biggest Mistakes You Can Make In A Blackout – Field Report From Venezuela