In October 2021 prices went through the roof, with an unprecedented jump not seen in decades. Actually, what happened was that we had the biggest inflation boom in the last 30 years (Source)! Some may think that this is just a temporary trend, a fluctuation in the economic cycle. I say we should learn from not so far-off events and take a closer look at what is really happening.
In a span of a few months, the prices of everything went up: Lumber and plywood were three to four times higher in some places, sheet metal and copper about three times, rental cars 42.9%, gas 42.1%, used cars 24.4%, hotels, 18%—TVs, furniture, meats, poultry, fish, eggs, new cars, appliances, electricity, restaurant prices, rent, etc. If you compare today's prices with those of a few months ago, you will see for yourself the crippling inflation we are facing.
What most people don't understand is that the prices will NEVER go back. Even if the price of gas drops by half, do you think Shell or Exxon will lower their prices by half?
Our day-to-day expenses mostly include food, housing, gasoline, utilities, and other necessities. If in October the prices for all these necessities had an unprecedented jump when considering the last 30 years, things will just keep getting worse. Economists found that the November consumer price index rose by 6.8% over the past year. This means Americans' cost of living saw the largest inflation boom in the last 40 years! You didn't pay more just for food or bills; you paid more for EVERYTHING.
When EVERYTHING suddenly costs more, it means only one thing: not that the goods are more valuable but that the money is losing its value.
During the lockdown, the government helped workers and companies by giving them money to adapt to the new restrictions. Money they did not have! The Federal Reserve is printing money at an unprecedented rate! No wonder we are seeing this kind of inflation!
To make matters worse, a lot, if not most, of this money is not even going to people who need it. Congress approved a $600 boost to weekly unemployment payments, which actually gave some people more money than they made while working before the pandemic (Source)! The same goes for companies. If you throw away money like this, what can you expect except inflation?
As a longtime Federal Reserve critic and a former presidential candidate puts it, "What we're working with now is fake money, a fake measuring rod" (Source).
If you are like most Americans, you might think that this unprecedented inflation we are facing right now will not affect you that much and will soon go away.
But unfortunately, this kind of galloping inflation is nothing more than an alarm bell for the depression we might be seeing in 2022. I think we are on the edge of a recession right now.
I know it sounds crazy, but what if this is the last Christmas you can afford to provide enough food for your family?
Nouriel Roubini, the same economist who accurately anticipated the 2008 financial collapse, is warning us about an upcoming ECONOMIC DISASTER. Based on this year's evolution, Roubini is telling us that the current situation could degenerate into a powerful crisis never seen before in America.
This is definitely something to worry about, so how can you get prepared for it?
Considering all these signs that may indicate a crisis ahead, and with just how expensive food has become lately, it's natural for you to wonder if one day you will still be able to put enough food on the table for you and your family. This is why we are writing about all these things that are happening right now—so you can have enough time to prepare.
On this website, you'll find a lot of good articles and valuable teachings in the comments on how to prepare for an economic collapse. There is also a physical guide created especially for identifying and preparing the edible plants we pass by every day. It could be a priceless resource for when the SHTF. You can check it out yourself here. There is another guide with a series of forgotten long-lasting foods you can add to your stockpile. If you want to share your thoughts on the current economic situation and how you think things will go from here, please let us know in the comments. We could all use some good advice or a new perspective.
You may also like: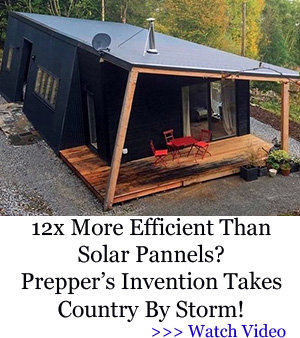 23 Survival Uses for Honey that You Didn't Know About
What Happens If You Put Garlic In Vinegar? (Video)
How To Dissolve Kidney Stones Naturally Without Surgery
Was Your Grandfather a Prepper?
Whatever You Do, Don't Chop Down This Backyard Tree