Sunrise on the plains can choke you up. Even in the unforgiving and unhindered spring winds the sky is alive with brushstrokes of the heavens.
A cup of hot coffee, sludgy and made from poorly filtered water, is the mornings second offering to you. Maybe you dip some hardtack in your cup to give you strength for the day.
In the back of your mind the list of concerns begins to build. This cut of the West is wild and its home to predators, Indians, criminals and God's elements. All of which threaten your life and threaten the cattle you are herding. They are your livelihood as well.
In the 1800's a cowboy's morning on the range would look something like that. It was not a life for the faint of heart. As an old west cowboy, you would have laid your head in many places throughout the year. The most obvious being in a tent on the plains as you ran cattle.
There were other places that cowboys laid down to rest as well. These places were built for self-reliance. You must remember, this region of the US was mostly unexplored, and it was very dangerous. Everything these brave cowboys needed they had to provide from the land around them.
THE BUNKHOUSE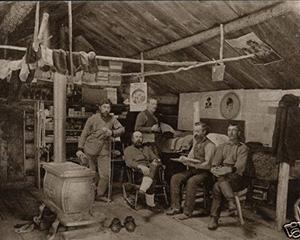 While most cowboys had a ranch that they called home, it was also common to find cowboys lumped together in what was called a cowboy bunkhouse
The cowboys would live in these communal, barrack style, lodges and they called them dives, dice houses and even ram pastures. These small communal homes were outfitted with the tools of self-sufficiency.
#1. Wood Stove
At the center of every bunkhouse was the wood stove. This stove was the focal point of the bunkhouse. Men sat around the wood stove and played music or cards. They used this wood stove for heat, cooking and even to dry clothes.
Without the wood stove the bunkhouse would be essentially uninhabitable. This was particularly true in the winter months.


#2. Outhouse
Another mainstay of the cowboy bunkhouse was the outhouse. While this structure was never actually inside the bunkhouse it was a permanent fixture at every bunkhouse. This was their self-sufficient plumbing operation. These were wooden structures that offered privacy and a minor respite from the elements.
Though it may sound primitive today, imagine what a little privacy would do for you after months out on the plains digging cat holes.


#3. Corn Broom
While it is not highlighted in many texts if you look close at these pictures of historical bunkhouses you will often see a corn broom in the background. This cleaning tool with bristles made from the tops of corn stalks, was an essential part of keeping the dive clean. This would be for the inside and the outside.
These brooms are very easy to make and should be a consideration in your own inventory. This is particularly true if you are a corn grower yourself. Take a cue from the cowboys of the past.


#4. Drying Poles
Another interesting addition to the bunkhouse were drying poles. These poles were hung from the ceiling at the center of the bunk house. The poles would run on all fours sides of the wood stove. They were high enough that they didn't impede walking but low enough that they were easy to use.
Cowboys would hang socks and other garments on these poles and the heat from the wood stove would dry them. As you can imagine there were many ways that cowboys could get wet while out on the range.
Related: 15 Lost Survival Tips From The Cowboys Who Wandered The West – With Illustrations


THE RANCH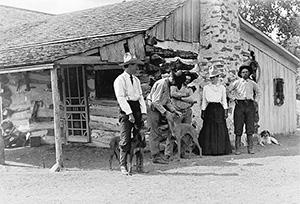 A cowboy's ranch was his solace from the plains. This was the place where the man who roamed could finally settle. On a cowboy's ranch he would have his cattle and more of the niceties of a home. That said, this was as self-sufficient a living space as any pioneers' homestead might be.
#5. Crude Wire Fencing
Without access to a hardware store these cowboys would create crude fencing. They would utilize fence posts of all sizes from full sized tree trunks to saplings that were sunk into the ground. These fence posts would be wrapped with wire or barbed wire.


This fencing was very important because it kept the livestock in and it kept predators out. Remember, a cowboy's livelihood depended on the cows they took out to pasture and the horses they upkept. Cowboys were known and often hired by other ranchers for fence repair.
#6. Wall Hangers and Hooks
Storage was a big deal in the old west. It seemed like everywhere you could hang something, you would hang something. This was a critical part of keeping clothes, gear and tools in decent shape. The flooring in standard homes was primitive. Cowboys weren't living on concrete slabs.
Outside the home and inside these hooks hung whips, hides, hats, belts, saddles and anything else of value. The life of self-reliance required these cowboys to hang their valuables and get the most out of them.
While this may seem like the simplest thing to have around your home it was a key part of their success. There was no cheap or easy way to replace essential gear.


#7. Work Bench
Life on the ranch required repairs and when you needed something it meant you had to build it. You would also have to build it using what minimal and raw materials you could get. The Old West workbench and space that contained it would be an area where tools were kept as well.
The bench itself would be incredibly sturdy. The legs would be fortified to endure the banging and heavy use required of it. Mallets, hand drills and hatchets would have been used on the cowboy's workbench and this would have been a place the tinkering cowboy would have spent a lot of time.


#8. Wind Mills
Though you may think of wind energy as a new strategy in the game or renewables, it's been around a long time. When pioneers would stake a claim on land without a year-round water source, you would quickly see a wind mill go up.
A cowboy ranch would be incomplete without a well for water and a windmill to help deliver that water. Hand pumping well water in the old west was an arduous task. It would take too much time and energy. The windmill changed all of that. It allowed the cowboy, the rancher and the homesteader the ability to put the wind to work.
While windmills would have no doubt made into onto the property of any cowboy or rancher it was no modern technology. In fact, most old-world immigrants had similar windmills in their country of origin.
The management of water has always been crucial to civilization.


YOUR INNER COWBOY
There is reason you are called to this culture. As Americans we are the truest form of pioneers, both socially and physically. It is in your nature to forge into the unknown but don't forget there is something else in your nature, too.
Much of what we've talked about had to do with sheer survival. Surviving the heat and the drought was crucial. Today we find ourselves in a similar circumstance and those old cues are firing off again. Our survival instinct is calling. Its calling people to the homestead. Its calling them away from convenience and dependence.
Are you going to heed to the call? Listen to the pioneer in you.
You may also like: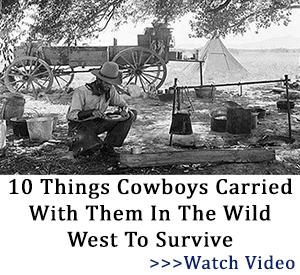 Lost Native American Survival Skills
What Happens When You Bury A Shipping Container (Video)
What the Pioneers Stockpiled To Survive Winter
The Best 5 States for Living Off-Grid