Night vision technology has been around for a while, but what if night vision was something you could fit into a pair of contact lenses?
Electrical Engineers at the University of Michigan have found a new way to sense infrared light using two layers of an atom-thick layer of carbon, known as graphene. Unlike prior methods, the substance doesn't have to be cooled to extremely low temperatures, and the device is very thin and small.
Their findings explain that as light hits the top graphene layer, it leaves a measurable impact on the flow of electricity below it. That produces an electrical signal that can display a night vision image.
[blockquote style="1″]"If we integrate it with a contact lens or other wearable electronics, it expands your vision and it provides you another way of interacting with your environment." [/blockquote]
said Zhong (developer).
The technology has already been scaled down (it's smaller than a pinky nail in its current form) and in the next few years will be available on the market.
But recently I've heard a rumor that the US Army is already testing a prototype of these night vision lenses. It is said that even part of the team who busted into bin Laden's fortress might have been wearing "cat vision" contact lenses that literally give the wearer night vision without having to wear the bulky, heavy NVGs. (Source)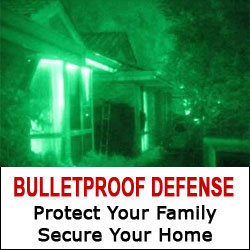 The contact lenses with night vision have three major advantages over the current technology:
First it gives you a full peripheral view that even a 40 000$ EOTech Ground Panoramic Night Vision Goggles System can't equal;
It's the lightest possible equipment;
Nobody knows you wear them;
Can we expect the night vision contact lenses to be part of our tactical gear?
Yes, but to move the project forward, Zhong said they need commercial partners beyond the initial support. They also said that the technology could have widespread application going beyond military equipment and including smartphone cameras for photos in the dark and car windshields to enhance nighttime driving.
You may also like:
The First Detected Zombie Fungus 
How to make Gel Fuel at Home for Survival