What are the true powers of FEMA in an emergency? I have been writing about this for a long time and have parsed out some very important things.
For us to understand what you need to survive a FEMA takeover you first must understand what you are dealing with in FEMA and what kind of FEMA presence you will face.
FEMA has a sizeable operating budget of around $20 billion dollars annually. It also employees around 20,000 people but this number can change drastically based on the size and scope of a disaster.
They can quickly and effectively increase their numbers using temporary response personnel.
What FEMA Cannot Do
Let's start with the things that FEMA cannot do so you know what you are preparing for. If we face something like a grid-down collapse in this nation where no one has power, then you can forget about FEMA altogether.
Even with $20 billion dollars, they have no capacity to touch every city let alone rural towns across America. You will be on your own and you will not have to worry about FEMA pulling up as they will be totally stretched trying to hold the nation's largest cities together.
Related: Find Out What Areas Would Be Targeted by FEMA When SHTF (they'll take your supplies)
FEMA and the National Guard are incapable of rendering aid or even touching base with 300 million people spread out across the entire nation.
What FEMA Can Do
Following hurricane Katrina, FEMA brought in 30,000 National Guard troops to help with all sorts of efforts on the ground.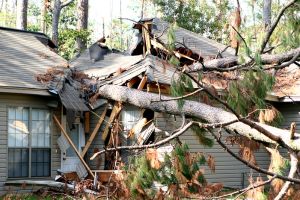 Search and rescue was a massive undertaking but there was also disarmament of the population happening.
The spokesman for the local PD in 2005 said there were 552 confiscated guns being stored at the local police station following hurricane Katrina.
Hopefully, you already live in an area that is removed from the likelihood of a major evacuation or disaster that would affect millions of people. This is the kind of disaster where FEMA can move in and move in with power. At its most oppressive FEMA will be in a targeted area with lots of people.
You Need INTEL To Survive A FEMA Takeover
If there is one thing that can help you above all else when you are preparing to survive a FEMA takeover, it's intel. You need to know what is going on in your area of operation and that is before and after a disaster.
You need to open those intel channels now and not wait until the disaster or this plan is not going to work out.
Community
One of the saddest things about America today is that you do not know who lives in your neighborhood. Most preppers are scouring their area and attending meetings to find people who have specific skills like medical, LEO, or even military veterans.
Odds are you have people just like this in your community. I found a doctor and a flight paramedic in my neighborhood just by getting to know people. These people in your community will be your first source of intel about what is happening around the community with FEMA.
Local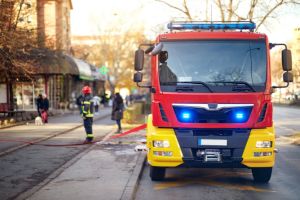 Beyond what's happening in your community, you will also be able to glean a lot of information from local news, local events, and even local first responders if you know where to look. When it comes to local news you can get an understanding of the hardest hit areas in your region. This will tell you a lot about where the FEMA presence will be.
There is an app you can download on your phone called Broadcastify. You cannot listen to much of what the police are doing with this app but other first responders you can listen in on. This was very effective for me during the 2020 riots here in Richmond, Virginia. It really helps you hammer down where the chaos is.
In a FEMA takeover you could listen in to first responders and see where FEMA is dumping their resources.
National
Depending on the scope of the disaster this kind of intelligence may vary in availability. A high-quality survival or emergency radio will allow you to hear what is going on with national broadcasts even if there is no power in your immediate area.
Alternatively, you can learn here the only way to communicate off grid in a crisis and how to turn a CB car radio into a powerful transmitter capable of emitting and receiving communications from hundreds of miles away.
National intel is likely to give you direct reports on where FEMA is going and maybe even stats on how many agents are in the various regions.
More Tips For Surviving A FEMA Takeover
There are other things that can help you survive a FEMA takeover in your area. Here are some tips.
Mark Your Home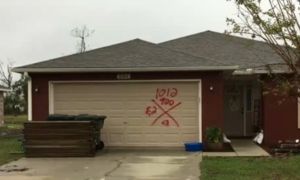 Mark your home the same way that FEMA is marking houses that have been searched. FEMA is not going to search the same place twice.
You can also use markings to keep people away from the home if you know what they mean.
FEMA search and rescue markings are usually spray painted on a building after they have searched it. It starts with a Red X.
Top Section: Date Searched/Time Exited
Left Section: Team/Time Entered
Right Section: Hazards
Bottom Section: Victims
If you want to make your home immediately unappealing to all, simply put BIO HAZ in the right section of the X as this will tell people there is a biohazard present in the home.
Work Together
If FEMA happens upon a community that is in trouble, then they will have to use resources to help that community. If they arrive at a community that is self-sustaining then they will move the resources where they are needed.
You want to be the latter. Of course, that takes planning and preparation. It takes getting to know people and that is usually uncomfortable for the average person. However, it pays dividends in a disaster in the quality-of-life department.
Focusing on a single type of intelligence is only going to get you so far. If you truly want to survive a FEMA takeover, then you need to take a holistic approach to intelligence. The sum of it all is what paints the picture for you.
Community intel tells you what is closest and comes from direct sources, local news gives you a broader but still local take and national news can help you understand the bigger picture.
Another thing that you need is a safe space, completely concealed from view. A place that remains undetectable by any FEMA agent or drone equipped with infrared sensors.
I'm talking about an invisible root cellar, strategically buried a short distance beneath the surface in your own backyard. This is where you can find refuge alongside all the necessary provisions for sustaining yourself, not merely for a brief period, but potentially for several months if circumstances demand.
The blueprint I'm about to reveal draws inspiration from the root-cellars of our ancestors, yet it has undergone significant enhancements to the point where it resembles more of a budget-friendly military bunker.
Constructing it involves a cost of less than $400 and can be accomplished in less than a week, with the efforts of a single individual.
You may also like: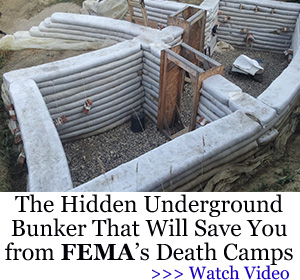 5 Natural Painkillers To Use Instead Of Opiates
Where Free Land Can Be Found in the USA (Video)
The Great Depression Was Nothing Compared To This
Easy DIY French Bread Under 10 Minutes For 30 Cents