by Ken Jorgustin – This article first appeared on Modern Survival Blog
The unprepared. They are the vast majority. While the word "unprepared" is enormously generic, in the context of 'survival and preparedness' the prepared should consider being prepared for the unprepared… Kind of a tongue-twister.
The unprepared are prepared only in so much as the functionality of the systems of infrastructure, and these systems deliver on a fine-tuned schedule of 'just-in-time'.
The unprepared do not realize the bigger picture of that statement and have settled in to a lifestyle which presumes never-ending supply.
To raise the stakes (risks) even higher, this infrastructure has contributed to the enormous population growth during the past 100 years – which in turn places more burden upon these same systems of infrastructure.
Will there be a breaking point? Of course. There always is a breaking point.
What might cause a break? Lots of things could cause it to break.
With that said, and without going down the rabbit-hole of how or why, let's consider the things we can do to be prepared for the unprepared – when indeed it does break…
Related: 33 Essential Foods to Stock Pile
How To Prepare For The Unprepared
Where to begin?
Well, it all starts with the hypothetical scenarios by which you prepare. As in all of preparedness, one never knows to what extent it may fall, or 'what' it is exactly – that may fall. Logically, the lesser the fall the fewer the bruises. So perhaps you begin with the simple and work your way through to the complicated…
So you need to consider 'what' it is that the unprepared will be looking for when the modern-day infrastructure no longer supplies enough of it (or any of it). What is 'it'??
At first, the "it's" will simply be the modern luxuries that may be 'down'. Inconveniences. This won't be much of a threat to you. It will just irritate 'them'. (So watch out for angry people.)
As the fall deepens, the "it's" will turn into necessities, and this is when things get dicey. I mean really dicey… I'm talking about hungry people. Remarkably, it is widely reported that most of the unprepared do not have much more than 3 days of food for everyone in the household (I still marvel at this).
Even if supply-chain infrastructure is only partially disrupted, the run on food and/or the lack of their normal consumption products will create an angry population – a population that has largely become spoiled and softened, with the expectation that .gov will 'deliver the goods' during a time of crisis. They may deliver some of the goods for a small crisis, but if our hypothetical is larger than that – then watch out… these same people will have the same expectations, and when their needs are not met, well, a variety of things may happen.
Many of the unprepared will not know what to do and will have little or no clue as to how and adapt to their new normal. Many will whither in place.
But others will start knocking on doors. What will you do when they knock on your door? That is the initial question. The answer will depend on you and the hypothetical situation itself. I'm not going to tell you what to do, but I hope to provoke related thoughts and questions.
Related: Find Safe Refuge in a Container Cabin Made Just For You
For example if the situation looks like it will remedy within days or weeks, will you help those who knock on your door? I would speculate that most would if they could – depending on who's at the door.
However if you're facing a hypothetical breakdown that is much more severe with the likelihood of lasting a very long time (life-altering), then I would speculate that many of the prepared will instead 'hunker down' and will be much less likely to part with their preps to the unprepared.
Okay let's get down to it…
The best way for the prepared to be prepared for the unprepared is to become the gray man.
While any short-term hypothetical does not present much, or any problem for the prepared in this regard, it is the more serious downfall that will become much more complicated and potentially very dangerous and/or deadly.
While realizing that you cannot save the world, your inner instinct will slam into survival mode. Hard choices and decisions will be forced upon you and they just might make the difference between survival or not…
The 'gray man' is a concept of not being noticed. Blending in. Not standing out. Avoidance.
This is why the concept of OPSEC (operational security) is so very important. Sadly, in today's world, having a deep pantry of food storage is looked upon as odd (and others will distinctly remember it). These same people will most certainly and absolutely remember it if and when the time comes…
With that said, it's best to keep your mouth shut (unless you need a few select others to help with your overall situation or group).
While you (the prepared) are adapting your way through life after the collapse (or fill in the blank), the absolutely most important aspect for preparing for the unprepared is that of security (there is no doubt in my mind whatsoever that this will be paramount in today's world). The bleeding hearts may disagree to their heart's content, but I can tell you with certainty that in the hypothetical circumstance of a deep fall, your life will be in grave danger from the unprepared (some of them), and potentially even from some of 'the prepared'.
Your personal and homestead security will vary widely depending on where you live and what type of people are around you. I'll suspect that security may be minimal for some while absolutely crucial for others. With that said, I believe this requires some serious thought.
This article first appeared on Modern Survival Blog
You may also like:
Tents That Turn Into Bunkers if You Just Add Water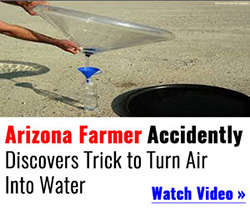 This Bug Will Kill Most of the Americans during the Next Crisis (Video)
A Small, Super Survival Shelter
Burdock: The Annoying Weed That Can Save Your Life