I know for sure I would love to have a shelter like this. Actually it's much more than a shelter. I mean I wouldn't spent time building something like this just to spent one night in it, of course. But it would be a great place to bug out for a few weeks and live from what mother nature has to offer.
If you watch this video closely you'll find out that "Survival Lilly" also incorporated in her shelter a hunting seat and a deer feeder a few yards away.
The shelter is not entirely camouflaged, but it's not a bad idea to build hexagonal walls around the fire pit. It doesn't says in the video but the walls will cover the light of your fire especially at night when smoke (from a small fire) is almost invisible from the distance.
My personal opinion is that this shelter can be easily turned into a small wooden cabin with a nice fireplace. What do you guys think about this shelter?
You may also like:
The Only Thing That is Guaranteed to Strike You During any Crisis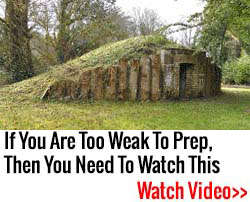 (Video)
Earthbag Homes: The Ultimate Bullet-Proof Retreat
10 Things to Do on the Day The Economy Collapses
The Only 4 Antibiotics You'll Need when SHTF