B.O.B. + Wheel = 500 Miles Radius With a Heavy Load Over Any Terrain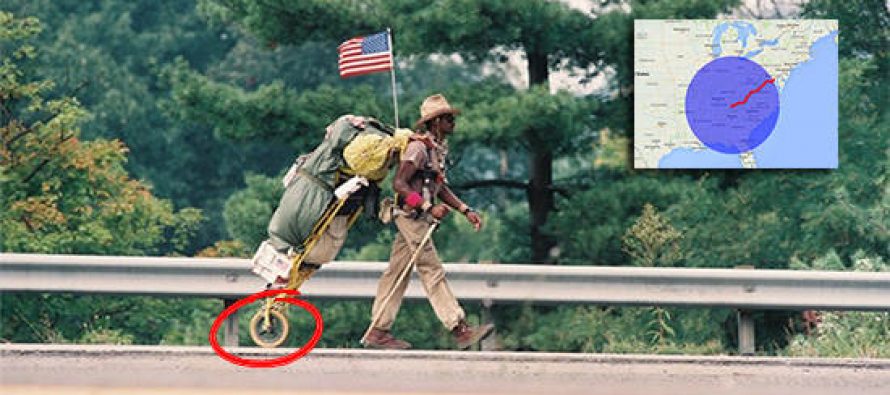 On one hand, your Bug Out Bag needs to be lightweight enough so that you can move quickly and on the other hand you need to have as many supplies as possible. Keeping a good balance between those two is the key to a "smart" B.O.B.
But what if you could carry twice the weight of your B.O.B. with the same effort?
This is how the M.U.L.E was born (The Multipurpose Uniaxial Litter Enginery).
According to the company, you can "hold up to twice the weight that an average backpacker would be able to carry".

Testing…
To further demonstrate the capabilities of the MULE, McCoy is walking 600+ miles from Knoxville, Tenn., to Washington D.C., carrying everything he needs for the journey and posts updates along the way. He walks with limited external support along secondary roads and hiking trails.
Related: How to make Hardtacks for your B.O.B.
Melvin McCoy started his 600-mile journey on July 3, at the World War I monument in downtown Knoxville.
McCoy has teamed up with Alpha Omega Veterans Services, which is a charitable organization headquartered in Memphis. Alpha Omega helps veterans reintegrate into society and has helped nearly 10,000 vets since 1987.
"Since I've been walking, a lot of vets have come up to express their support," he said. "I've heard lots of stories from them."
Here's McCoy's objective and what a 500 miles radius looks like: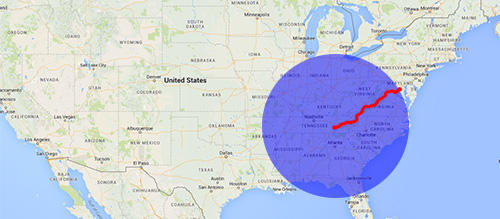 McCoy is accepting donations for assisting veterans through a Kickstarter campaign to promote a device known as the M.U.L.E or Multi-purpose Uniaxial Litter Enginery.
Here is the Kickstarter Project.
My Opinion
Although I like the idea and the project, I think $600 is a lot to pay on the MULE. I mean only a few of us can afford it.
Maybe if they come up with a cheaper version, or a $40 DIY video guide… and materials that can be easily bought on the internet… I would surely do it!
For those of you, who can afford it, check out their project on Kickstarter.
You may also like:
How to Build an EMP Emergency Car Bag
H2O Dynamo – The Awesome Device That Turns Air Into Fresh Water!
This Bug Will Kill Most of the Americans during the Next Crisis. Must see! (Video)
This Common Driveway Weed is One of Nature's Most Powerful Survival Plants