Preppers, are you looking for some new survival items to buy? If so, you should definitely check out Costco!
The warehouse store has a ton of great products that can help you in a crisis.
Here are just a few of the things you can find there.
Why Costco For Survival Items?
Costco is a membership-only big box retail store that is the fifth-largest retailer in the world.
While most of its stores are found in the United States, it also has some international locations.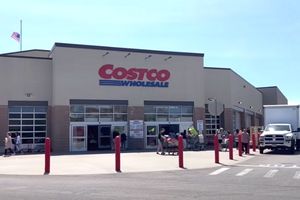 Prices here are low since you're buying on the wholesale model – in other words, you're buying in bulk.
That's why it's a great place to shop for all of your necessary survival items.
However, you can't find Costco in every state.
Don't have a Costco near you? That's okay! If you don't have a Costco, there's a good chance that you have a Sam's Club. Sam's Club operates on a similar business model and also offers affordable prices on the following items – so consider going there instead.
Here are some of the best survival items you can buy at Costco. Most are available at other stores as well – but buying at Costco can save you money since you'll be buying in bulk. Not only that, but there are certain items that can only be found at Costco or that are better quality here.
Costco also has a membership program that offers additional savings, perks, and cashback on various purchases. Stock up ASAP!
Rice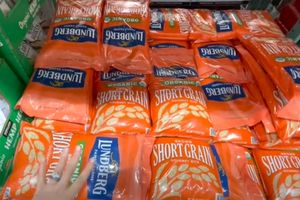 Rice is a staple in an emergency situation.
Not only can you make a lot of different calorie-dense meals with rice as the staple, but it stores for several years without any need for further processing. Just keep it dry and away from pests and you're good to go.
Related: Meal In A Bag: Sweet And Spicy Meat And Rice
At Costco, you can buy bags as large as 25 lb., meaning you'll have enough to last your family for quite some time.
While you can definitely buy rice elsewhere, it's hard to find low prices and such large package quantities anywhere besides Costco.
Canned Meat
Sure, a can of Spam probably isn't as tempting to your taste buds as, say, a slab of steak on the grill. However, it lasts a lot longer – and you can buy it in bulk as a cheap protein source at Costco.
Batteries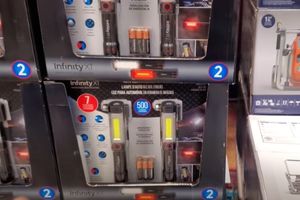 Whether it's C, D, AAA, or AA, so much of what we need to use on a daily basis (and especially when the power goes out), relies on batteries.
Costco carries all different types of batteries so you can power your GPS, flashlight, electronic devices, and other gear with ease.
Not only that, but you can buy batteries in bulk here instead of buying multiple smaller package sizes. It's not just Costco-brand batteries, either, but also popular brands like Duracell and Energizer.
Flashlights
Flashlights are a must-have item for any prepper. You can buy flashlights in bulk at Costco (to go along with all those batteries!) to help you save a bit of money.
Cooking Oil
Not only do you need cooking oil to keep your pans from getting sticky, but it's also a core ingredient for baking, frying, and many other types of cooking.
Whether it's olive oil or canola oil, stock up on cooking oil of any kind (sold by the quart and liter) at Costco.
Canned Fruit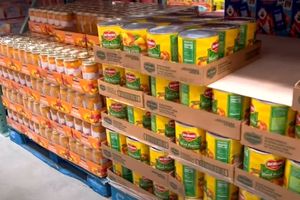 Canned meat isn't the only food group you should focus on while at Costco – grab some canned fruit while you're at it, too.
It's not always as nutrient-dense as the fresh stuff, but it still has plenty of vitamins and minerals.
Canned Soup
Canned soup, from chicken noodle to chili, is a great source of nutrients and water, feeding a lot of people on a cold winter's day.
It's also easy to heat up and to store for the long term, so grab several flats of cans while you're at Costco.
Costco also sells canned prepared meals, like spaghetti and meatballs and ravioli, so you may want to stock up on these as well to add a bit more variety to your diet.
Toiletries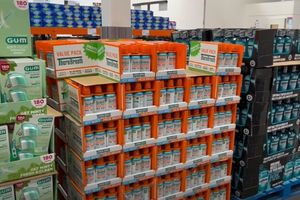 You might not be worried about stocking up on makeup for a survival situation, but there are plenty of other things you should keep on hand.
They include hair care products, soap, shower gel, toothpaste, deodorant, shaving cream, razor blades, and feminine hygiene products.
Related: DIY Wilderness Soap And Shampoo From This Plant
Costco is a great place to buy any of them, especially when you consider that the coupons that this store provides can cut costs on these items even more.
Water
Don't forget to buy some water in bulk while you're at Costco. Water goes faster than most people realize – you need about a gallon per day in a survival situation.
Canned Vegetables
Round out your canned goods stash with some canned vegetables. Try to get a variety of veggies, from beans to corn, to make sure you're eating a varied diet.
Toilet Paper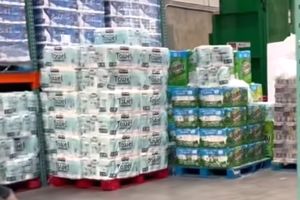 Toilet paper shortages are very real, as we saw in 2020, so it's a good idea to stock up on at least a one year's supply of toilet paper.
You aren't allowed to buy this much at once while you're at Costco, but try to buy a little extra each time you visit.
Peanut Butter
Peanut butter is rich in fat, protein, and other vital nutrients. It's also shelf-stable, lasting for many years when unopened.
Grab a few jars at Costco while you are there – you can buy both Costco-brand peanut butter as well as favorites like Jif, helpful if you want to save money on brand name products.
First Aid Kit & Basic Medical Supplies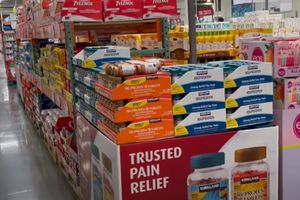 You can buy complete first aid kits at Costco along with all the medical supplies you might need.
From Aspirin to gauze pads, Ibuprofen to bandages, make sure you're stocked up on everything you might need in a crisis, when basic supplies and professional medical help won't not be available.
Gas
Gas prices are on the rise – but you can buy it cheaper at Costco, especially if you have the Costco Visa credit card. You'll not only pay lower prices for your gas but you'll get 4% cash back on your gas purchases.
If you're worried about the quality of gas here, don't worry – despite being the cheapest in town, it is high-quality and just as good as the gas you'd buy anywhere else.
Prescription Drugs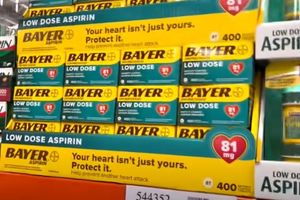 You don't have to be a member to purchase prescriptions at Costco.
You can save money by shopping online or in-store even as a non-member.
Compared to other independent pharmacies and big brand names, Costco prices tend to be much lower.
Prices are even lower if you sign up for the Costco Member Prescription Program, which is free for Costco members to join.
You can even pick up pet mediations at Costco, making it more convenient for you to stock up on all the medications you need at once.
Tips For Shopping For Survival Items At Costco
Costco only takes certain types of credit cards, so you may want to bring lots of cash with you to shop for your survival items instead. You'll need to have a Costco store card in order to purchase, so make sure you've signed up for one ahead of time.
When you get to the store, figure out your top priorities. The list we've provided you above is a great place to start, but you're welcome to add your own items to the list as well.
As you can see, plenty of survival items can be bought at Costco, and with the tips we've given you, you can make sure to get the most for your money.
Whether you're stocking up for a natural disaster or just want to be prepared for the unexpected, these survival items will help keep you safe and comfortable.