Everyone has had problems with ants one time or another. These amazing insects are nature's janitors, cleaning up all sorts of trash and transporting it to their underground homes. That's all fine and dandy, but those same ants can't tell the difference between the outdoors and inside our homes. So not only do they clean up outdoors, but they try to come in and look for food as well. That just doesn't work out all that well for our lifestyle.
The last home I owned had serious ant problems, especially in the kitchen. The property had been unoccupied and foreclosed upon before we bought it and we must have had ten different varieties of ants living there, including a nest of rather large carpenter ants that I never did manage to get rid of.
More than anything, ants are searching for sugar; although they will eat many different types of grains and foods made from grains. They'll also eat just about any type of fruit. A lot will depend on what is the most available to them.
Those ants loved to raid our pantry, so I ended up in a multi-year battle to get rid of them. While I did resort to poisoning a few ant piles, most of the time I was just trying to keep them from coming in the house and getting into the food. It took a combination of strategies, but I did ultimately win the battle and managed to keep my food ant free.
Related: 10 Ingenious Ways to Keep Moths Away From Your Grains
Plastic Containers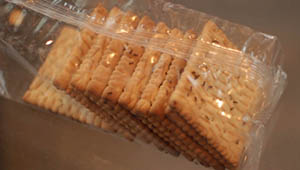 Probably the most effective thing I did to protect my food was to package everything in plastic containers. While this is a hefty investment at the start, the containers are reusable, so should last several years, with care.
Ants can't bite their way through plastic containers, although they can bite their way through the plastic bags that food is packaged in at the factory.    That packaging is no protection against ants, but only protects from the air.
Home Defense Insect Killer Spray
Home Defense is an excellent product, if you don't mind using chemical pest killers. I used this for a number of years, spraying it around the foundation of my home. It did an admirable job of keeping ants and other crawling pests out of the home; and I only had to spray about once every six months. It also comes in a container with a pressure-pump handle, making application easy.
Homemade Substitute for Home Defense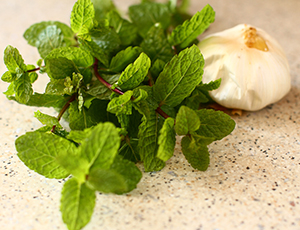 As my goal was to go natural with all my gardening, I eventually moved away from Home Defense and made my own concoction.
There are probably other ways to do this, but I used a mixture of mint leaves and garlic, chopping them up in a spice grinder.
This went onto the stove to simmer. Then I added a small amount of cayenne pepper and some dishwashing liquid. Once it had sat overnight I put it in a spray bottle and used it in place of the Home Defense.
Vinegar
Vinegar, like a number of other strong-smelling herbs and foods, is a natural insect repellant. Simply mix white vinegar and water together in equal parts. Put in a spray bottle and soak the ground around any ant hills you can find. This will encourage these industrious little insects to vacate the premises and look for greener pastures elsewhere. They can't stand the scent of vinegar.
Vinegar & Tea Tree Oil
You can improve on that ant repellant by adding a few drops of tea tree oil. This amazing essential oil is useful for a lot of things and has a very pleasant aroma. At least it's pleasant to us, even if the ants don't like it.
Lemon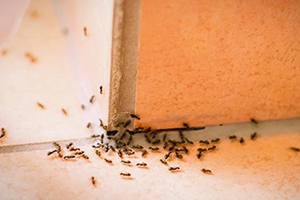 Ants don't like lemon any better than they do vinegar; but at least it makes your kitchen smell nice.
Spraying a few drops of lemon juice into cracks and holes which ants use to gain access to your kitchen is just about as effective a road block as you can ask for. The ants will turn tail, looking for somewhere else to go.
Related: What Happens If You Put Lemons In Your Socks
Mint
Mint is another fragrance that ants abhor; any kind of mint. It's also an excellent ground cover for your property. Planting mint around the foundation of your home makes a very effective barrier against ants, as they won't want to go near it, even to get into your home.
You can also use the mint in cooking, getting double use out of it.
Salt
Salt is another thing that ants avoid. While they will make a beeline for sugar, they will do everything they can to avoid salt. That's why you never find ants in a bag of potato chips or other salty snacks.
Spilling salt around known ant entrances into your home will keep these pests at bay, at least until they can find another way in. But you can be sure that they won't bother with that entrance. It's also safe for small children and pets, either of which are likely to eat anything they can find on the floor.
Related: How to Stop Migraines with Salt
Cayenne Pepper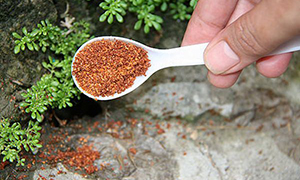 Cayenne pepper is not only good for keeping ants at bay, but it's a pretty good general insect repellent as well.
Most insects don't like the smell of cayenne pepper and will steer clear of it, much like they do with mint.
Pouring ground cayenne pepper into an ant hole can also be a great way of giving the ants an eviction notice and forcing them to decide that it's time to move.
Flour
While ants may eat things made out of flour, they won't bother with plain flour, especially if a line of it is spilled along the back of a cabinet or counter, where they normally gain access to your kitchen. The ants won't cross the line of flour.
Borax & Sugar Ant Killer
Borax is an effective ant killer; you know, the "20 Mule Team Borax" used to help whiten clothes. You can also find borax for sale in the garden department, as it is useful against a wide range of insects; killing them.
To use borax, mix three parts of sugar with one part of borax. The ants won't eat the borax alone; but will eat the sugar, which makes an effective bait. Since the two are mixed together, that means they'll be eating some of the borax as well, which will kill them.
Diatomaceous Earth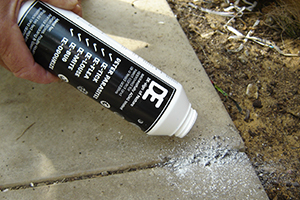 Like borax, diatomaceous earth will also kill ants and other insects. It has tiny sharp edges, which scrape away the coating from their exoskeleton, messing up their ability to breathe.
While it won't hurt humans or most animals, it is deadly to almost all kinds of insects.
Try to buy "food grade" diatomaceous earth, or at least some that is stated as being safe for humans and animals. That way, you won't have to worry about it harming your pets, should they get into it.
Chalk
Believe it or not, simple chalk, like the kind used for writing on the blackboard or that kids use for drawing on the sidewalk will keep ants at bay. Draw a heavy line of chalk around entryways and other places that you don't want ants to cross. They'll stop at the barrier and won't cross it.
Powdered chalk dust works just as well and can also be sprinkled in the garden to keep ants out of there, as well as keeping slugs out. It's actually the calcium carbonate in the chalk, which repels the ants.
Hot Water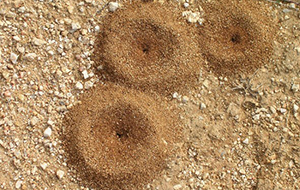 You can kill ants in their holes by a number of different means. One is to pour boiling hot water into the hole.
To do this, it helps to use a flower pot, centering the drain hole directly over the ant hole. As you pour the water into the pot, it acts as a funnel, directing the water where it needs to be.
This is not foolproof, as ant hills can go extremely deep and be extremely complex. However, chances are pretty good that you will greatly reduce the colony, at a minimum and may even force the survivors to move out.
Kerosene
Basically the same idea can be done with kerosene, as can be done with hot water. Some people have poured kerosene down the ant holes, then lit it on fire. This really doesn't accomplish much after the first few seconds, as the flame doesn't have enough oxygen to burn underground. Rather, the kerosene will evaporate and burn at the surface, as it rises.
This can be dangerous as well, so you want to use extreme caution and not do it near your home. Have water available, in case you need to put the fire out. Better yet, just use the hot water and forget about the kerosene.
You may also like: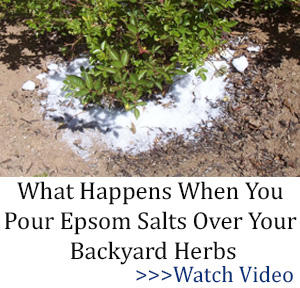 50 Tips From the Great Depression
3D Solar Panels Generate Up to 2000% More Electricity (Video)
24 Lost Gardening Tips from 100 Years Ago
How To Charge Your Phone When There Is No Electricity
The Top 10 Cereal Grains You Need To Have in a Crisis