Editor's Note: Extracts of Dad's Story (Eugene Telesor Maciejewski 1916 – 1998) from "A Lost Heritage" by D. Mariana Robinson ©
My father's story is one of trial, fear, starvation, survival techniques, and eventual salvation in another country. He was born in Poznan, Poland on 5th January 1916 but I know little of his formative years.
I visited his family home in 2003, and saw an oil painting on the wall, riddled with bullet holes. This painting was a reminder of the German invasion of Poznan on the 1st of September 1939. That day, my father had been working outside Poznan but walking home that evening, he saw a commotion with army trucks in town and heard gunshots and screams.
Germany had invaded Poland. He heard machine gun fire, rifles, and shouting. Terrified, he hid in fields until nightfall – never to return to his family again until 1974. I cannot imagine what went through his mind during that invasion.
Dad kept under cover and skillfully found his way to the Polish Army barracks, to join up, eat and have a bed, before working out what he could do. After a short amount of training with the Polish Army, he was eventually captured by Germans whilst out on maneuvers and taken prisoner.
World War II started with a pact between Russia and Germany, The Molotov-Ribbentrop Pact, signed on 23 August 1939. As a prisoner of war, my father spent weeks being marched eastwards toward Russia. He soon realized they were being marched to their deaths.
Related: 5 Survival Foods Made By Soldiers During WW2 On The Normandy Front
It was a short-lived pact, so by Spring 1940, after surviving an intense winter, dad was handed over by Germany to the Russians. They were somewhere in the deep forests of the Polish/Ukraine border. Many columns of Polish soldiers in different areas of South East Poland, were massacred in the Katyn Forest.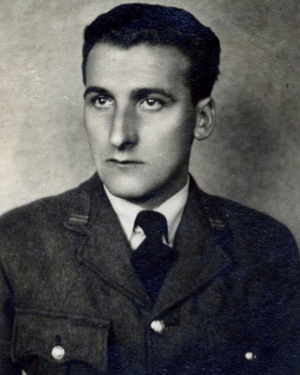 By June 1941, thousands of Polish prisoners were also being moved towards Russia before dying from fatigue or being shot.
Poznan was annexed into Germany's Third Reich, and Poznan Castle became a Nazi Headquarters, whilst Poznan's citizens were either murdered or taken prisoners. This was genocide of the Poles on a massive scale.
It is hard for us to comprehend the fear and trauma of war, at age 23, for we've grown up in an era of peace and prosperity in Europe.
To have the wit to find sanctuary with the Polish Army rather than try and go home must have left dad with a terrible fear, isolation, unbearable loss and possibly a feeling of betrayal of his family and loved ones, the fate of whom, he did not know.
He was marched through the area known today as Belarus, and decided he had to escape – if caught, he'd be shot and if he stayed with the column of men, he'd also be shot or die a slow death in a Russian Gulag if they reached he rail heads. So why wait?
Related: The 8 Warning Signs Before a Russian Nuclear Strike
An opportunity arose when his column was dive bombed by German Stuka planes, in late summer 1941. The column scattered, Dad jumped behind a tree, in front of which a bomb exploded. From that day forward, he was partially deaf. In the confusion he escaped into the forest and just kept running.
He spent a few weeks stealing from farms and sleeping in barns. He soon realized he couldn't manage to get to freedom on his own. He was tired, hungry and didn't have a plan. Even building a shelter was easier with two pairs of hands rather than one. After weeks surviving alone, he knew he could not survive another winter.
He kept walking south and came across another column of Polish prisoners, also being marched eastwards and fell in with these prisoners making friends with Kazimierz Majkut, from Volyn, Ukraine. Many years later dad learned that the first column of Polish troops he'd escaped from had all been murdered. His first escape meant he survived, and was a valuable intuitive lie lesson.
He needed to organize a secret escape group. Five trusted men systematically stole matches, knives, pieces of wire, a needle, cotton, string, or anything that might be useful for survival that could easily be concealed. They marched night and day and were never allowed to sleep – so except for a short evening stop for thin, watery soup and bread, they were all rapidly losing body fat, fatigued, covered in lice and winter approaching.
Three men lined up together and two outsiders would carry a middle man hanging on their shoulders, so that he could try and rest taking it in turns to "sleep". It rested their feet, as their boots and socks disintegrated in damp, cold conditions. Foot rot and other molds caused many men to fall and die.
My father, having escaped once, knew he needed to escape again before his energy was sapped, his boots had worn out and another Siberian winter came. A handful of trustworthy men could survive more easily than alone.  They needed enough supplies for the first part when running and hiding from Russian soldiers. Once clear of guards, they would have more time to forage, find water and shelter.
One moonless night, they captured the Colonel's Bactrian camel. I found it hard to believe that camels were used as a means of transport in Siberia – but I we are talking of an area of Russia close to the Afghan borders. They killed it by cutting its throat, skinned it, and took off every bit of meat, fat and skin, which they either cooked and ate, or lined their clothing with, all under the noses of their Russian guards. They carefully secreted skin for shoe leather and larger pieces as protection from snow and rain. They must have smelled absolutely rancid!
Once prepared, between darkness and dawn, my father, Kazik, and three others managed to escape into dense forest.  Next morning, these five men had escaped and the Colonel must have remained forever puzzled at the disappearance of his camel without trace!
They ran in a southerly direction and once clear of guards, guns and activity, they walked south east – following the sun. They didn't have a compass, but my dad knew that yellow lichen growth on trees could indicate the way. These hairy growths grew on 'bad weather' or north side of tree branches.
Related: 5 Maps You Should Have At Home
In sunshine it was easier to tell their direction and time of day from its position and shadows. Initially the escapees lived by stealing from remote farms, fields, and catching fish with wooden spears, or snaring rabbits and foxes with looped wires. They caught small birds and pelicans which populated river banks and lakes.
They ate fruit, nuts, seeds and gathered Delphinium seeds, if they could find them, because ground down with a stone and added to wet clay it was a treatment for head lice, although poisonous. Their knives (two of them) were their most precious possessions, without which nothing could be skinned, cut or prepared. Dad's keen sense of smell as a young man was vital for finding food, noticing the scent of a fox, rabbit, other mammal or even seeking out mushrooms.
They progressed in daylight hours and made overnight camps, so they could hunt, prepare and eat before moving southwards, at all times keeping guard, quiet and unable to relax.
I had written down the name Saratov and dad thought this was where they crossed the Volga River, which is many miles wide, and long. It was impossible to swim across, bridges were heavily fortified and as it was now winter, they crossed the frozen ice.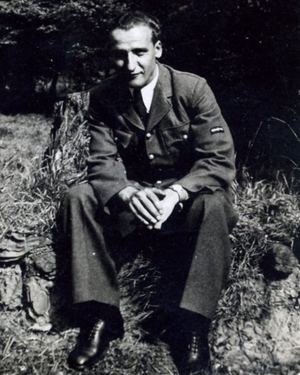 A risky strategy, but it was the only way they could do it without being captured.
He said it wasn't so much snow and ice that killed you from frostbite but a penetrating icy wind. If you could get out of the wind, you had a chance. In fact deep compacted snow allowed them to make snow holes or igloos for shelter.
Near Saratov, there are numerous islands which broke their icy crossing. They stayed close to the river as they knew it exited into the land-locked Caspian Sea, but that would keep them in Russian territory.
The escapees knew they would be safe once they crossed into Asia and had many false celebrations crossing rivers or railway lines until their dream came true and they were out of Russia and free – but hopelessly exhausted and lost.
On the northern shores of the Caspian Sea, they encountered vast marsh lands and feasted on fresh fish, some of which they gutted and dried on rocks for later. They travelled East again avoiding towns along the Western shores, such as Astrakhan and Baku. The eastern route was treacherous mountainous desert. Surviving this terrain required different skills.
There were no farms, orchards or remnants of civilization. They encountered blistering heat in daytime and freezing temperatures at night with nothing to eat for days on end, which soon started to take its toll. There was also a lack of water. To some extent, dad had foreseen these problems, hence the preparation of dried fish.
They even ate worms! Not live ones, but if he squeezed out the muck from inside, they could be sun-dried then powdered and stored. Dried worms, mixed with a little water later, were a source of mineral salts and protein, but tasted quite salty.
Dad recalled catching a tortoise – not difficult I suppose – and then cooking it over a fire. Five starving men were so distressed to learn there was only slime inside its big shell, and only had a mouthful each from four feet and its head, by way of sustenance.
He also caught snakes, using his fish spear, sharpened from a stick. He said snake tasted like chicken, once barbecued. Snake skin was also useful as a waterproof insert in what remained of their boots. Any animal they caught for food was skinned, stripped, blood collected as a source of salts, and cooked.
They experimented with various methods of cooking from a tripod above an open fire, to the equivalent of an Umu oven or Hangi. This is where you dig a hole, place pieces of wood across, with stones on top. The fire heats the stones as the wood burns, then collapses into the hole.
Place your meat, wrapped in a leaf if you have one, then cover it up with the earth you dug out, to allow it to slow cook. This stops meat, particularly larger pieces, from burning in an open flame and after a few hours it is cooked. They then used the stones for warmth at night.
Before this escape my dad couldn't swim and had to learn, in order to cross rivers. But in mountainous desert there were no rivers, no streams, no rain or any water at all.
I can remember dad showing me how to make water from a slightly indented piece of tarpaulin hanging over a hole. In the heat of a dying day, he would dig a hole, place a shell underneath in the center, spread his piece of tarpaulin above, weight the edges with stones, then make a small indent to allow condensation underneath to run into the shell. By morning, the carefully placed shell had gathered two tablespoons of condensed water. This is how he survived the desert without water but it wasn't enough to quench a thirst – just enough to survive.
Only my dad and Kazik made it to northern British India, through the gap between the Caspian and Aral Seas, Uzbekistan and Turkmenistan into Afghanistan and through the mountains of the Hindu Kush, via the Spin-Ghar Mountains and Pakistan. Other prisoners escaped too, but their routes are unknown to me.
This was an epic walk of endurance, hardship, famine and sheer determination.   Death would surely have come if they had continued to the railheads and Russian Gulags. They were alive, lost, exhausted and hungry with only their wits, nature, sun and the elements to rely upon.
Their three companions had died in the mountainous desert from starvation, exhaustion and illness. The tragedy of having to bury your friends, dying in these terrible circumstances after thousands of miles together, must have been soul destroying.
When dad was eventually picked up in Northern India by the British Army, he weighed only 4 stones 8lbs and was almost shot when entering the camp. British soldiers did not understand his language or recognize what was left of his uniform, and later, after translation and further interrogation, found his account of walking from Poland completely implausible.
Fortunately, he and Kazik were interrogated separately, both expressing exactly the same story. Their army records were checked. This was a 4,000 thousand mile journey on foot, through swamps, rivers, desert and the highest mountains in the world, through all seasons. Dad's feet never did recover – he had appalling smelly feet and suffered from fungal infections, corns and curling toenails, for the rest of his life.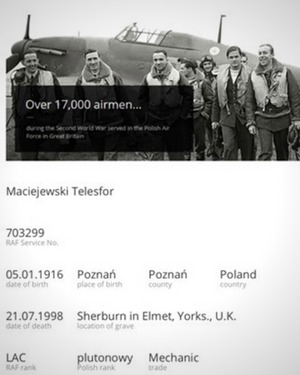 Eventually, he and Kazik came to Britain. They both joined the RAF and trained as ground crew armorers and mechanics, where their engineering skills were put to good effect. His RAF Service number was 703299.
He was stationed at RAF Church Fenton in Yorkshire with 303 Squadron working on Spitfires and Hurricanes, and also at Exeter with 307 Squadron, the Polish "Night Owls" Dad had the owl logo on a box in which he kept his treasured possessions and letters, including a dance sheet from when he met my mother.
His rank was LAC (Leading Aircraftman), the Polish equivalent is "Plutonowy"  or Platoon Leader. Here he developed his hobby of carving broken Perspex windshields into intricate objects of beauty, including Spitfire brooches.
He "glued" pieces together using Glacial Acetic Acid then sanded them which rendered them opaque. He polished them back to clear Perspex using Brasso™ and a soft cloth. He must have spent many hours creating Spitfires, jewelry boxes, and other items, some of which I still possess.
Dad was extremely clever with his hands, particularly with steel and Perspex, and had an inventive and creative mind. In his own small way, he kept spitfires in the skies over Britain to help win the War.  His incredibly long walk from Poland to India via Siberia, took him three long years, and he served out the next three years of WWII in the RAF.
He was in a new country, had to learn a new language then he married and had three daughters of which I'm the youngest, and I wouldn't be here if it were not for the fact that he had such a tenacious spirit for survival, escaped, walked and lived. He was awarded two Air Force Medals.
My childhood memories are of working outdoors with my dad, helping him construct projects, making an igloo together in 1962, or making home-made wine. He was kind, had a love of nature, tenacious and extremely determined. I'm very like him!