Creating a root cellar doesn't require building or engineering skills; you only need a garbage can and some dirt.
With a little effort, you can easily construct your root cellar by burying a garbage can in the ground, an inexpensive and straightforward way to ensure you can store your food safely and securely.
Root cellars are a great way to store and preserve food for long periods. A root cellar is an excellent option for preppers looking for an effective way to store food for the long term.
You can create a root cellar with minimal effort to keep your food fresh and safe from spoilage, pests, and other threats.
This article will explore a novel way of making your root cellar out of a trash can and the benefits it can offer to preppers. With a little bit of elbow grease, you will have a functioning root cellar in no time.
What You Need
Trash can or steel drum. Galvanized or stainless steel will work best.
Plastic sheeting: This ensures that your drum has the longest possible lifespan. It will also help to keep pests out.
Rocks or cinder blocks: These are optional but will help to create a raised shoulder, ensuring that runoff water does not enter your drum.
Corrugated sheet or covering: I used a corrugated sheet covered with old pieces of shade net.
Equipment: Shovel for digging the hole and a wheelbarrow to move rocks or cinder blocks. Maybe an axe to deal with stubborn tree roots.
Installation Process
1. Identify Site: I recommend finding a spot that never gets direct sun. Soft ground will help to dig the hole quickly. Do not select a low-lying area, as heavy rain could cause a temporary dam or large puddle to submerge your drum.
2. Place your trash can: Mark the outermost circumference of the drum and clean weeds for approximately 1-foot width. Then start digging the hole.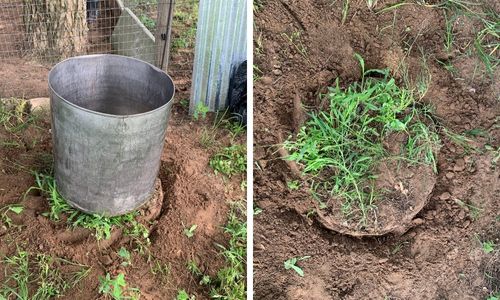 You want your trash can's top 6 to 12 inches above the soil line. You will create a shoulder to ensure the trash can is entirely isolated, but raising the lid will ensure that your trash can does not become submerged.
Related: 5-Minutes DIY Tested Faraday Cage Out Of A Trash Can
I measure the depth I need to gain on the shovel's handle. This way, I can keep track as I proceed.
3. Cover in plastic and put in the hole: I used an old paint drop sheet as a "tube" into which the drum goes. I then place it inside the hole.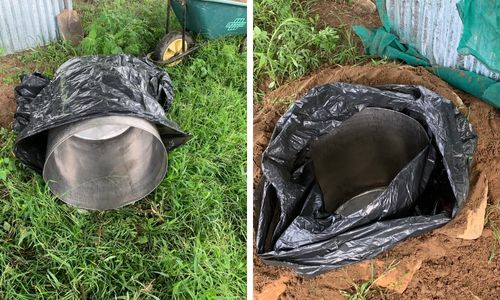 I cover the entire top of the drum, as this help to ensure that dirt doesn't end up in the drum.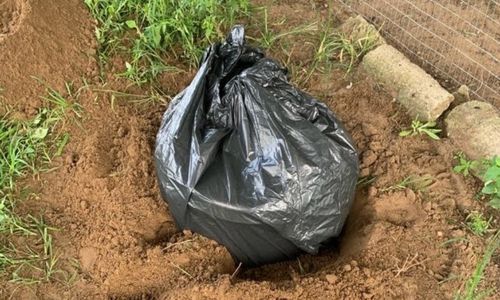 4. Lastly: Cover the trash can root cellar with corrugated sheeting and old shade netting to keep water away and reduce visibility.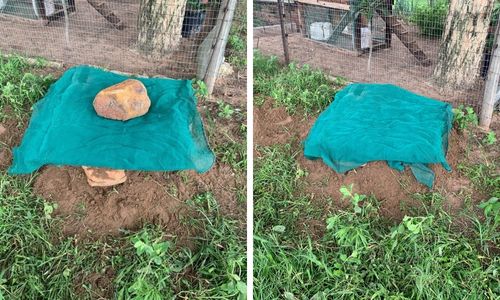 Ensuring that your trash can root cellar cannot be easily detected by intruders, particularly during a crisis, is crucial. If you want to build a larger root cellar that is still inconspicuous, here you can learn how to build an invisible root cellar.
Why Are Root Cellars Great?
Root cellars are a great way to store and preserve food. These underground rooms provide a dark environment that helps maintain food's freshness and nutritional value.
By controlling the temperature and humidity in a root cellar, food perishability can be slowed down or even stopped altogether, making them an ideal choice for preppers who want to store food for long-term storage and emergency preparedness.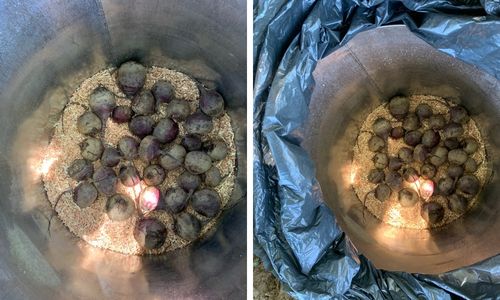 The darkness also helps protect the food from light, which can accelerate the breakdown of food nutrients.
Root cellars have been used for centuries to store and preserve food and are still an excellent way for preppers to ensure their food supplies remain edible for months or even years.
Typical items stored in a root cellar include fruits and vegetables, nuts, grains, canned goods, and dried meats. In addition, root cellars can store cheese, butter, eggs, beer, and wine.
Root cellars can keep your food fresh for an extended period with proper planning and upkeep.
Nevertheless, relying on root cellars is not the only option for storing your food without a fridge. Discover more about food preservation without electricity here.
Moisture Can Be An Issue
If you store fresh produce that has not been dried, moisture inside the drum could be a problem. Typically, ventilation within a root cellar is essential to maintain a proper temperature and humidity level.
Good air circulation helps prevent mold, mildew, and other spoilage organisms from developing on stored food. Without adequate ventilation, the air in a root cellar can become stale, creating a hospitable environment for these organisms.
Also, ventilation can help prevent sprouting root vegetables, like potatoes and onions.
Proper ventilation can be achieved by installing a small vent at the top of the root cellar or using a fan to move air in and out.
Drying The Air Without Ventilation
If you cannot provide any ventilation, then I suggest taking steps to dry the air. Adding completely dry wood shavings or newspaper inside a root cellar wick up moisture and dry the air.
You can also use straw or hay. Wood shavings can absorb moisture and make maintaining the desired humidity levels easier.
The newspaper also helps absorb water and can line surfaces or shelves inside the root cellar. Both materials are inexpensive, making them an excellent choice for preppers building a root cellar on a budget.
You may also like: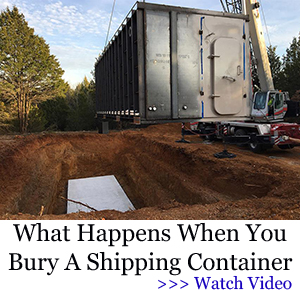 How To Clear Your House When You Wake Up And You Think There Is An Intruder
The 'Superweed' That Saved Large Communities During The Great Depression (Video)
25 Things We Did as Kids That Would Get Someone Arrested Today