This coming Veterans Day the nation will honor the service of the millions of men and women who have served in the United States Armed Forces. Every one of those veterans deserves our respect, but there are some who stand out even in such a distinguished crowd. These are people whose service went above and beyond what was expected of them, and earned them the title of heroes.
Some heroes, like Audie Murphy, are household names, and so they should be, but our other heroes deserve some attention too. Sadly, there are too many of them for us to do even a fraction of them justice here, but we thought, for Veterans Day, we'd highlight one of the soldiers who helped make America great and keep it that way.
There's an old saying that nobody remembers who won the silver medal. That's unfair enough in sports, where the silver medal goes to someone who's beaten all but one of their competitors. How much more unfair is it when we're talking about bravery in combat? But, unfair or not, it works the same way there. The reason Audie Murphy is a household name is that he's believed to be the most decorated man ever to put on a US Army uniform. But who's ever heard of Master Sergeant Llewellyn Chilson, the second most decorated man?
History Of A Hero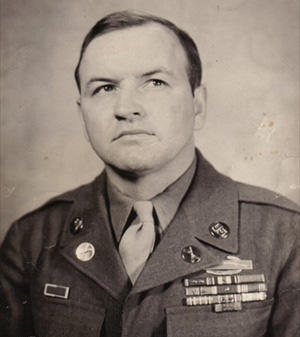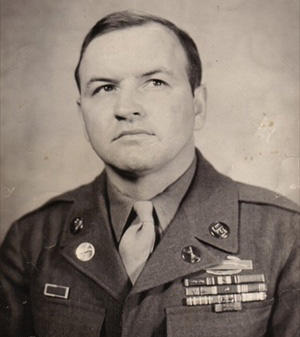 Llewellyn Morris Chilson was born on April 1, 1920 in Dayton, Ohio. His father, Frank Chilson, had served in the US Army during the First World War; after Germany's defeat he returned to Dayton, then after the birth of his son moved to Akron where he took a job driving buses.
Unfortunately, tragedy struck when Llewellyn Chilson was just ten years old; his mother Goldia was run down and killed by a truck just outside the family home. By this time, the Great Depression was in full swing and money was tight. Even if his father had wanted to spend less time at work, and more with his son, jobs were hard to find and nobody was going to give one up. So while Frank kept driving buses, the young Chilson was left alone for much of his childhood. He grew up on Akron's rough, poverty-stricken streets, which at the time were dominated by gangs and made even more dangerous by desperate transients searching for money or food.
Aged 16, Chilson quit high school and took a job as an interstate truck driver. He worked at that for the next five years, until the USA joined the Second World War. Applying weeks into the war, Chilson was enlisted in the US Army on March 28, 1942. He went through basic training at Fort Benjamin Harrison, Indiana, then advanced infantry and amphibious training at Camp Livingston, Louisiana and Camp Johnson, Florida. In May he was posted to the anti-tank company of 2nd Battalion, 179th Infantry Regiment, part of the 45th "Thunderbirds" Infantry Division.
In mid-1943 the 45th Infantry was sent to Algeria to prepare for the invasion of Sicily. This operation was a strategic success that opened the way for the invasion of Italy itself and caused the fall of Italy's fascist leader, Benito Mussolini. On the other hand, it was a tough fight against veteran opponents. The US, British and Canadian invasion forces were well-trained and equipped, but apart from the British troops who'd fought in North Africa few of them had as much experience as their German adversaries.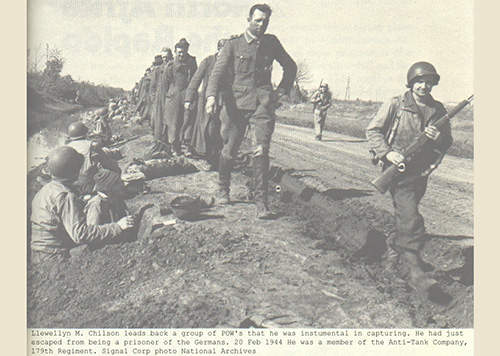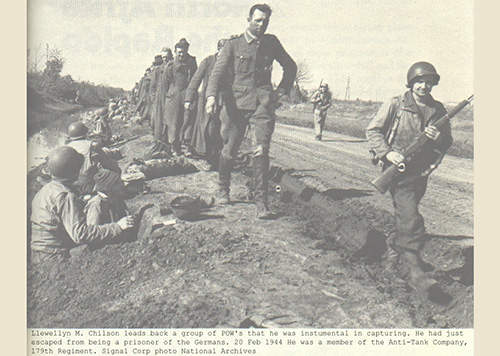 After the fall of Sicily, the Allies landed on mainland Italy and began advancing to the north, but it was a grinding slog against a tough and determined German defense. In a bid to speed up the process, 36,000 Allied troops were landed at Anzio on January 22, 1944. Unfortunately, the commander of the landing force didn't push aggressively enough and was soon encircled by German reserves. To break out and drive to Rome a second wave of reinforcements had to be landed in early February, and one of them was Llewellyn Chilson. It wasn't long before the anti-tank company was caught in heavy fighting against German panzers, and on February 15 Chilson was lightly wounded by shrapnel from an enemy shell.
Mid-February wasn't a great time for Chilson. The day after he was wounded, he and three comrades ran out of ammunition during a German counterattack and were captured. The Germans put them to work as stretcher bearers; next day they escaped, taking four Germans prisoner in turn. Chilson then managed to capture another 40 Germans, a feat that earned him a Silver Star.
Chilson missed out on the D-Day landings; instead, his division was moved from Italy in August and landed on the south coast of France. Chilson himself was moved from the anti-tank company to an infantry company in the same battalion. On October 28 he led a successful attack on an enemy-held hill, capturing 25 more Germans and winning a second Silver Star,
On November 30, Chilson was recommended for the Medal of Honor after he defended a seemingly hopeless position from German counterattacks. While he didn't get the award, he was promoted to platoon sergeant.
Four months later Chilson took part in the invasion of Germany itself, blazing a trail of glory into the heart of the collapsing Reich. In one incident he destroyed six German guns and vehicles, moving from one to the next by the light of the fires he'd started, and helped clear the way for the Allies to cross the Rhine.
By the time that fight was over Chilson's platoon had captured more than 200 German soldiers and an entire town. Two weeks later, in the middle of a firefight he climbed onto a tank's turret and spotted targets for its gunner despite heavy German fire aimed at the tank.
Again, he was recommended for the Medal of Honor and again he didn't get it. He did get three separate awards of the Distinguished Service Cross, America's second-highest valor award, for his actions between March 21 and April 27.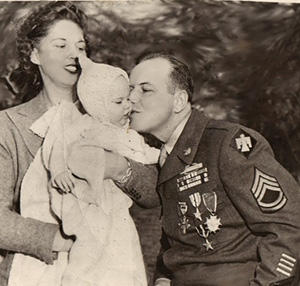 Chilson's luck finally ran out on April 26, when he was wounded near Neuberg. Although he stayed in the line and kept fighting for another couple of days, he was evacuated back to a military hospital in the UK at the end of April. That was the end of his part in the war.
While in hospital, Chilson met Mary Armstrong, an US Army nurse.
Medic and patient soon fell in love and were married later that year.
Before then Chilson was back in the USA, at Fort Benjamin Harrison, where he was honorably discharged from the US Army on June 30, 1946.
With the war over the Army started playing catchup, making sure its men received the medals they'd been awarded during the fighting.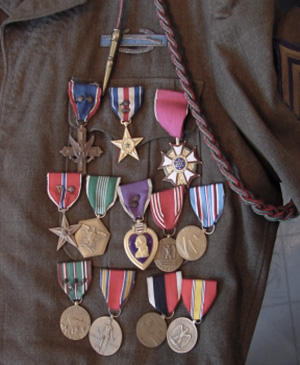 Chilson's list of awards – three DSCs, three Silver Stars, two Bronze Stars, the Legion of Merit, the Army Commendation Medal and three Purple Hearts – was impressive enough that President Truman chose to present them personally at the White House.
In 1947 Chilson waived his disability pension and rejoined the Army as a recruiter. Later he survived a serious air crash, trained National Guardsmen and met Audie Murphy.
He finally retired as a Master Sergeant in 1964.
After finishing his long and distinguished service, Chilson moved to Tacoma, Washington where he managed a gas station and drove a cab. As his father had done, he simply came home from the Army and went back to work, serving his community as he'd served his country.
Llewellyn Chilson died suddenly while on vacation in Tampa, Florida on October 2, 1981. He was buried in the veterans' section of the Lakewood, WA cemetery, which now features a memorial to this remarkable man – this ordinary American who answered his country's call, fought bravely and well, then came home and returned to a modest but worthwhile life.
Master Sergeant Llewellyn Morris Chilson, US Army – thank you for your service.
You may also like: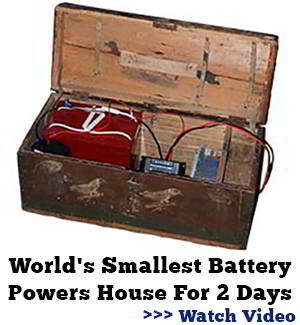 3 Amazing Winter Survival Stories – and What you MUST learn from them
If You See This Plant In Your Backyard Burn It Immediately (Video)
11 Things The Pioneers Carried With Them On The Oregon Trail
How Cherokees Used Trees of Southern Appalachia for Food, Medicine, and Craft