KIEV, Ukraine (AP) — Protesters tossed firebombs and advanced upon police lines Thursday in Ukraine's embattled capital. Government snipers shot back, killing at least 70 people and wounding hundreds of others, according to a protest doctor.
Video footage on Ukrainian television showed shocking scenes Thursday of protesters being cut down by gunfire, lying on the pavement as comrades rushed to their aid. Trying to protect themselves with shields, teams of protesters carried bodies away on sheets of plastic or planks of wood.
"The price of freedom is too high but Ukrainians are paying it," said Viktor Danilyuk, a 30-year-old protester. "We have no choice, the government isn't hearing us."
[ot-video type="youtube" url="http://www.youtube.com/watch?v=pb57F6Dlqoc"]
Protesters were also seen leading policemen with their hands held high around the sprawling protest camp in central Kiev. Ukraine's Interior ministry says 67 police were captured in all. An opposition lawmaker said they were being held in Kiev's occupied city hall.
President Viktor Yanukovych and the opposition protesters who are demanding his resignation are locked in an epic battle over the identity of Ukraine, a nation of 46 million that has divided loyalties between Russia and the West. Parts of the country — mostly in its western cities — are in open revolt against Yanukovych's central government, while many in eastern Ukraine back the president and favor strong ties with Russia, their former Soviet ruler.
[ot-video type="youtube" url="http://www.youtube.com/watch?v=zwqfrq43lK0″]
Protesters across the country are also upset over corruption in Ukraine, the lack of democratic rights and the country's ailing economy, which just barely avoided bankruptcy with a $15 billion loan from Russia.
At least 101 people have died this week in the clashes in Kiev, according to protesters and Ukrainian authorities, a sharp reversal in three months of mostly peaceful protests. Now neither side appears willing to compromise or in control of the streets. The opposition is insisting on Yanukovych's resignation and an early election while the embattled president is apparently prepared to fight until the end.
Thursday was the deadliest day yet at the sprawling protest camp on Kiev's Independence Square, also called the Maidan. Snipers were seen shooting at protesters there — and video footage showed at least one sniper wearing a Ukraine riot police uniform.
One of the wounded, volunteer medic Olesya Zhukovskaya, sent out a brief Twitter message — "I'm dying" — after being shot in the neck. Dr. Oleh Musiy, the medical coordinator for the protesters, said she was in serious condition after being operated on.
Musiy, the protest doctor, told the AP that at least 70 protesters were killed Thursday and over 500 were wounded in the clashes — and that the death toll could well rise further.
In addition, three policemen were killed Thursday and 28 suffered gunshot wounds, Interior Ministry spokesman Serhiy Burlakov told the AP.
[ot-video type="youtube" url="http://www.youtube.com/watch?v=Fns42rViXlA"]
There was no way to immediately verify any of the death tolls. Earlier in the day, an Associated Press reporter saw the bodies of 21 protesters laid out near Kiev's protest camp.
In Brussels, the 28-nation European Union decided in an emergency meeting Thursday to impose sanctions against those behind the violence in Ukraine, including a travel ban and an asset freeze against some officials.
German Chancellor Angela Merkel spoke with Russia's President Vladimir Putin and President Barack Obama about the crisis in Ukraine on Thursday evening. She briefed them about the trip of the three EU foreign ministers to Kiev, and all three leaders agreed that a political solution needs to be found as soon as possible to prevent further bloodshed.
Saying the U.S. was outraged by the violence, Obama urged Yanukovych in a statement to withdraw his forces from downtown Kiev immediately. He also said Ukraine should respect the right of protest and that protesters must be peaceful.
The Kremlin issued a statement with Putin blaming radical protesters and voicing "extreme concern about the escalation of armed confrontation in Ukraine."
[ot-video type="youtube" url="http://www.youtube.com/watch?v=ahsb87AIXbo"]
The Russian leader called for an immediate end to bloodshed and for steps "to stabilize the situation and stop extremist and terrorist actions." He also sent former Russian ombudsman Vladimir Lukin to Ukraine to act as a mediator.
Although the first weeks of the protests were determinedly peaceful, radical elements have become more influential as impatience with the lack of progress grows. In their battles Thursday, those hard-hatted protesters with bats and other makeshift weapons regained some of the territory on the Maidan's fringes that police had seized earlier in the week.
One camp commander, Oleh Mykhnyuk, told the AP that protesters threw firebombs at riot police on the square overnight. As the sun rose, police pulled back, protesters followed them and police then began shooting at them, he said.
The Interior Ministry warned Kiev residents to stay indoors Thursday because of the "armed and aggressive mood of the people."
Yanukovych claimed Thursday that police were not armed and "all measures to stop bloodshed and confrontation are being taken." But the Interior Ministry later contradicted that, saying law enforcers were armed as part of an "anti-terrorist" operation.
Some signs emerged that Yanukovych is losing loyalists. The chief of Kiev's city administration, Volodymyr Makeyenko, announced Thursday he was leaving Yanukovych's Party of Regions.
"We must be guided only by the interests of the people, this is our only chance to save people's lives," he said, adding he would continue to fulfill his duties as long as he had the people's trust.
Another influential member of the ruling party, Serhiy Tyhipko, said both Yanukovych and opposition leaders had "completely lost control of the situation."
"Their inaction is leading to the strengthening of opposition and human victims," the Interfax news agency reported.
The parliament building was evacuated Thursday because of fears that protesters would storm it, as were the government office in Kiev and the Foreign Ministry buildings. But parliament convened in the afternoon, with some pro-government lawmakers heeding the opposition's call to work out a solution to the political stalemate.
As the violence exploded Thursday morning and heavy smoke from burning barricades at the encampment belched into the sky, the foreign ministers of three EU countries — France, Germany and Poland — met with Yanukovych for five hours after speaking with the opposition leaders. The EU ministers then returned to speak again with opposition leaders.
Prior to the clashes Thursday, the Ukrainian Health Ministry said 28 people have died and 287 have been hospitalized this week. But protesters who have set up a medical facility in a downtown cathedral so that wounded colleagues would not be snatched away by police say the number of wounded is significantly higher — possibly double or triple that.
The Caritas Ukraine aid group said many of the wounded will need long-term care, including prosthetics.
The clashes this week have been the most deadly since protests kicked off in November after Yanukovych shelved an association agreement with the European Union in favor of closer ties with Russia. Russia then announced a $15 billion bailout for Ukraine.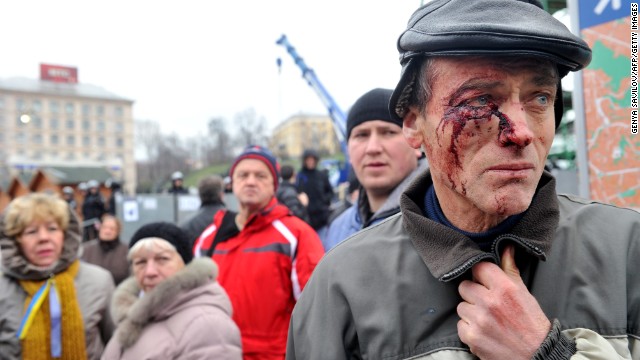 At the Winter Olympics in Sochi, Ukrainian alpine skier Bogdana Matsotska, 24, said she will not take part in Friday's women's slalom due to the developments in Kiev.
"As a protest against lawless actions made toward protesters, the lack of responsibility from the side of the president and his lackey government, we refuse further performance at the 2014 Sochi Olympic Games," her father and coach, Oleg Matsotskyy, wrote in a Facebook post.
___
Maria Danilova, Jim Heintz and Yury Uvarov in Kiev contributed to this report. Zhukovskaya Twitter message at https://twitter.com/OlesyaZhukovska
let's not forget that Ukraine is one of the largest and most important countries in Europe!
Morning of February 19: – It is difficult to get into Kiev and move around. Underground railway is not operational, because of the pretext possible terrorist attack, entrances to the city are blocked too. Some reports about main roads being blocked by trucks with sand. Last night all cars, which went to the Maidan were searched. Airports are still working.
– Information from other regions: At Lviv, Ivano-Frankivsk and Ternopil protesting mob seized the regional administration building, then MIA field offices and prosecutors, which were defeated. In Ternopil there was also captured armoury. In Lviv, the police refused to fight with the opposition and lay down their arms. – Officialy confirmed: 25 people were killed (16 – civil, 9 – law enforcement). injured – 350, 241 – hospitalized. Unofficial evidence are very different and difficult to calculate. – 28 journalists were injured. Here is a complete list. – Statement by Klitschko: "Yanukovych has inadequate reaction to the situation. Everything he said – is that the opposition leaders have urged people to stop the confrontation on the Maidan and lay down their weapons. I believe that the government should immediately withdraw security forces and stop the bloody opposition, because people are dying. And I said this to Yanukovych. While bloodshed, which negotiated could be? Unfortunately, he doesn't have understanding of the situation". – Yanukovych's silence has run out, he appealed to the people where he is blaming the opposition. But he does not want to use force, and wants to talk. Time UTS+4 — Moscow (UTS+2 — Kiev) 10:19 (8:19) At the Maydan, home of Unions is still on fire, there was headquarters of the Maidan units. The building has collapsed overlap between floors. All rescuers had to leave the building. 10:22 (8:22) Today, in the center of Kiev all schools and kindergartens will be closed. 10:33 (8:33) Almost all night watching the live broadcast, and have a feeling that the security forces stopped at least 30 meters from the scene awaiting for the orders. 10:40 (8:40) Security forces are trying to surround the Maidan and use new ways, on the other hand Maidan strengthened with new barricades. 10:44 (8:44) The General Secretary of the United Nations Ban Ki-moon called to the authorities and the opposition in Ukraine with a propose to show restraint and avoid further violence. 10:49 (8:49) In a burning house of Unions ceilings has collapsed. Previously 40 people have been rescued. 10:53 (8:53) Journalist from "5 channel" Inna Nerodik: "Train Ivano-Frankivsk – Kiev stopped halfway, removed from the main rails, waiting for 1,5 hour, not explaining anything, checking documents." 10:55 (8:55) Kharkov "Freedom" opposition office was set on fire, same happened to "UDAR" party office in Krivoy Rog. "They tried to open the window grille. But They did not succeed. Then, breaking a window, they threw a Molotov cocktail inside," – said the head of the executive committee of the party Viktor Shcherbina. 10:56 (8:56) Hospitals of Kiev asked to donate blood for the wounded. 10:57 (8:57) Ukrainian Interior Ministry blamed the House of Trade Unions "Right Sector" in the fire on. They believe, that they set fire to hide the presence of explosives in the building. 11:05 (9:05) MIA: 371 policemen have applied for Medical Assistance, 349 of them were hospitalized, and 74 – gunshot wounds, 9 – died

11:10 (9:10) Security forces have occupied half of Maidan
11:20 (9:20) Security forces blocked the route Zhitomir- Kiev and Odessa-Kiev.
11:30 (9:30) Students poured Molotov cocktails
11:32 (9:32) In the Michael's Cathedral in Kiev was launched a backup hospital
11:33 (9:33) Dalia Grybauskaite (President of Lithuania): "The international community should take all possible measures to help Ukraine and stop escalation of the conflict, as well as to find a peaceful solution." 11:42 (9:42) Train Ivano-Frankivsk, Kiev had stopped because of info about the explosive device. 11:50 (9:50) At the entrance to the Maidan there is traffic of cops with automatic weapon 11:52 (9:52) UEFA has not found grounds for cancellation Europe League match in Kiev. 11:54 (9:54) 40 people were blocked on the road at the crossing point "Krakovets" on the border with Poland, throwing the road by tires and other objects. The area becomes a traffic jam of several dozen trucks. 12:00 (10:00) Espreso.TV broadcasts from the stage of the Maidan, they are calling to substitute young men, standing on the barricades for all night. They got too less forces, but they need to prepare new barricades with necessary, because nobody knows, what will happen in the near future.
12:00 (10:00) Arriving to the Kiev's hydroelectric station.
12:15 (10:15) View to Maidan from the Globe's roof
12:19 (10:19) New people started coming at Maidan with food and tires.
12:33 (10:33) A route from the Borispol airport to Kiev is closed. All unfold. 12:39 (10:39) Titushki are going from Arsenal street to Maidan 12:44 (10:44) in Lviv there are 1,000 people on the square
12:53 (10:53) Public transport is translated into enhanced mode. Kiev subway is still closed because of the threat of terrorist attacks. 12:57 (10:57) Facebook page of Evromaydan SOS published a list of detained activists. According to their information at 5.00 on February 19 is more than 50 people in the police. 13:11 (11:11)
13:12 (11:12) In the violence and killing must blame President Yanukovych, whose had "blood on their hands," tweeted Sweedish Foreign Minister Carl Bildt. 13:15 (11:15) [textmarker color="C24000″]The Canadian Embassy in Kiev closed after the defeat[/textmarker] – formerly Deputy Chief of Investigation Department of the Ministry of Internal Affairs of Ukraine Oleg Tatars reported, that "Group of unidentified armed men with sticks broke into the Canadian Embassy, where began to destroy property." According to him, the attackers attempted to inflict bodily harm to the staff of the embassy. Earlier, the press secretary of the Canadian Foreign Minister Adam Hodge said that the Government of Canada has no claims to a group of demonstrators – " who had taken refuge in the Canadian embassy in Kiev." He noted that "The safety of the Canadian Embassy is not in danger ," Those people who had taken refuge in the building protestors behave peacefully , did not cause any damage to the property and no harm to employees " 13:21 (11:21) Its now true, that in Kiev were sent paratroopers to protect warehouses with ammunition and weapons 13:26 (11:26) Head of Ukraine Olympic Committee, the famous athlete Sergey Bubka said he was willing to do everything possible to stop the violence in Kiev. Multiple world champion admitted that he was shocked by what is happening in his country. 13:29 (11:29) Kiev police opened criminal proceedings in connection with the murder of the journalist from newspaper "Vesti" Vyacheslav Veremei. 13:36 (11:36) The prosecutor's office in Lviv region
13:44 (11:44)
13:48 (11:48) Peskov: "I do not know whether Putin ignored the call from Yanukovych. Kremlin's position – not to interfere" 13:50 (11:50) The wind is changed. Smoke went to the Independence square
13:57 (11:57) The Security Service of Ukraine has begun the pre-trial investigation into the attempt to take power by "certain politicians". 13:57 (11:57) in Uzhgorod city, protesters entered the building of the Transcarpathian Regional State Administration
14:04 (12:04) Law enforcement agencies began an offensive on the Maidan, the police began to use water cannons and try to push people. 14:05 (12:05) in Kiev, the number of killed policemen has increased to 10 people. 14:12 (12:12) In Ukraine is mourning for those who was killed in the riots 14:18 (12:18) As you already got – street toilets in Kiev
14:24 (12:24)
14:31 (12:31) European Commission President Jose Manuel Barroso: Events of last 24 hours in Ukraine, were shocking and its a complete disappointment. There are no circumstances which may justify or legitimize such scenes. We express our deepest condolences to the victims and their families. We strongly condemn the use of violence as a way of solving this political and institutional crisis. Responsibility for providing protection of fundamental rights and freedoms lies on the political leadership of the country. 14:45 (12:45) U.S. Vice President Joe Biden said that the Ukrainian government "has a special responsibility for the settlement of the situation" in the country. In this case he personally told to the president of Ukraine Viktor Yanukovych in a telephone conversation, TV channel CNN. 14:48 (12:48) Peskov: Moscow evaluates events in Ukraine as a coup 14:56 (12:56) Stolen weapons from the district police departments in Lviv , according to ZIK. 15:06 (13:06) The call to stop the riots in Kiev from Ukraine Olympic team in the country. Appealed to opposition parties 15:07 (13:07) The commander of the Interior Troops of Ukraine Stanislav Shuljak said, that five soldiers killed Feb. 18, were shot with a sniper rifle. 15:33 (13:33) Minister of Interior Zakharchenko said, that the responsibility for the killed and wounded at Independence square – on opposition politicians. 15:33 (13:33) Minister of Interior Zakharchenko said, that the responsibility for the killed and wounded at Independence square – on opposition politicians 15:40 (13:40) "Ukrainskaya Pravda" writes, that troops build reinforced concrete barricade on Grushevskoho street. 15.50 (13.50) Got info, that Rivne city base of Berkut is captured by protesters. 15.59 (13.59) Unconfirmed: Minister of Internal Affairs of Ukraine Vitaliy Zakharchenko wrote in his resignation on Wednesday, February 19. This info was reported by Ukrainian online edition "Obozrevatel". 16.10 (14.10) Russia now thought about money and future risks (finaly good decision) Its now under the question providing to Ukraine the second tranche of the loan. 16.20 (14.20) In Lviv, protesters occupied city police department. Earlier, on February 19 was reported that opposition supporters seized the building in Lviv Oblast Prosecutor's Office and the Security Service of Ukraine. In other regions: In Kharkov Nationalists party office is burned. 16.26 (14.26), the Pope called for an end to violence in Ukraine: "With an alarming heart watching the fact that these days takes place in Kiev. Assure the Ukrainian people in their spiritual closeness and praying for the victims of violence, for their families and for the wounded " 16.30 (14.30) Ukrainian Maidan encourages athletes to boycott the Olympic Games in Sochi 16.40 (14.40) just knew, that security officials got to resign! This is about if how the FSB would say "sorry, guys." 16.41 (14.41) Europe want to impose sanctions against Ukraine already for February 21. 16.42 (14.42) At the people ask, in which way can they help, offer food and medicines. 16.43 (14.43) Information about the police of Lutsk, who have sided with the protesters is confirmed. 17.00 (15.00) Children of the Maidan
17.10 (15.10) The European Parliament issued a press release: The bloodshed must be stopped at all costs. 17.13 (15.13) Protesters occupied the building of Radio and Television in Kiev. Peoples tryed move chairman fall on kneels.
17.20 (15.20) Its said, that in Kiev begins to disappear Internet and mobile communication. 17.25 (15.25) Protesters stormed the building of the National Council of Ukraine, and medicines for pharmacies can not pass to Kiev. its stopped at Control Points. 17.31 (15.31) A piece of Maidan:
17.32 (15.32) In Kiev, problems having started with food. Self-defense forces of Lutsk city rides on the Maidan. 17.35 (15.35) Chernivtsi region Governor Michael Papiev wrote in his resignation to the President, after collecting opposition signatures, that there will not be riots and bloodshed in this case. 17.53 (15.53) In next 7 minutes, people write, will start the assault of Maidan.
18.02 (16.02) Yanukovich says that he is legitimately elected president. And as the guarantor of the Constitution, it shall ensure the rule of law. Calls on the leaders of the opposition to stop conflict and says, that there will be kinda elections – and people will decide everything.
18.05 (16.05) Storm of Maidan has began, it seems. The first tank came to and was immediately set on fire. 18.12 (16.12) in Lutsk, local Euromaidan supporters handcuffed Volyn region Governor Alexander Bashkalenko. He is required to write a letter of resignation. Hohoho 18.17 (16.17) A few shots with current situation:
18.28 (16.28) Storm of the square has not begun. Maidan still in the place. Security Service of Ukraine threatens of massive antiterrorist operation across the country. 18.34 (16.34) Women brought food to the square, in the best traditions of Maidan society culture.
18.38 (16.38) Evromaydan activists built an air gun for shooting at law enforcement officers.
18.41 (16.41) Photos of chained governor from Volyn region.
18.48 (16.48) This is the way how work grenades by Berkut. I won't publish terrible picture, but, there is a hole in the back of the girl = (
18.55 (16.55) Photos from the place.
18.59 (16.59) People are singing national anthem
19.07 (17.07)
Immediately, lots of news:
Washington annulled visas to several officials of Ukraine.
Klitschko appealed to Ukrainians: Power of Yanukovych should go. Cause for only Yanukovych is responsible for the murder and terror against civilians.
Ternopil BERKUT forces down their arms and go to Maidan.
New Maidan headquarters equps in the National Council for TV and Radio building, located at Khreschatyk street, 24
19.15 (17.15)
Administration in Lutsk:
"There is not a lot of police at Instytutska street. Their function is like at simply not to give Maidan expand. Plenty of plainclothes officers. At one of the photos you may see how works the forensic expert. Also drove another water cannon. House of Unions is on fire. Molotov cocktails thrown by both sides. Policemen noticeably tired. Gunfire and explosions continue "
(Igor Cherezov)
Feb. 19, 7:26 p.m.  — The Interior Ministry on Feb. 19 identified the 10 police officers — all men — killed in clashes with anti-government EuroMaidan prosters on Feb. 18. Most died from gunshot wounds. The 26 deaths, including those of 16 civilians, represented the worst single day of violence in Ukraine's nearly 23-year history as an independent nation after the 1991 breakup of the Soviet Union.
Soldier Maksym Tretyak, interior troops, born in 1993, Kyiv
Soldier Ivan Tepliuk, interior troops, born in 1993, Kyiv
Lt. Vitaliy Honcharov, interior troops, born in 1989, Crimea
Lt. Dmytro Vlasenko, interior troops, born in 1982, Crimea
Officer Oleksiy Ivanenko, interior troops, born in 1977, Kharkiv
Lt. Volodymyr Yevtushko, traffic police, born in 1971, Kyiv
Senior Officer Andriy Fediukin, Berkut, born in 1972, Crimea
Officer Petro Savytsky, traffic police, born in 1972, Kyiv
Staff Sgt. Vasyl Bulitko, Berkut, born in 1986, Kyiv
Staff Sgt. Serhiy Tsvihun, Berkut, born in 1990, Zaporizhiya
19.31 (17.31) On Maidan right now:
19.43 (17.43) Protesters took the main post office building. They say they only occupy the lobby.
19.48 The world's best spies – on bikes! =)
19.57 (17.57) Activists blocked three buses with "titushki" near Lubny city.
20.00 (18.00) At 19.00 there will be a meeting for information on the Maidan.
20.04. (18.04) Here is a map of Ukraine protest on 5:00 PM
20.16 (18.16) Priests pray on stage.
20.41 (18.41) European Exchange refused to place Ukraine Eurobonds: investors massively dumped Ukrainian eurobonds
20.52 (18.52) Official statistics for now: 26 dead, 426 – injured
20.56 (18.56) Troops from Dnipropetrovsk are landing at the base of MOD in Vasilkov.
20:58 (18:58) EU Member Countries reached a preliminary agreement to impose sanctions against those who responsible for the escalation of violence in the Ukraine.
20:59 (18:59) Girls are disassembling the road.
21:12 (19:12) 
Here is 
the first release of those who was killed during confrontations in Kiev
21:34 (19:34) Reports say that 100 people went missing.
21:35 (19:35) Police stormed the Maidan. Encourages people to leave the area and pours all of the water jet.
21:37 (19:37) Kiev hospitals are overflowing with severely injured.
21:41 (19:41) Security forces massively sent in Kiev from Kharkov: 12 buses have already left.21:49 (19:49) The office of the Party of Regions burnt down in Poltava.
21:57 (19:57) Chief of the General Staff of the Armed Forces of Ukraine was fired by the President.
22:07 (20:07) The building of regional parliament is being assaulted in Jitomir. 22:11 (20:11) Kiev: Kindergardens and schools are closed till 21th of February.