As a prepper, you know firsthand how unpredictable and inconvenient life's minor problems can be, how quickly they seem to happen, and how they come about when you least expect them.
So what happens when minor medical problems pop up — like a toothache or sore throat — but you can't get to a dentist or pharmacy? Having certain medical plants on hand can be of tremendous help.
When you're unable to see a dentist right away and you're longing for some pain relief, you'll be happy you added this miracle plant to your prepper first-aid kit or garden.
What Is The Toothache Plant?
People have dubbed this small flowering plant a lot of interesting titles over the generations.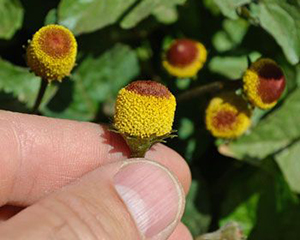 From "Spilanthes" to "Buzz buttons", and "Para cress" to "Electric daisies" — of all the different names given to this plant, it's most commonly recognized as simply "The Toothache Plant".
Whatever you choose to call it — the usefulness of the toothache plant is recognized all over the world.
The best part about the Spilanthes is that this magical plant isn't just for tooth pain. It also functions as a natural antibiotic and it possesses antifungal and antiviral properties as well — to name a few.
Related: 10 Home Remedies for Emergency Toothache Relief
Why Should You Grow The Toothache Plant?
As the name suggests, this plant is incredibly helpful when you find yourself the unsuspecting victim of bothersome sudden tooth pain.
This is due to the pain-relieving analgesic properties of spilanthol, which is present in the plant.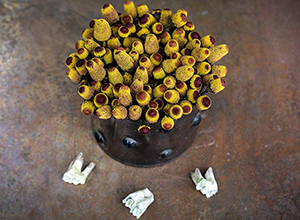 Chewing the leaves and flowers of this plant- raw or cooked- can not only provide you with almost immediate oral pain relief, but the intense tingling sensation provides a deep mouth bacterial cleansing that can help to ward off early signs of infection. The toothache plant more than lives up to its name and can be a pleasure to have in your home or garden.
Identification, Harvest and Uses
The toothache plant is a small leafy perennial herb with yellow buds and an electric red-colored center. It's related to the daisy and grows naturally in warmer regions in places like Australia, Brazil, and India.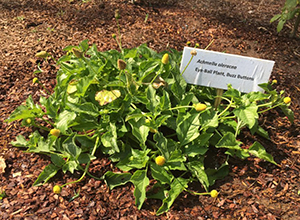 However, depending on where you live and your plant hardiness zone you can easily grow it in your greenhouse, home, or garden as an annual or perennial plant.
This makes it easier for you to harvest and reap the benefits straight from the plant, or dry the leaves and buds for later use.
Lookalike Plants and Precautions
Because of its unique appearance, there aren't many plants you could mistake for Spilanthes. Upon first glance, you might think you were looking at daisies. However, the distinct red center of the yellow flowering bud should be enough to identify them.
When foraging in the wild for edible plants, it's important to follow the wild plant safety guidelines to test for adverse reactions. However, if you're growing from seed or transplant, you can rest easy knowing that your plant will be safe for consumption.
As with most things in nature, the difference between medicine and poison is in the dose. The toothache plant happens to be very potent so when employing buzz buttons for medicinal use, always err on the side of caution and use only as much as you need to feel relief.
Related: 8 Edible Backyard Plants And Their Poisonous Lookalikes
Medical Uses and Recipes
The toothache plant is an herb that touts a host of alternate uses thanks to its antifungal and antiviral properties. It's been used to treat problems such as athlete's foot, sore throat, skin conditions, and cold sores.
This little plant is so powerful, it even disinfects small wounds!
To make the most out of your toothache plant for long-term storage and use, it's best to make a tincture.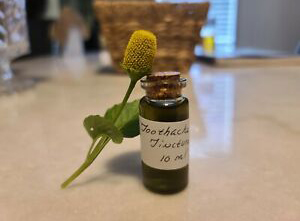 Tinctures are herbal extracts that are made by combining alcohol and herbs in a tight container over a designated period and straining the remaining plant matter from the liquid.
Tinctures are the best way to ensure the herbs and their nutrients remain usable in a survival situation.
You can use edible plant tinctures externally and sometimes internally depending on the plant.
Toothache Plant Tincture
Ingredients
● Quality alcohol such as vodka to prevent mildewing of the herbs
● A glass mason jar or similar
● Dark or amber-colored glass tincture bottles, preferably with a dropper
● Toothache plant flowers and leaves — rinsed, dried, and finely chopped
● Time (about two weeks)
Instructions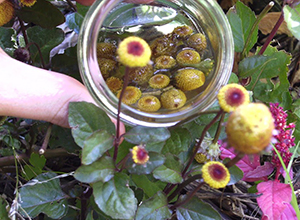 Step 1: First, chop up herbs and fill your mason jar until it's nearly full.
Step 2: Fill the jar to the top with vodka or other clear, potent alcohol.
Step 3: Seal the jar and keep it at room temperature away from direct sunlight. A pantry shelf or root cellar would be an ideal place for storage.
Step 4: Shake twice daily and store anywhere from a week to a month. Tinctures stored for longer tend to be more potent.
Step 5: Using a clean muslin material or cheesecloth, slowly strain the liquid to separate the plant matter from the tincture. Repeat if desired for extra filtration.
Step 6: Pour the strained tincture into dark-colored dropper bottles and keep it stored in a cool dry place.
Your finished tincture should have a shelf life of about 2 years.
Whenever you feel a toothache coming on grab your bottle, shake gently, and apply a few drops near the affected area. Then swish around your mouth and use like you would with ordinary mouthwash.
Cooking With The Toothache Plant
You can enjoy the toothache plant as a flavoring for food or in place of herbs in cooking. It's great to eat in soups, salads, or sauteed as a side dish for a healthy dose of immunity-boosting vitamins, even if you don't have a toothache!
When searching for recipes online, you'll find no shortage of exciting options to choose from. More often than not, chefs and culinary sites use the term "Szechuan buttons" and "Buzz buttons" in place of the name "Toothache plant".
Chefs use it to create exciting fizzy cocktails, desserts, and salads that pack a nutritious punch and leave the tastebuds with a slight tingling sensation.
When cooking with this plant, it's best to experiment with small amounts first so you know how much to add to get the desired taste.
The toothache plant is a friend to preppers, survivalists, and homesteaders alike and deserves a spot among every prepper's garden, even if you don't have a toothache!
You may also like: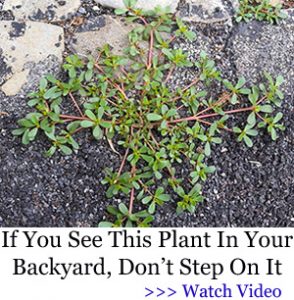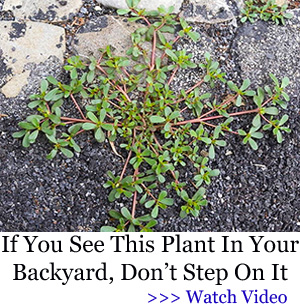 How To Prepare Your Car In Case You Have To Live In It
What Happens If You Pour Salt Over Mustard Oil? (Video)
20 Foods You Can Preserve in Pantyhose
All-Natural Fruit Tree Bait for Insects: It Works!
177 Cool Do It Yourself Projects for Preppers